LeBron James, Brandon Ingram Inspire Lakers Comeback Win over Houston Rockets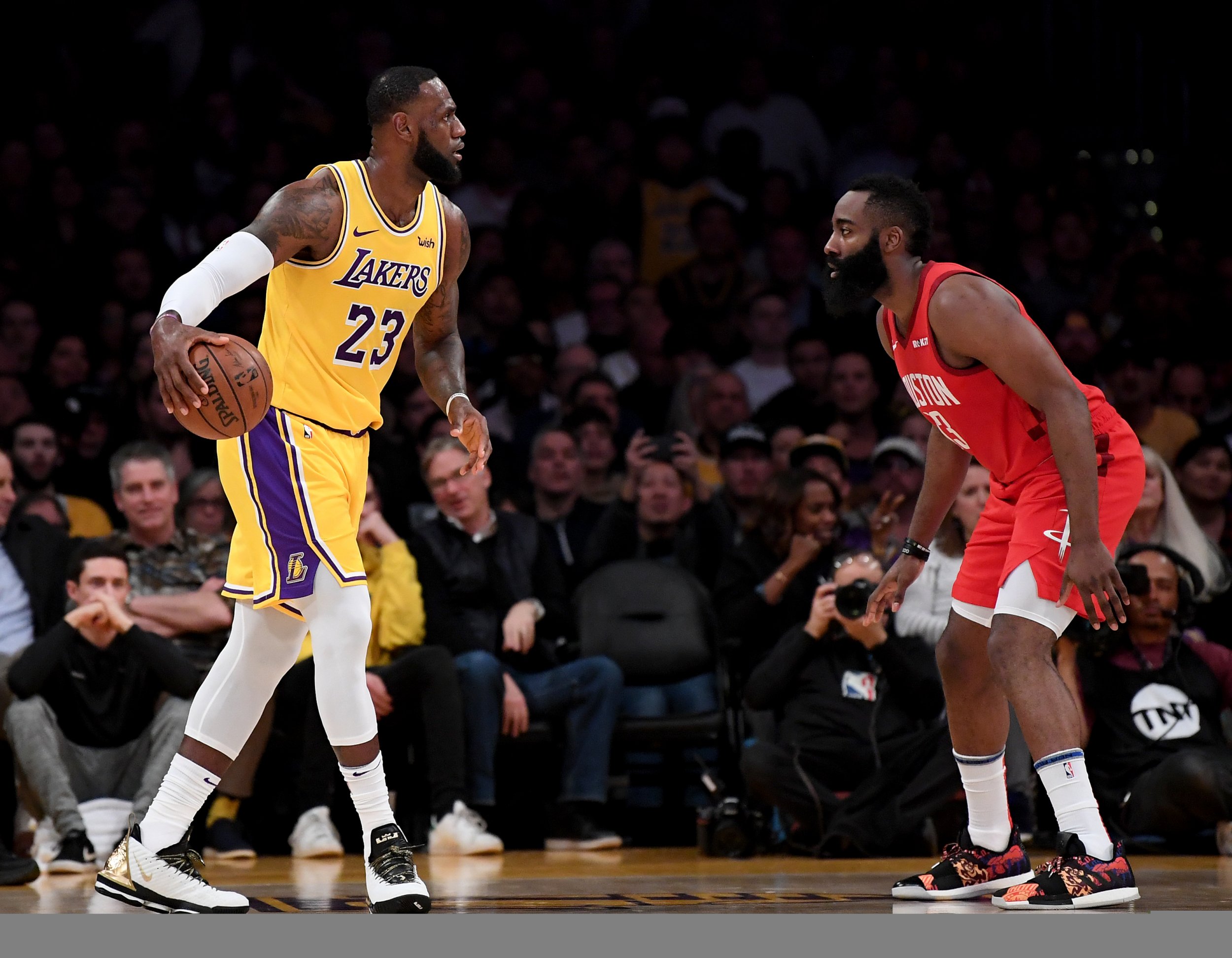 LeBron James and Brandon Ingram inspired the Los Angeles Lakers to a 111-106 home win over the Houston Rockets on Thursday night.
Trailing by 19 points midway through the third quarter and then by seven with 7:49 left in the final period, the Lakers embarked on a 17-4 run in six minutes. It was the sixth time this season the Lakers have won a game in which they trailed by 15 or more points.
LeBron and Ingram were instrumental in the comeback. The former finished with 29 points, 11 rebounds and six assists, while the latter added 27 points and 13 rebounds.
The four-time MVP praised his younger teammate.
"He wasn't a wing man for me," he said after the game, as per the Lakers official Twitter account.
"He was special for our team. B.I. [Brandon Ingram] is very special and when he's rebounding like that it just activates the rest of his game […] He was in attack mode all game."
Los Angeles entered the All-Star Game break on a two-game losing streak and James admitted his team had to turn up the intensity in the second half of the season.
It appeared the Lakers hadn't received the message, as they trailed by 10 points in the first quarter before falling even further behind. Eventually, however, they hauled themselves back into the game, largely thanks to the three-time NBA champion.
The win improved the Lakers' record to 29-29 for the season but they remain 2.5 games behind the Los Angeles Clippers, who currently hold the final playoff berth in the Western Conference.
LeBron conceded that he would have to play at a level closer to his peak at an earlier stage than expected if the Lakers are to make the postseason.
"Knowing the circumstances that we're in [I have] to kick-start something a little bit earlier than I have done in the past," he said.
"I know where I'm at, I like where I'm at and I think over the next couple games things are going to get better and better."
Meanwhile, the Rockets remain fifth in the Western Conference standings despite a second consecutive loss. Houston is 33-25 for the season, two games behind the Portland Trail Blazers and 1.5 games ahead of the eight-seeded Clippers.
James Harden continued his remarkable scoring streak, finishing with 30 points, 10 rebounds and nine assists. The reigning MVP has now scored at least 30 points in 32 consecutive games, the second-longest streak in NBA history behind Wilt Chamberlain's 65-game run.
Harden, however, fouled out with 1:24 remaining and joined Chris Paul on the bench, after the point guard suffered the same fate.
Both teams face road games next, with the Lakers traveling to New Orleans, while the Rockets take on the Warriors.