LeBron James Career Timeline: Here's a Comprehensive Look Back at the Cavs Star's Career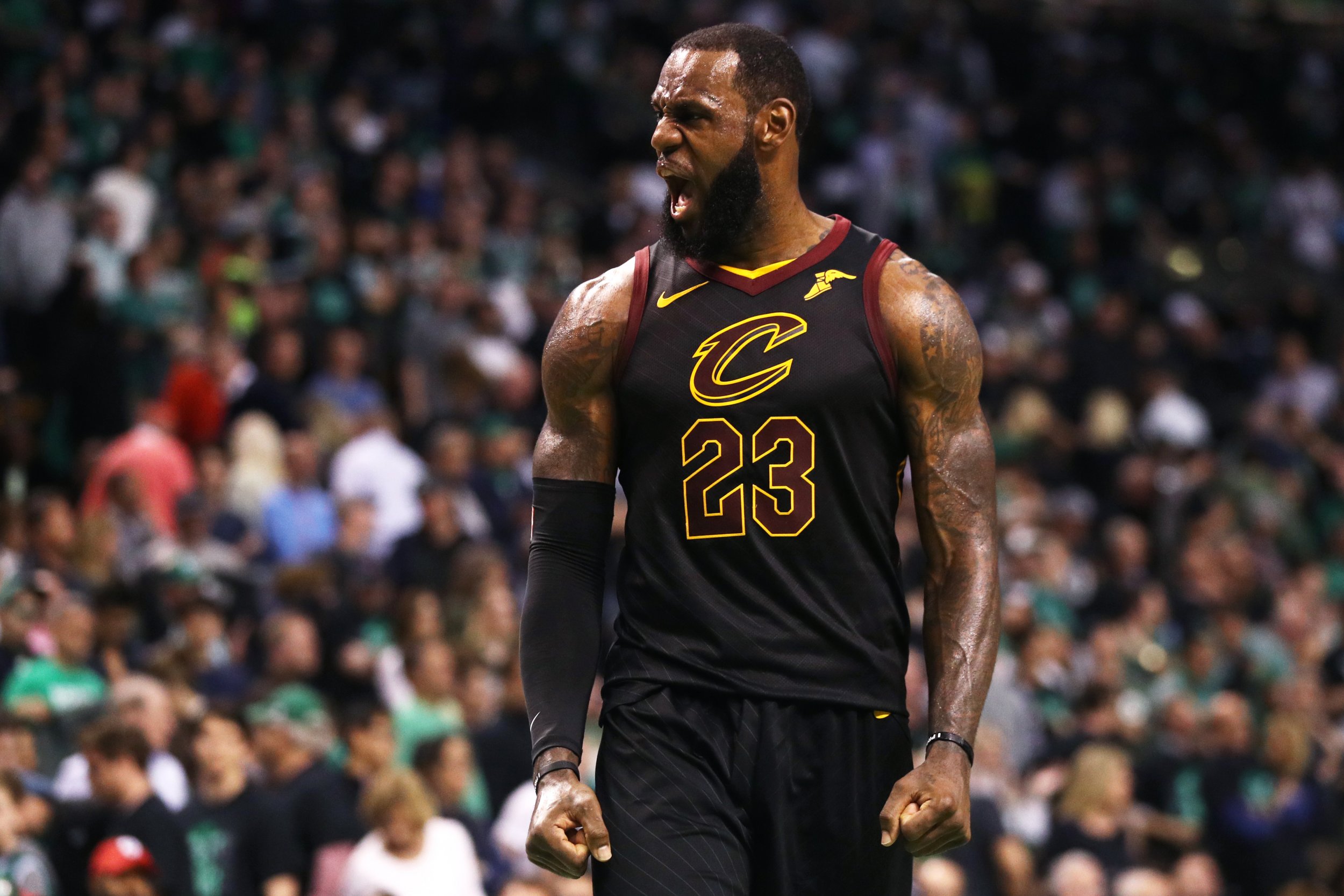 Death, taxes and LeBron James in the NBA Finals. There are so few things you can count on in life, but the 33-year-old forward for the Cleveland Cavaliers is certainly one of them.
James was typically brilliant Thursday night in Game 1 of the 2018 NBA Finals, scoring 51 points while playing a near-perfect game. But for the fourth straight year, James is facing off against the Golden State Warriors—a team with a starting lineup featuring four All-Stars—and even with James's amazing performance, Cleveland lost Game 1 in overtime.
It was a frustrating start to the series for the Cavs—they had a clear chance to win in regulation. But if we've learned anything about James, we know it would be unwise to count his team out just yet. He has been dominating the NBA for some 15 years and has cemented his place as one of the all-time greats.
With that in mind, Newsweek took a look back at some of the biggest moments in James's NBA career. Here's our crack at a relatively comprehensive timeline of his place in the NBA, dating back to his rookie season.
May 2003: Even before he entered the NBA, James was a star—and was paid like one, too. Before the NBA draft, Nike inked James, then the standout from Ohio's St. Vincent-St Mary High School, to a $90 million deal.
June 26, 2003: James is drafted number one overall by his hometown Cleveland Cavaliers. The 2003 draft class proves to be one of the most talented in history, the top of the draft featuring future All-Stars James, Carmelo Anthony, Chris Bosh and Dwyane Wade.
October 29, 2003: James makes his NBA debut, dropping 25 points on the road against the Sacramento Kings in a 106-92 loss.
April 20, 2004: James wins the NBA's Rookie of the Year award. For the year he averaged 20.9 points, 5.5 rebounds and 5.9 assists.
2004-05: The next season, James ups his scoring output to more than 27 points per game, with about 7 rebounds and 7 assists per game. He finishes sixth in the MVP voting, but the Cavaliers miss the playoffs.
2005-06: James—who averages 31.4 points, 7 rebounds and 6.6 assists—finishes second in the MVP voting, losing out to Steve Nash. James leads the Cavs to a playoff berth (he wouldn't miss the playoffs again). He drops a triple-double in his debut against the Washington Wizards, but the team falls in the second round to the Detroit Pistons.
July 12, 2006: James signs a three-year contract extension with Cleveland that's worth $60 million.
May 21-June 2, 2007: Just 22 years old, James shows signs that he will become one of the greats. Playing against the Detroit Pistons squad that won a ring in 2004, James had an incredible Game 5 against the number-one seed. He scored 48 points and 29 of the Cavs' last 30 points in the fourth quarter to earn the victory and a 3-2 series lead. "We threw everything we had at him," Detroit guard Chauncey Billups says after the game, via NBA.com. "We just couldn't stop him."
Announcer Marv Albert calls it "one of the great performances of all time in playoff history." Cleveland would go on to win the series, and James would make his first appearance in the NBA Finals.
June 7-14, 2007: The Cavs are severely overmatched in the finals and get swept by the Tim Duncan–led San Antonio Spurs. "I have to be much better on and off the court, and that will carry our team to higher levels," James tells reporters after the sweep. "It starts with me first, and then it will trickle down to everybody else."
November 3, 2008: James becomes the youngest player ever to notch 10,000 points, 2,500 rebounds, 2,500 assists, 700 steals and 300 blocks. It's a pretty arbitrary milestone for sure, but it's also a nice way of showing how he dominated in all facets of the game.
August 24, 2008: James wins an Olympic gold medal with Team USA in Beijing.
May 5, 2009: James wins his first NBA MVP award at just 24 years old. "I never thought it would happen this fast," he says at the time, via the Associated Press. "I never dreamed about being MVP, but if I said I didn't enjoy this award I'd be lying. Hard work pays off, and dreams do come true."
May 20-30, 2009: The James-led Cavs fall to the Orlando Magic in the Eastern Conference Finals in six games. It's a disappointing end to the season for James but he did about all he could, averaging nearly 39 points per game in the series (as well as 8 rebounds and 8 assists per game). In Game 2, he hits a remarkable buzzer-beater with one second left that remains a career highlight.
2009-10: The question on everyone's mind is if LeBron would stay in Cleveland at the end of the year, when his contract is up.
May 2, 2010: James wins his second MVP award after a season in which he averaged nearly 30 points and 9 assists per game.
May 1-13, 2010: Cleveland once again goes home early in the playoffs despite a strong effort from James. The Celtics—led by Paul Pierce, Kevin Garnett and Ray Allen—bounce the Cavs in six games in the second round. As he leaves the court in Game 6, James is spotted ripping off his Cavaliers jersey. It's seen as a bad sign for Cleveland.
July 8, 2010: The Decision. James famously—infamously—announces on ESPN that he's "taking [his] talents to South Beach," bolting Cleveland to join fellow superstars Wade and Bosh on the Miami Heat. Fans in Cleveland are, let's say, less than pleased, and the fad of jersey-burning begins.
Cavaliers owner Dan Gilbert responds to James's departure with a somewhat unhinged open letter in Comic Sans typeface. "I PERSONALLY GUARANTEE THAT THE CLEVELAND CAVALIERS WILL WIN AN NBA CHAMPIONSHIP BEFORE THE SELF-TITLED FORMER 'KING' WINS ONE," Gilbert wrote.
He would be wrong.
July 9, 2010: The Heat throw a massive party to welcome Bosh and James, who famously said the goal was to win multiple championships, "not two, not three, not four, not five, not six, not seven."
December 2, 2010: James torches his old squad, putting up 38 points and 8 assists in his return to Cleveland. He is greeted with loud boos. "I understand how passionate the fans are," he says in a halftime interview at the time, via the Cleveland Plain Dealer. "I've got a lot of love for these fans, but I'm a Miami Heat player now, looking to get this win."
The Heat would win 58 games in the 2010-11 season and earn the two seed in the Eastern Conference.
May 31-June 13, 2011: The Heat lose in the NBA Finals to a Dallas Mavericks team led by Dirk Nowitzki. Miami looks somewhat out of sorts as James averages just 18 points per game in the series. Years later, in 2018, James would credit the surprising series loss as a spark for his growth as a player.
"I wasn't that good of a player," he said this month about the 2011 Finals. "I wasn't a complete basketball player."
James has since made the NBA Finals every year.
2011-12: The Heat seemingly hand over the proverbial car keys to James as Wade settles into a second-option role. Over the course of the season, James averages about 27 points, 8 rebounds and 6 assists. In a lockout-shortened season, the Heat go 46-20 and earn the two seed in the East.
February 12, 2012: In Cleveland to take on the Cavs, James—in just his second season with Miami—opens the door for a comeback to his old team.
"I think it would be great," he says of a possible return to Cleveland, according to the Akron Beacon Journal. "It would be fun to play in front of these fans again. I am here as a Miami Heat player, and I'm happy where I am now, but I don't rule that out in any sense. If I decide to come back, hopefully the fans will accept me."
May 12, 2012: James wins his third MVP award. "I would give all three of them back for an NBA championship," he says while accepting the award.
May 28-June 9, 2012: James faces off with the "Big 3" Boston Celtics led by Garnett, Pierce and Allen in the Eastern Conference Finals. In Game 6, James has one of the best games of his career, notching 45 points and 15 rebounds. The Heat outlast the Celtics in seven games, and soon the "Big 3" would be disbanded.
"It's been a journey," says James after Game 7. "It's been a long ride." He'll have another crack at his first title.
June 12-21, 2012: At long last, after eight seasons in the NBA, James finally gets a ring as the Heat top the upstart Oklahoma City Thunder in just five games in the NBA Finals. He also wins the Finals MVP.
"It's about damn time," James says after clinching his first title.
Over the entire postseason, he posts remarkable averages of 30.3 points, 9.7 rebounds and 5.6 assists per game.
August 12, 2012: James wins another Olympic gold medal by outlasting Spain, 107-100, in the finals at the London games. "We knew it wasn't going to be easy. We didn't want it easy," James says after the victory, via CBS. He joins Michael Jordan as the only other person to win the regular season MVP, NBA Finals MVP, an NBA Championship and Olympic gold in the same year.
March 29, 2013: The Heat look like they've figured it all out. They finally lose a game to the Chicago Bulls after winning 27 straight games, just six games away from a win-streak record set by the 1971-72 Los Angeles Lakers.
May 5, 2013: Another year, another NBA MVP. James wins his fourth, and second consecutive, regular-season honor.
June 6-20, 2013: Another year, another title. But this one is far more dramatic than the victory over the Thunder the year prior. The Heat eke by the Spurs in seven games to repeat as champions. They would have been dead in the water were it not for last-second heroics from Ray Allen in Game 6. Down three points and facing elimination with just seconds left, James misses a three-pointer, but Bosh grabs the rebound and chucks it to backpedaling Allen, who sinks a three-pointer from the corner to tie it up. The Heat win in overtime and also take Game 7 to earn James his second ring.
"I can't worry about what everybody says about me," Finals MVP James says after Game 7, according to The New York Times. "I'm LeBron James, from Akron, Ohio, from the inner city. I'm not even supposed to be here."
2013-14: The Heat look solid and earn the two seed in the Eastern Conference. James averages 27.1 points, 6.9 rebounds and 6.3 assists per game on the year.
June 5-15, 2014: Despite James's best efforts—leading his team in scoring in every game in the NBA Finals—the Heat fail to win three rings in a row, losing to the Spurs in just five games. "They were the much better basketball team," James says at the time, via USA Today.
June 25, 2014: It's reported that James will opt out of his contract with the Heat, meaning he will be an unrestricted free agent and able to sign with another team.
July 11, 2014: In a piece in Sports Illustrated, James announces he's returning to the Cleveland Cavaliers in an effort to bring his hometown its first sports championship in decades. It likely didn't hurt that the team was rife with young talent like Kyrie Irving and Andrew Wiggins, who would later be traded for Kevin Love.
"I'm ready to accept the challenge," says James. "I'm coming home."
2014-15: The James-led Cavs win 53 games and earn the two seed in the East. James puts up his typically well-rounded stats, averaging about 25 points, 7 rebounds and 7 assists.
June 4-16, 2015: Perhaps a bit ahead of the expected schedule when James signed with Cleveland, the Cavs reach the NBA Finals and take on the Golden State Warriors. (This would, of course, become a familiar matchup.) Cleveland was without two of its stars, Love and Irving, both of whom were injured.
Led by the dynamic "Splash Brothers" duo—Steph Curry and Klay Thompson—the Warriors beat them four games to two. James, however, is brilliant and averages 35.8 points, 13.3 rebounds and 8.8 assists over the series. James expresses frustration after the series about having to do so much for the team, according to The New York Times.
"We ran out of talent," James said to the paper.
2015-16: Now the pressure is on. James comes under fire a bit after coach David Blatt gets canned and replaced by Ty Lue. ESPN reported at the time that while Cleveland management said James was not involved in the firing, it was clear around the Cavs that James liked Lue and preferred to be coached by someone who had experience playing in the NBA.
June 2-19, 2016: After cruising to the Finals, the Cavs once again find themselves facing off against Golden State. The Warriors had won 73 regular-season games, breaking a record held by the 1996-97 Bulls (led by Jordan) that was once thought to be unbreakable. Few give the Cavs much of a shot at winning the title, and the Warriors, following the assumed script, jump out to a 3-1 series lead. But led by James—who puts up 41 points in both Game 5 and Game 6—the Cavs force a Game 7.
Game 7 is tight. With less than two minutes to go, Warriors forward Andre Iguodala streaks for a layup, but James comes out of nowhere to block it from behind and saves Cleveland's chance at a win. The play would become known as "The Block." The Cavs outlast the Warriors 93-89 and pull off the most impressive comeback in NBA history.
James, fulfilling the goal he'd set, has brought Cleveland its first title in more than 50 years in incredibly dramatic fashion. "I came back for a reason," James says after Game 7, via the Times.
2016-17: More of the same. The Cavaliers are solid and, relatively speaking, cruise to the through the regular season and Eastern Conference.
May 26, 2017: James passes Jordan as the all-time playoff-scoring leader as Cleveland dispatches the Celtics to get back into the Finals.
June 1-12, 2017: Another finals, another Cleveland–Golden State matchup. The Warriors, having added former MVP Kevin Durant, cruise past the Cavs to win their second title in three years. James finished with 41 points, 13 rebounds and eight assists in the final game of the year.
''I left everything on the floor every game,'' James says at the time, via Sports Illustrated.
2017-2018: James, at age 33, is as good—if not better—as ever, averaging 27.5 points, 9.1 assists and 8.6 rebounds in the regular season. With a chance to leave town again after the year, everyone is wondering where he might play next.
May 13-27, 2018: James drags the Cavs, now without Irving, to make his eighth consecutive NBA Finals. It takes Cleveland seven games to beat a talented, young Boston Celtics squad in the Eastern Conference Finals. James averages 33.6 points, 9 rebounds and 8.4 assists per game and secures a fourth-straight battle with the Golden State Warriors for the title.