LeBron James Supports England Soccer Players After Racial Abuse Following Euro 2020 Loss
LeBron James has voiced his support for the England players who were subjected to racial abuse after missing their penalty kicks in the shootout loss in the Euro 2020 final against Italy at Wembley Stadium on Sunday.
England's first appearance in the final of a major tournament for 55 years ended in heartbreak as the Three Lions lost 3-2 on penalties after drawing 1-1 after extra time.
Marcus Rashford hit the post in the shootout, before Jadon Sancho and Bukayo Saka had their penalties saved by Italy's goalkeeper Gianluigi Donnarumma.
Shortly after the end of the game, the trio was subjected to racist abuse on Twitter and Instagram. A mural depicting Rashford in the Manchester suburb of Withington was defaced.
Rashford was born in Manchester and is of Caribbean descent, while Sancho and Saka were both born in London to parents hailing from Trinidad and Tobago and Nigeria, respectively.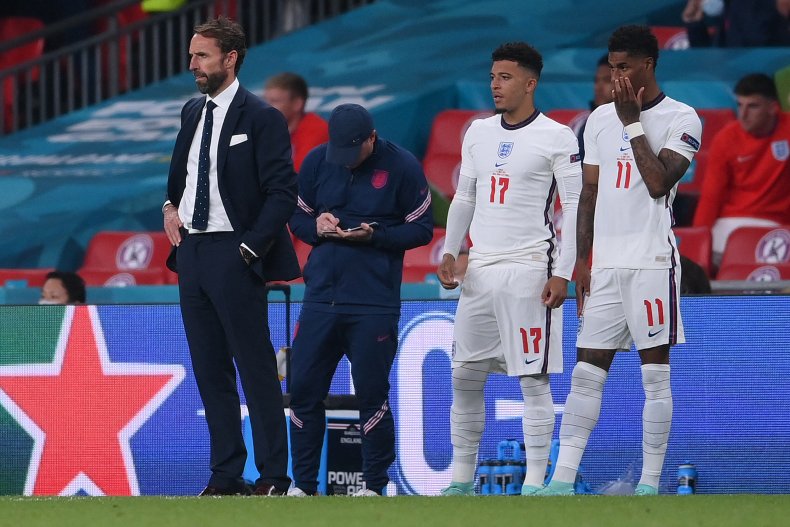 In his story on Instagram, James shared a post from Uninterrupted—the brand he co-founded with Maverick Carter—which depicted Sancho, Rashford and Saka on the pitch alongside teammate Raheem Sterling before a game.
Sterling, who was born in Jamaica to Jamaican parents before moving to England, has in the past been subject to racial abuse.
In the picture, crowns have been superimposed on each player's head.
"There will never be excuses for racist behavior, especially not after the three of them stepped up for their nation to take some of the most high-pressure penalty kicks in their lives," the caption read.
"As always, we and countless others support these young Black men regardless of what happens in one game."
James shared the post, adding a pray, heart, raised fist and crown emojis.
Figures from across the world of soccer, including England coach Gareth Southgate and England captain Harry Kane, showed their support for the trio.
Southgate described the abuse as "unforgivable", while Kane insisted those abusing players had no business supporting England.
"Three lads who were brilliant all summer had the courage to step up & take a pen when the stakes were high," the England captain tweeted on Monday.
"They deserve support and backing not the vile racist abuse they've had since last night. If you abuse anyone on social media you're not an England fan and we don't want you."
British Prime Minister Boris Johnson and London Mayor Sadiq Khan also condemned the racist abuse on social media.
Prince William, who attended the game with his wife Kate, struck a similar tone.
"I am sickened by the racist abuse aimed at England players after last night's match," he wrote on Twitter.
"It is totally unacceptable that players have to endure this abhorrent behaviour.
After being defaced, the mural depicting Rashford was covered in messages of support.
In a moving statement on Twitter, the 23-year-old apologized for missing the penalty but said he remained proud of his background and what England had achieved at the tournament.
"I don't even know where to start and I don't even know how to put into words how I am feeling at this exact time. I've had a difficult season, I think that's been clear for everyone to see and I probably went into that final with a lack of confidence," he wrote.
"I've always backed myself for a penalty, but something didn't feel quite right. During the long run-up I was saving myself a bit of time and unfortunately the result was not what I wanted."
The Manchester United forward became an icon in Britain over the last 18 months, using his platform to campaign against homelessness and child hunger and forcing Johnson's government into an embarrassing U-turn over its policy on free school meals for Britain's disadvantaged children.
"I can take critique of my performance all day long, my penalty was not good enough, it should have gone in but I will never apologise for who I am and where I came from," he continued.
"I've felt no prouder moment than wearing those three lions on my chest and seeing my family cheer me on in a crowd of 10s of thousands.
"I dreamt of days like this. The messages I've received today have been positively overwhelming and seeing the response in Withington had me on the verge of tears. The communities that always wrapped their arms around me continue to hold me up.
"I'm Marcus Rashford, 23-year-old black man from Withington and Wythenshawe, South Manchester. If I have nothing else I have that. For all the kind messages thank you. I'll be back stronger. We'll be back stronger."