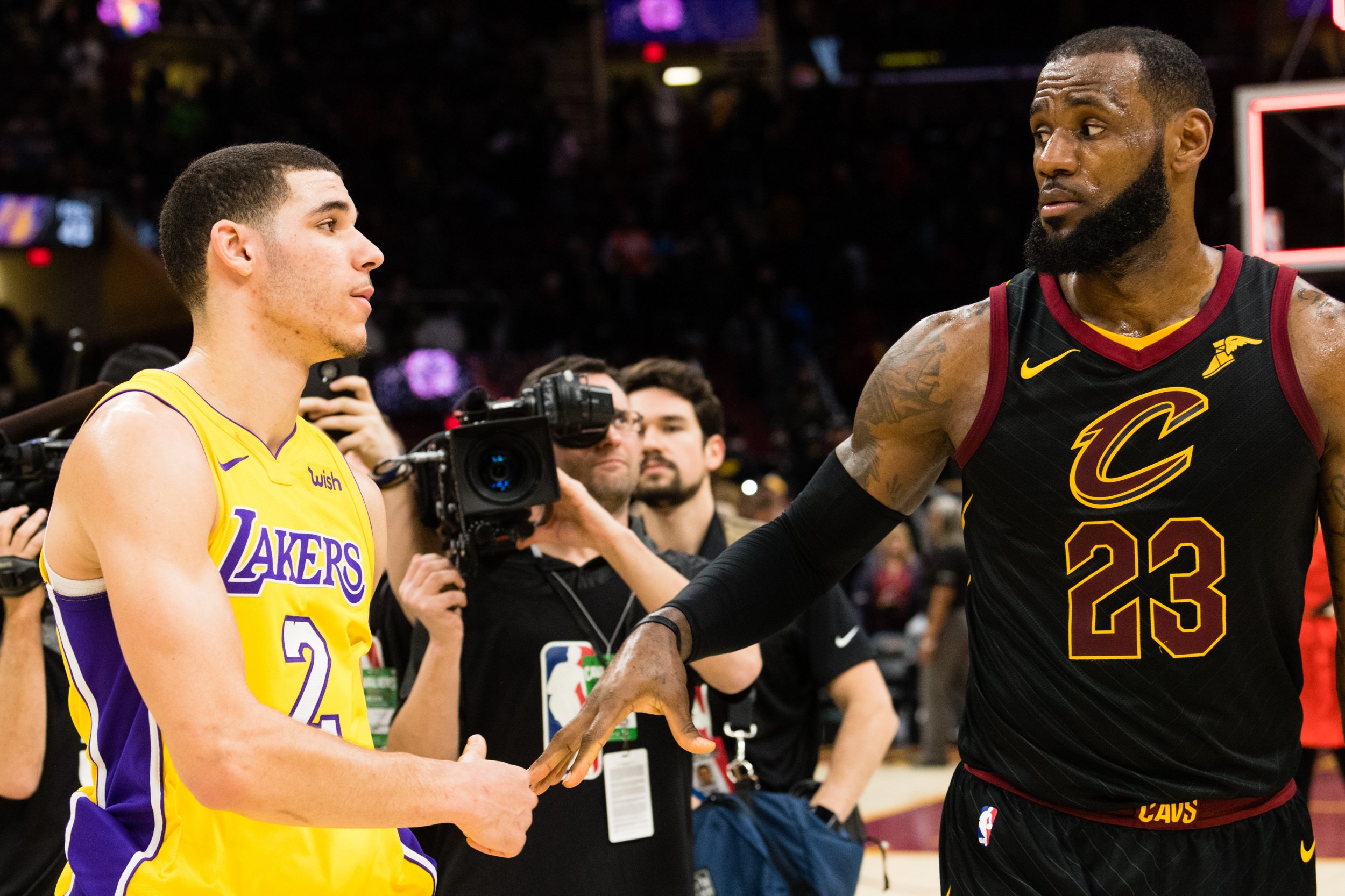 When the Los Angeles Lakers and the Cleveland Cavaliers agreed a trade on deadline day last month, it was obvious that the former was taking a punt on the future, while the other sought immediate rewards.
As far as the Lakers are concerned, acquiring Isaiah Thomas, Channing Frye and the Cavs' first round pick in exchange for Jordan Clarkson and Larry Nance Jr. might have a limited-short term impact, but the long-term consequences could be momentous for both teams and for the NBA as a whole.
The Lakers can now clear out salary space for two max-level contracts and have given themselves a shot to sign LeBron James this summer.
However, it is not only the Lakers' financial flexibility that makes them such an attractive destination for James.
Speaking on Monday night, Fox Sports' Colin Cowherd suggested Lonzo Ball's development could prove just as crucial in luring the four-time MVP to California.
There's two things that LeBron needed to see from the Lakers—signs that he wasn't moving to a total rebuild—and both are happening," he said.
"He needed to see that Lonzo Ball was the point guard of the future, and that the kid could be—he's not a guy that needs a bunch of shots—hat he could be the traffic cop of the franchise. He officially is. "
"The second thing LeBron needed to see was that Brandon Ingram […] would pop in year two. LeBron needed to see two things happen to consider LA. They have both happened. Lonzo Ball isn't close to a bust [and the] kid can play. And Brandon Ingram has popped. "
Ingram's offensive production has improved significantly this season, rising from 9.4 points in 28.8 minutes last year to 16.2 points in 33.8 minutes this year, while his shooting percentage has climbed from 40 percent to 46.9 percent.
"It's like what Kyrie Irving was doing early," he added.
"Then LeBron went in there, and boom, he took off. That's what young players do. They just advance and get better. I think you're going to see that here with Lonzo."
James could opt out of the final year of his deal to explore the free agent market this summer and his future has been the subject of endless speculation.
Some have suggested he might have to leave Ohio for a second time if he wants to add to his three rings, given the Cavs are currently third in the Eastern Conference with a 37-26 record and could struggle to secure a fourth consecutive conference final, let alone a second NBA title in three years.
While the Lakers are among the favorites to land him should he leave the Cavs, a host of other franchises could look to lure the 33-year-old away from Cleveland.
Last week a Pennsylvania-based company installed three giant billboards along Cleveland's Interstate 480 pleading with James to sign with the Philadelphia 76ers and "complete the process."
That fueled further speculations the 76ers were courting James, after NBA.com reported that Sixers TV game analyst Alaa Abdelnaby said he was told that James had been looking at private schools in Philadelphia last month.
The Cavs' star subsequently rubbished the rumors and Cowherd ruled out any chances of James moving to Pennsylvania.
"He's not going to a city with no homes," he added.
"If he's going to leave, the place he's going to go with young talent is the place he has two homes and sunshine in a winter league and his business partners all live."
Uncommon Knowledge
Newsweek is committed to challenging conventional wisdom and finding connections in the search for common ground.
Newsweek is committed to challenging conventional wisdom and finding connections in the search for common ground.
About the writer
Dan Cancian is currently a reporter for Newsweek based in London, England. Prior to joining Newsweek in January 2018, he was a news and business reporter at International Business Times UK. Dan has also written for The Guardian and The Observer.