NBA Playoffs 2017: LeBron James Passes Michael Jordan to Become Playoff Scoring Leader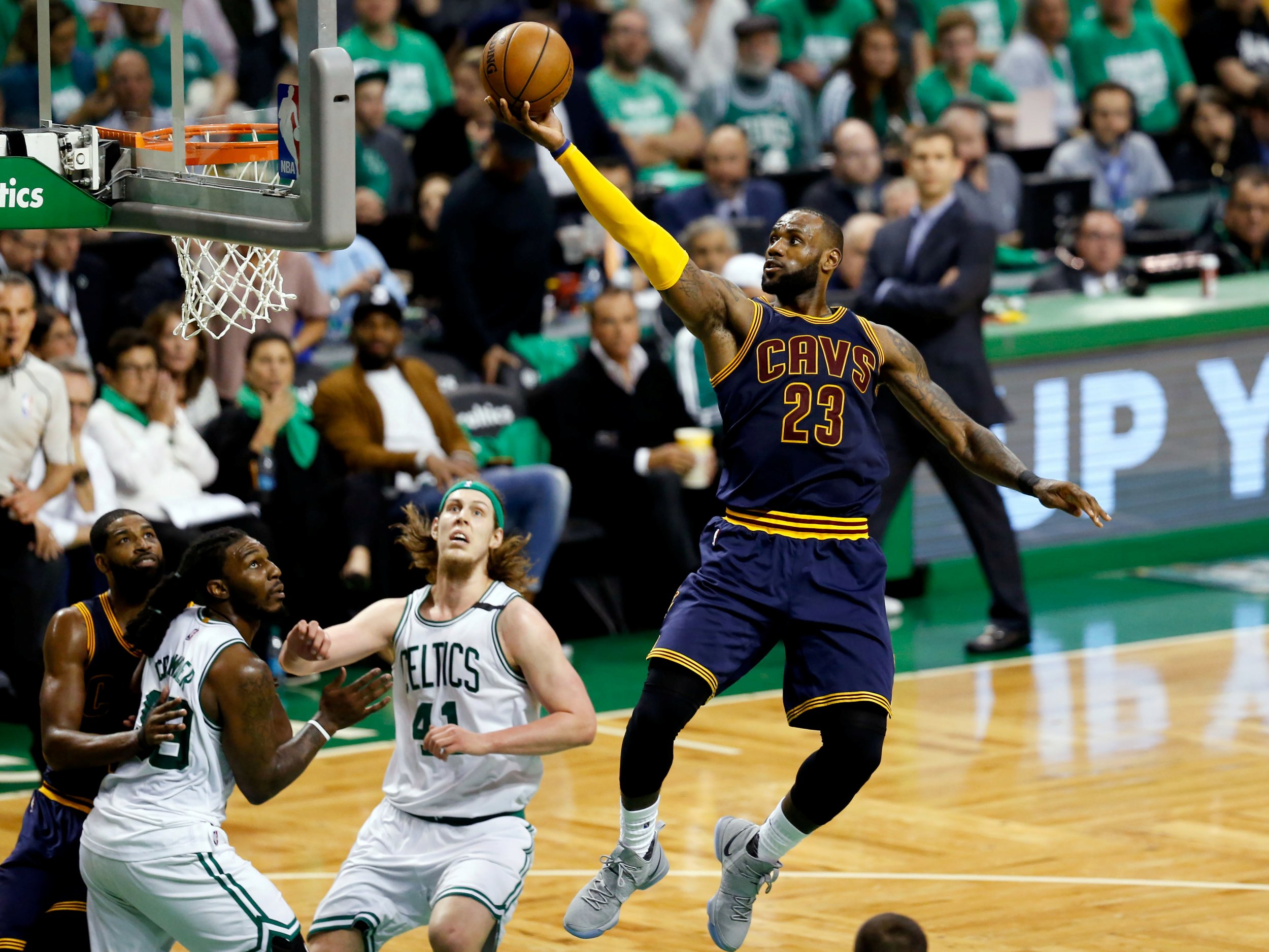 Cleveland forward LeBron James moved past Hall of Famer Michael Jordan as the leading scorer in NBA playoff history on his way to helping the Cavaliers ease into a third successive NBA Finals series on Thursday.
James needed 28 points to surpass Jordan (5,987 points), as he entered Game Five of the Eastern Conference Finals against the Boston Celtics and reached the milestone in style late in the third quarter with a three-point jump shot.
James celebrated the record by raising his right index finger to signal No. 1, but quickly retreated to the backcourt to defend as the game continued.
The three-pointer put the Cavaliers up by 32 points.
James promptly knocked down two more three-pointers before the end of the third period.
With victory in the bag, he sat out the fourth quarter as the Cavaliers routed the Celtics 135-102 to clinch the best-of-seven series 4-1, and set up a third successive championship series against the Golden State Warriors.
The 32-year-old James, who is seeking a fourth NBA title, took 212 post-season games to surpass Jordan, a six-time champion who played 179 playoff games.
James said he was honored to pass Jordan, his boyhood idol.
"I think first of all I wear the number (23) because of Mike," he told reporters after finishing the game with 35 points to take his total to 5,995 points.
"I think I fell in love with the game because of Mike, but when you're growing up and seeing Michael Jordan it's almost like a god, so I never did believe I could be Mike.
"The biggest thing for me sitting here after breaking the all-time scoring record in playoff history, is I did it just being me.
"I don't have to score to make an impact on a game and that was my mindset when I started playing, if I'm not scoring how can I still make an impact on the game?
"It's carried me to this point now and it's going to carry me for the rest of my career because scoring is not No. 1 on my agenda."