As NBA players have decided to boycott playoff games to protest the police shooting of Jacob Blake on Sunday, top players like LeBron James are being told to "move to China" for speaking out.
The Los Angeles Lakers star is among the players who have called for action from team owners toward social-justice reform against systemic racism and police brutality.
Players from the Lakers, Houston Rockets, Oklahoma City Thunder and the Portland Trail Blazers have joined the Milwaukee Bucks in boycotting upcoming games.
On Wednesday, James tweeted: "F*** THIS MAN!!!! WE DEMAND CHANGE. SICK OF IT."
29-year-old Blake was shot seven times in front of his children by police officers in Kenosha, Wisconsin. Although he survived, his family says he is now paralyzed from the waist down and is unlikely to walk again.
The 35-year-old forward previously spoke about the shooting at a press conference earlier this week.
"If you're sitting here telling me that there was no way to subdue that gentleman or detain him before the firing of guns, then you're sitting here and you're lying to not only me, but you're lying to every African American, every Black person in the community because we see it over and over and over," James said.
"If you watch the video, there was multiple moments where if they wanted to they could've tackled him. They could've grabbed him. They could've done that."
He added: "Why does it always have to get to a point where we see the guns firing? His family is there, the kids are there, it's in broad daylight It's just, quite frankly it's just f--ked up in our community."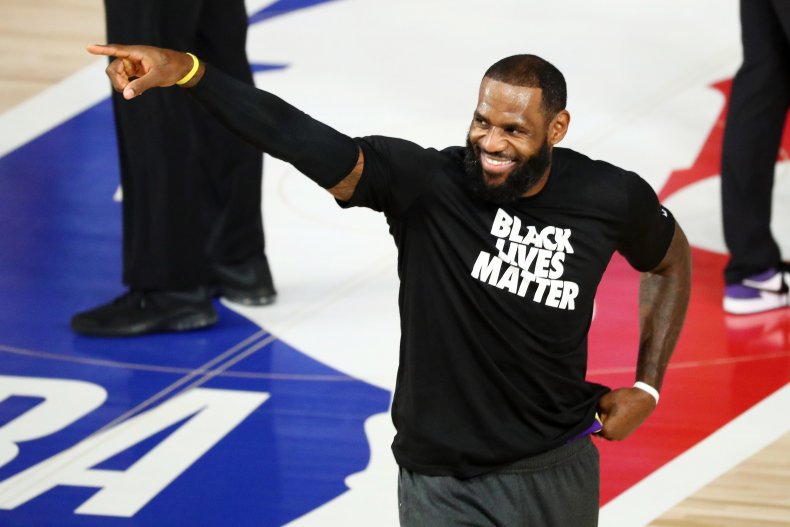 James' tweet has led to calls for the athlete to "move to China" by voices on Twitter who do not support the NBA boycott.
Author Juanita Broaddrick responded to James with: "No LeBron... F*** you. We're sick of you. Move to China," in a tweet that garnered more than 23,000 likes.
Why are they telling NBA players to move to China?
The "move to China" discourse stems mostly from an incident involving a tweet from Houston Rockets general manager Daryl Morey last year.
"Fight for freedom, stand with Hong Kong," his tweet read.
The NBA and China were locked in a feud in October sparked by Morey's tweet that voiced support for protests in Hong Kong leading to Chinese leagues, streaming services, sponsors, and partners, all cutting ties with the Rockets and the NBA.
American basketball is hugely popular in China and the sporting body eventually backed down, and stayed silent on the issue of Hong Kong as Morey issued a much-debated apology to Beijing.
Addressing the controversy at the time, James drew ire from fans for not speaking up for human rights abuses in China and instead saying Morey wasn't educated on the matter
"We all have freedom of speech, but at times, there are ramifications for a negative that can happen," James said at the time. "I don't want to get into a feud with Daryl, but I believe he wasn't educated on the situation at hand, and he spoke. Some of the people have been harmed, and not financially but physically, emotionally and spiritually."
Since then, whenever James has spoken up in support of the Black Lives Matter movement and the protests over George Floyd's death, numerous social media accounts have responded by accusing him of hypocrisy over his silence on China.