LeBron James Says Officer Who Shot Ma'Khia Bryant Is 'Next' After Derek Chauvin Verdict
LeBron James posted a photo of Nicholas Reardon on Twitter today with the message: "YOU'RE NEXT ⏳ #ACCOUNTABILITY." Reardon is the officer identified with firing four shots that killed 16-year-old Ma'Khia Bryant in Columbus, Ohio. The message seemingly implied the officer would be the next to face repercussions similar to that of George Floyd's killer Derek Chauvin.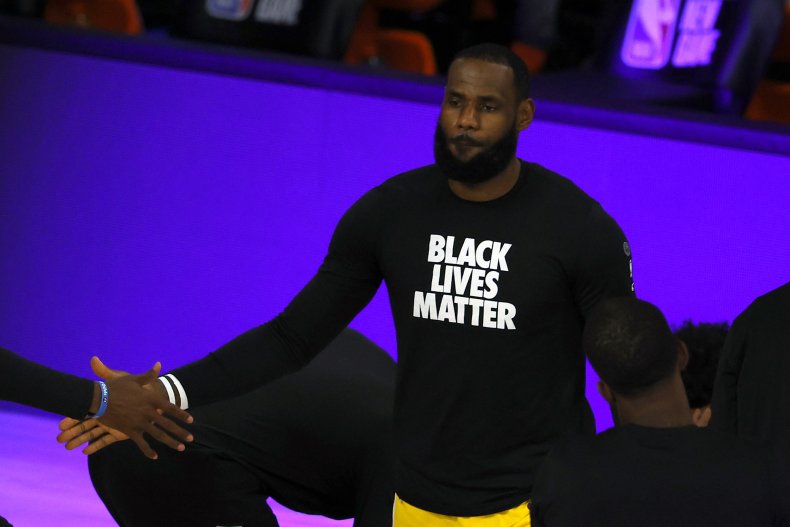 The basketball star of the Los Angeles Lakers has been an outspoken supporter of Black Lives Matter and frequently takes to social media to express his opinions regarding social justice. As a player, he is a four-time world champion, including from the Lakers run in 2020, as well as a 17-time NBA all-star.
"A lot of people kind of use this analogy, talking about Black Lives Matter as a movement. It's not a movement," James told reporters following a game last July. "When you're Black, it's not a movement. It's a lifestyle. We sit here and say it's a movement, and, OK, how long is this movement going to last? 'Don't stop the movement.' No, this is a walk of life. When you wake up, and you're Black, that is what it is. It shouldn't be a movement. It should be a lifestyle. This is who we are."
Police responded to a report of a disturbance when the shooting occurred on Tuesday. Police claim Bryant was threatening two girls with a knife when she was fatally shot by an officer, who authorities later identified as Reardon. The incident took place shortly before a jury reached a guilty verdict in the murder trial of Derek Chauvin for the killing of George Floyd. News of Bryant's death caused immediate protests in Columbus.
On Wednesday, the city released the footage from the body cameras worn by the officers who were on the scene. Interim Chief of Police Michael Woods presented the videos at a press conference before Mayor Andrew Ginther spoke.
"This is a failure on part of our community. Some are guilty, but all of us are responsible," Ginther said. "BCI [Bureau of Criminal Investigation] will determine if the officer involved was wrong. And if he was, we will hold him accountable, as we have other officers who have committed wrongdoing criminally, or in violation of the policies and procedures of the Division of Police."
"The killing of 16-year-old Ma'Khia Bryant by the Columbus police is tragic," White House press secretary Jen Psaki told reporters on Wednesday. "She was a child. We're thinking of her friends and family in the communities that are hurting and grieving her loss."