Lee Chatfield, Ex-Michigan House Speaker, Denies Sexually Abusing Sister-in-Law on Her Wedding Night
Lee Chatfield, the former Michigan House Speaker, has denied allegations that he sexually abused his sister-in-law, admitting instead to having an affair with her that began after she turned 18.
The woman, now aged 26, filed a criminal complaint accusing the married former lawmaker of sexually assaulting her multiple times over the course of more than a decade, starting from when she was 15 years old.
The alleged abuse continued until last summer, the woman's lawyer, Jamie White, told The Detroit News.
Chatfield "manipulated her through the church," took advantage of her when she had come over to watch his children, and assaulted her "in a closet on her wedding night," White said.
But Mary Chartier, a lawyer for Chatfield, said Chatfield had an affair with the woman that lasted years. Chartier said it had only begun after she was over the age of 18.
"Mr. Chatfield is innocent of the false rape claims made against him," Chartier said in a statement to Newsweek. "He had affairs while he was married, including a sexual relationship with the woman who is now claiming she was raped. Their affair lasted for years, but they were both consenting adults over 18.
"Mr. Chatfield deeply regrets the decisions he has made. It has caused great pain to his wife and family, and they are working through this together. But he did not assault this woman in any manner during their years-long adult consensual relationship. He intends to vigorously fight these false claims."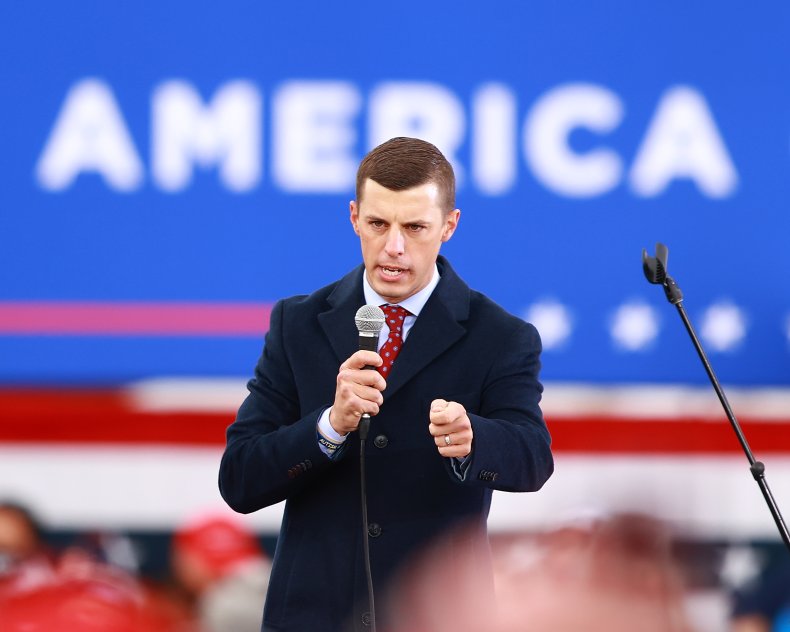 Michigan's age of sexual consent is 16. But it goes up to 18 when an authority figure is involved, such as a teacher who is involved in a sexual relationship with a student.
White has been contacted for additional comment.
The woman's complaint was filed with the Lansing Police Department, which then referred it to Michigan State Police.
State police spokeswoman Shannon Banner told Newsweek the complaint "is under review."
"We have no further information to share on this matter at this time," she added.
The complaint alleges Chatfield, now 33, first molested the woman starting from when she was a teenager attending Chatfield's church, Northern Michigan Baptist Bible Church, and continued while she attended Northern Michigan Christian Academy, a school associated with the church.
Chatfield taught at the school and was the athletic director between 2010 and 2014, according to his profile on LinkedIn. His father, Rusty Chatfield, is the church's pastor, and teacher and superintendent at the school, according to the church's website.
White said the abuse continued after Chatfield left the school to run for a seat in the Michigan House of Representatives and until July last year.
Chatfield, a Republican, was elected to the Michigan House in 2014 and became the youngest House Speaker in Michigan history in more than a century in 2019. He left the house in 2020 due to term limits.
Update 01/09/22, 10:34 a.m. ET: This article has been updated with a statement from Michigan State Police.
Update 01/10/22, 3:53 a.m. ET: This article has been updated with a statement from Mary Chartier.