'Legacies' Season 3: Is Peyton Alex Smith Leaving as Rafael?
Legacies Season 3, Episode 2 saw The CW show say goodbye to a main character. Rafael (played by Peyton Alex Smith) looked set to die in the episode, titled "Goodbyes Sure Do Suck," but Hope (Danielle Rose Russell) found a way to save his life—though in doing it, she had to transport him into a prison world, leaving fans wondering if the character would be able to return in a future episode.
A little recap first on how we got to this point on The Vampire Diaries spin-off. Raf first died last season, only to be brought back by The Necromancer (Ben Geurens). This resurrection, however, seems not to have fully worked, and in Episode 2 the character found himself coughing up black sludge, similar to that which killed off Chad (Charles Jazz Terrier) last episode.
As such, it seemed that Raf was dying for real this time. This meant plenty of emotional goodbyes with all the various characters. Most important, however, was his conversation with Hope, which saw him tell her, "I believe that everyone gets their own version of heaven. For me, it's going to be my best day ever on a loop—a day outside with the people I love."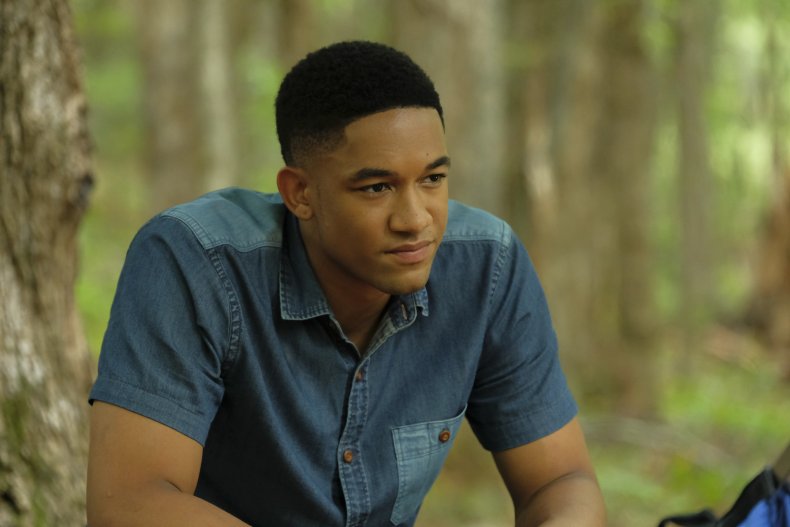 This gave Hope an idea, she modeled a prison world based on what he had described to her, that allowed him to fish with his parents every day rather than succumbing to his illness.
This, of course, means that Raf is not dead, which means that the show is able to bring him back whenever it chooses. However, it seems that for now, the actor has essentially left the show—after all, it would rather undermine all the emotional goodbyes the character had in the episode were he to come back any time soon.
Smith himself has not confirmed whether he will return to Legacies in the coming episodes. So far, his only public comment on the episode was a Twitter post featuring a blue heart emoji and one of a desert island—seemingly a reference to his character's fate.
Though his exit on the show seemed to be confirmed by all the emotional goodbyes and the title of the episode, there was one remaining plot thread that some fans think is a sign he will return. In the previous episode, the actor was revealed to be a descendant of King Arthur, which some saw as a strange thing to reveal if a character was set to leave in the next episode. However, it remains to be seen whether that plotline will return—though if Raf returns it would be far from the only time the show had managed to cheat death.
A TVLine interview with a Legacies executive producer may also be further evidence that the character is leaving the series for good. Earlier in January, Brett Matthews was asked whether the King Arthur reveal was the beginning of a new storyline for Raf, but seemed to avoid the question and hint that it was an end rather than a beginning for the character.
He said: "Raf's journey through the first couple of seasons has always been about family. As a foster child, he's always wondered where he comes from, and finding out that he's connected to a royal blood line is an unexpected answer to that question. So he's finally beginning to discover all of the things he's always wanted to know about himself, including his family origins. He really felt like the perfect person to come in and save the day."
Smith may not be the only cast member set to leave in Legacies Season 3. Alyssa Chang actor Olivia Liang has been cast as the lead on the new CW reboot of Kung Fu, which suggests she may soon be written off her current series.
In the above TVLine interview, Matthews also weighed in on whether Chad would return, saying: "Death is pretty fluid, but at the same time, it did feel like a tragic end to Chad. He's a small character, but he definitely grew on us. I don't know if we'll ever see Chad again, but he's pretty definitely dead at the end of this episode."
Legacies Season 3 airs Thursdays at 9 p.m. ET / 8 p.m. CT on The CW