William Barr Blasted by Legal Experts for Acting as 'Defense Lawyer' for Donald Trump Rather Than Representing American People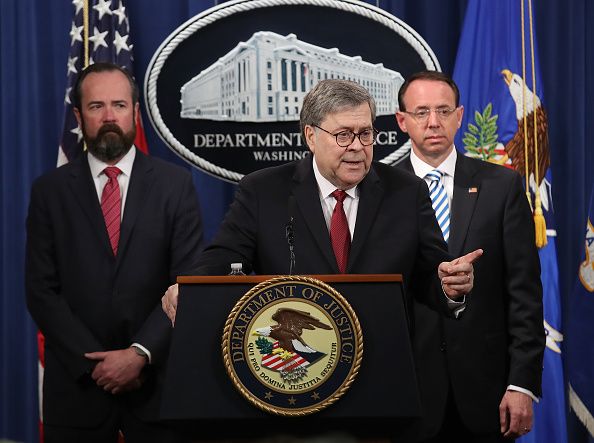 Legal experts slammed Attorney General William Barr on Thursday and questioned his allegiance to the American people following his press conference over the release of special counsel Robert Mueller's report.
The attorney general appeared before reporters to discuss the redacted report, which was published shortly afterward. Barr repeatedly used Donald Trump's "no collusion" line throughout his highly anticipated press conference, saying 16 times in just 22 minutes that there was no collusion, conspiracy or coordination between the Trump campaign and Russia during the 2016 election.
But former federal prosecutors quickly pounced on Barr's statements, accusing him of acting in the best interest of the president rather than the American people. Some went so far as to accuse Barr of acting like another "defense lawyer" for Trump.
"I listened to the whole thing before reacting. Here's some quick reactions: Barr sounded like a defense lawyer. Literally. Defense lawyers often say 'the government didn't prove' to focus juries away from what prosecutors did show. That's what Barr's whole statement was," tweeted Mimi Rocah, a former federal prosecutor for the Southern District of New York.
Barr was joined on the podium by Deputy Attorney General Rod Rosenstein and Ed O'Callaghan, the acting principal associate deputy attorney general. Asked by a reporter why Mueller was not with them, Barr said the special counsel's report was prepared for him.
"It's a report he did for me as attorney general," Barr said. "He is required under the regulation to provide me with a confidential report. I'm here to discuss my response to that report and my decision, entirely discretionary, to make it public."
Former federal prosecutor Renato Mariotti took issue with this statement.
"Robert Mueller didn't conduct that investigation for you, Mr. Barr," Mariotti tweeted. "He conducted it for the American people. You're supposed to work for us too. Start acting like it."
Barbara McQuade, a former U.S. attorney and legal analyst, accused Barr of "parroting" Trump's defense that he is exonerated and has been cleared of wrongdoing.
"Barr's parroting of Trump's talking point about 'collusion' does not instill confidence in his independence as the Attorney General for the people," she tweeted shortly after the press conference.
In an earlier post, McQuade noted Mueller's absence from the press conference as unusual, because normally "all of the players 'hold hands' to show unity when making a public announcement."
Barr has been under heavy scrutiny since he released a four-page summary of Mueller's 448-page report in late March. Several members of the special counsel's office, speaking on the condition of anonymity, told The New York Times and The Washington Post they believed the attorney general's summary had not adequately represented the findings of their 22-month probe into Russian election interference.
But Barr insisted on Thursday that the report, albeit a redacted version, will "allow every American to understand the results of the special counsel's investigation."