Legal Scholar Thinks GOP Acquitting Trump Would Be Harder if Dems Spent More Time Building Case
Legal scholar Jonathan Turley told Newsweek he believes the Democrats' current impeachment argument against former President Donald Trump could have been stronger if members of Congress spent time gathering witness testimony ahead of this week's impeachment trial in the Senate.
Turley is one of four scholars who testified during the House's impeachment hearings in late 2019, the first time Trump faced impeachment. Turley, who is the Shapiro Professor of Public Interest Law at George Washington University, was invited by Republicans to appear before the House Judiciary Committee's impeachment hearings in 2019 and also testified during former President Bill Clinton's impeachment hearings in 1998.
Turley argued in December of 2019 that the House should wait to proceed with impeachment proceedings until it secured testimony from John Bolton, who spent more than a year serving as Trump's national security adviser before Trump fired him in September of 2019. As with the first Trump impeachment trial, Turley said investing the time to gather evidence and witness testimony would have supported this latest push for a conviction.
"In the first impeachment, I criticized the House for impeaching the president on the thinnest record in the shortest period in history," Turley told Newsweek. "They then outdid that record with the same president by using a snap impeachment and setting no record at all."
A majority in the Democrat-controlled House—including 10 Republicans—voted on January 13 to impeach Trump on "incitement of insurrection" following the deadly riot at the U.S. Capitol Building on January 6. On January 26, five Republican senators joined Democrats in voting against dismissing an impeachment trial in the Senate. That vote was triggered by Kentucky Senator Rand Paul, who filed a motion arguing that holding an impeachment trial for a former president was unconstitutional.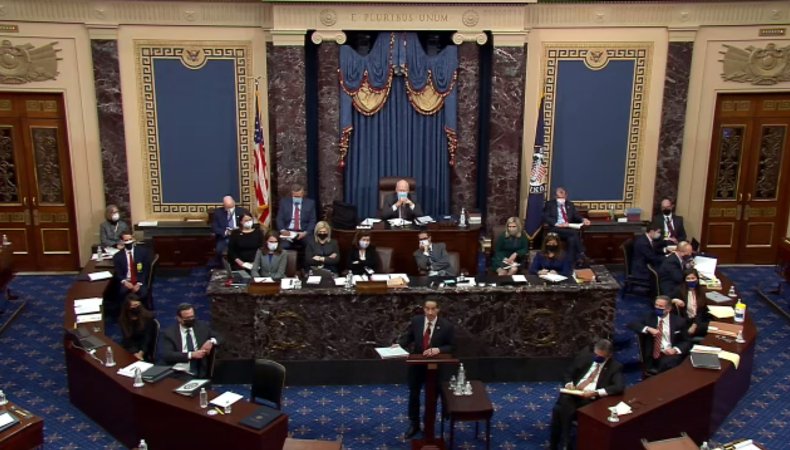 Seventeen GOP senators must join their 50 Democratic colleagues in order to convict Trump at the conclusion of his impeachment trial in the Senate, which began on Tuesday afternoon. Following his first impeachment in the House, Trump was acquitted in the Senate last February on two articles of impeachment. Many political experts believe that a conviction this time around is unlikely, given that only five Republicans voted to move forward with the trial on January 26.
Turley was critical of the House's impeachment strategy while speaking with Newsweek on Monday and recently published some of those criticisms in an opinion piece published by The Hill last week and in an article he posted on his own website last month. His writings raised questions about whether the House impeachment managers would have had stronger arguments to make with a different article of impeachment and with witness testimony put on the record ahead of the trial.
"Why has the House not used the last few weeks to call these witnesses and build the needed case to show intent to incite an insurrection? Weeks have gone by with key witnesses speaking to the press but not to the House," Turley wrote last month.
"They could have easily held hearings," he told Newsweek. "They chose not to. And what is curious is that they allowed weeks to pass without holding any hearings to build a public record."
Turley said the "incitement of insurrection" charge, which he described as a "poorly written article" of impeachment, will be difficult for most Republican senators to support. If legislators in the House had spent more time considering alternative paths for impeachment and putting witness testimony on the record, they could have garnered more bipartisan support, he said.
"If they held one day of hearings they could have considered the implications and alternatives to the language in the article of impeachment," Turley said. "Many of the senators who have condemned Trump would still not be willing to sign off on an article of impeachment saying that he intended to incite an actual rebellion against the United States."
Turley said the House has "built an emotionally charged narrative" but "hasn't created a plausible strategy to actually convict the president."
"The question is, why wouldn't you craft the article of impeachment to garner broader support? And the only reason I can think of is that this is not a strategy to prevail," Turley said.
Though Turley questioned the strength of the impeachment argument to be presented to the Senate, he said he felt "frustrated" by the strategy because there were other paths the House could have taken in pursuit of a second impeachment.
"I believe that there are legitimate issues that could have been addressed by the House. There are potential impeachable issues, impeachable aspects to what the president did," he said. But Democrats in the House "didn't seem interested" in finding that bipartisan path forward, he said.
"I think that Democrats have miscalculated," Turley said. "Few minds will be changed. This trial, I think it has been structured as a way to harden rather than change the positions of the public."
On the day Trump was impeached in the House for a historic second time, he had only one week remaining before he was to leave the White House. As House members deliberated impeaching Trump on January 13, many Democrats said it was necessary to pursue impeachment to send a message to the public about the role he played in the Capitol riots. House Majority Leader Steny Hoyer of Maryland said on the House floor last month that Trump's actions "demand urgent, clear action" by Congress.
"Is there little time left? Yes. But it is never too late to do the right thing," Hoyer said.
Turley told Newsweek he believes the House has the authority to impeach a president at any time they are in office—even if they have just days or hours remaining in their term. But the House "needs to support the impeachment with some record," he said. If the House had waited to impeach Trump until after he left office, that would have raised additional questions about the constitutionality of impeaching a former president, Turley said, but that isn't the case in this instance.
Even with the rush to impeach Trump before he left office, Turley said the House still had weeks to put witness testimony on the record for the Senate trial. "The House had from Jan. 6th to Jan. 20th to hold hearings and vote," Turley wrote in an email to Newsweek on Tuesday. "It then had weeks to add to that record by putting key witnesses under oath in the House. Even a single day would have allowed a hearing on the article of impeachment and a formal opportunity for the President to respond."
As the trial currently stands, the Senate will first vote Tuesday on its constitutionality before the House impeachment managers and Trump's defense team begin their arguments.
"In some ways, the Democrats made it easy for Republicans in the use of a snap impeachment and the adoption of a poorly crafted article of impeachment," Turley told Newsweek. "I honestly think that was a miscalculation, because I've talked to many of these senators and I think that this impeachment could have been handled in a way that would have made this a far closer question. This article of impeachment was almost designed to prevent conviction. I think that's how history will view it."