Length of Ring Finger Linked to Men's Risk of Dying from Coronavirus, Study Finds
The length of a man's ring finger has been linked to his risk of dying of COVID-19 in a study, due to its potential links to testosterone levels. However, experts not involved in the research said that while the work is interesting, more research is needed to confirm the link between COVID-19 and the hormone, and no one should feel they are safe from the coronavirus.
Men with longer ring fingers appear to have a lower risk of dying from, or having, severe COVID-19, according to the authors of the study published in the journal Early Human Development. They came to their conclusion by looking at what is known as the digit ratio, which is thought to be a measure of exposure to testosterone in the womb. As more men have so far died of COVID-19 than women, some scientists have asked whether testosterone could play a role.
The digital ratio is calculated by dividing the length of the index finger, known as 2D, by the length of the ring finger, or 4D. Having a fourth finger longer than the second is thought to indicate higher exposure to hormones such as testosterone in the womb. John Manning, professor of Evolutionary Psychology at Swansea University in the U.K. and first author of the new study, has spent years researching this topic.
To examine the potential link between digit ratio and the severity of COVID-19, the researchers looked at existing data from an online survey on the average 2D:4D measures of 103,482 men and 83,366 women from 41 countries. They also drew on COVID-19 case fatality rate data—or the proportion of people who died from the number known to have the disease—as reported by the World Health Organization on April 21, as well as deaths by gender collated by Global Health 50/50 from 16 countries.
The team found a link between high digit ratio, which suggests low exposure to testosterone in the womb, and severe COVID-19 and high mortality rates in men. In other words, men with longer ring fingers appeared to have a lower risk of dying or having severe COVID-19.
It's not clear what could explain this association. For instance, in general, males have a less robust immune response than females and are more susceptible to infectious diseases, the authors explained. This has led to the idea that testosterone could negatively affect the immune system, but at the same time too strong a response may also lead to a fatal overreaction, they said.
The authors said another possibility is that testosterone helps the coronavirus invade our cells, with what is known as its spike protein binding to an enzyme in our bodies called ACE2. This may explain why children are less likely to fall seriously ill, as they are pre-pubescent. But on the other hand, as men age testosterone levels decrease, and ACE2 is expressed more in females than men. "Paradoxically," the authors wrote, the expression of ACE2 correlates negatively with death from COVID-19.
"Our findings support an association between low prenatal testosterone (high 2D:4D) and high severity of COVID-19, and high mortality in males," the team wrote, and high prenatal testosterone in men "may be protective of the serious effects of COVID-19."
"A strong positive association between male 2D:4D and mortality may provide a biomarker for male COVID-19 susceptibility and identify those for whom it would be advisable to exercise social distancing," they argued.
However, the team acknowledged the study was limited. For example, the authors were comparing data across nations and rates of testing for COVID-19 can vary greatly, with some largely focusing on hospital patients who are generally the most seriously ill. This can skew case fatality rates between countries.
"Therefore, we strongly advise that future investigations of associations of 2D:4D and COVID-19 severity consider patients. If there is a strong positive correlation with disease severity in men, the measurement of 2D:4D [...] may be of prognostic use for the severity of COVID-19," the authors wrote.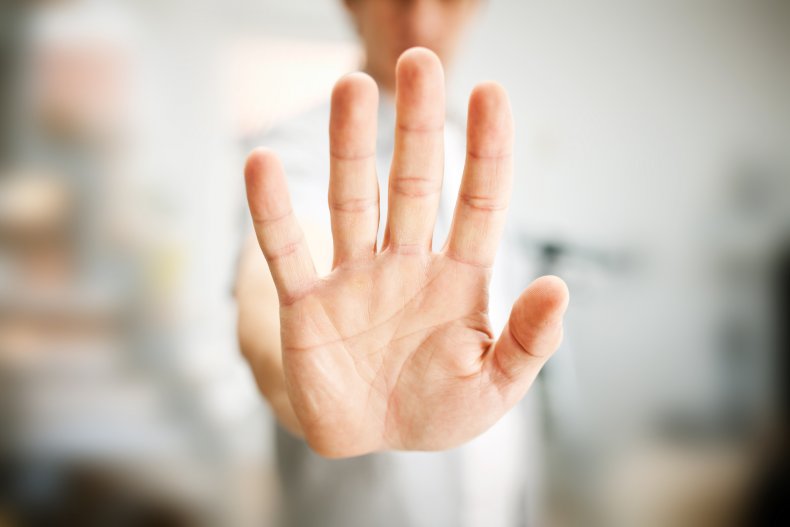 Experts not involved in the research told Newsweek the findings are interesting, but they have limited use for tackling the pandemic.
Allan Pacey, professor of andrology at the U.K.'s University of Sheffield, told Newsweek: "I don't think anyone should consider themselves safer from COVID-19. Everyone should be following the relevant government guidance for their country and stay at home and/or practice social distancing when advised to do so.
"Moreover, everyone should be washing their hands 6 to 10 times per day, regardless of the length of their ring finger."
Pacey said the most obvious limitation of the study is that the analysis is based on country-level data on digit ratio rather than measures from people who died of COVID-19. However, he acknowledged this would present "ethical challenges."
Pacey also expressed concern that the analysis was done in the midst of the pandemic when final case numbers and death rates in each country are unknown.
"However, the authors of this paper should be applauded for their lateral thinking in coming up with this analysis. There may well be something interesting here about how our adult immune system functions as a function of prenatal sex hormone exposure. But that will need a lot more work to unpick," he said.
Jeremy Rossman, honorary senior lecturer in virology at the U.K.'s University of Kent, told Newsweek this is the second study to link low testosterone levels in men and severe COVID-19 disease. The other paper, published in the journal Andrology, showed a correlation between testosterone levels in adult men and severe COVID-19 disease.
"It is not thought that testosterone has a direct impact on COVID-19 disease, rather that it may affect other factors, such as ACE2 expression levels," Rossman said. "This is a very new area of study and further research will be necessary to confirm the association between testosterone levels and COVID-19 disease, as well as determine how testosterone levels affect the disease course."
Since the pandemic started late last year, more than 5.5 million cases of COVID-19 have been confirmed worldwide, according to Johns Hopkins University. Some 350,509 people have died and more than 2.2 million are known to have recovered. The U.S. is the country with the most confirmed cases, as shown in the graph below by Statista.