Who is Leonard Leo? Twitter Users Angered Over $1B Donation Reports
Twitter users expressed anger on Monday morning in response to a report from the New York Times detailing a $1.6 billion donation received by prominent conservative activist Leonard Leo.
On Monday, the New York Times reported a nonprofit organization run by Leo, who is widely known as the individual who advised former President Donald Trump on appointing conservative Supreme Court justices, received a $1.6 billion donation from Barre Seid, who was the head of manufacturing company Tripp Lite. Citing an anonymous source and tax records, the New York Times reported that Leo's organization, the Marble Freedom Trust, received the donation through a donation of shares of Tripp Lite, which were owned by Seid.
Leo currently serves as the co-chairman of the conservative organization called the Federalist Society. According to his bio on the Federalist Society website, Leo first joined the organization 25 years ago and "has been instrumental in helping the organization top 70,000, focusing on the growth of lawyers membership, operations and activities advancing limited, constitutional government."
The bio further states that Leo advised Trump "on judicial selection, assisted with the Gorsuch and Kavanaugh Supreme Court selection and confirmation process, and served as a member of the transition team."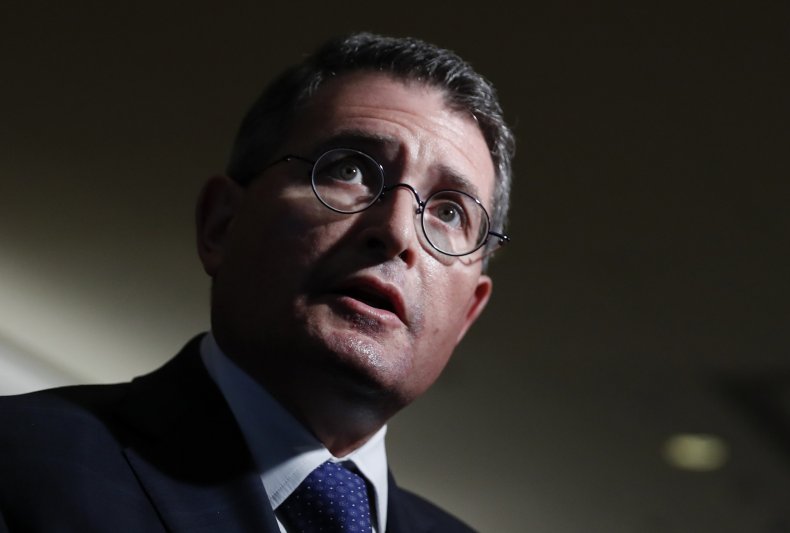 "He also organized the outside coalition efforts in support of the Roberts and Alito U.S. Supreme Court confirmations. Leonard was appointed by President George W. Bush to three terms to the U.S. Commission on International Religious Freedom as chairman," the bio added.
In a statement sent to the New York Times following the report, Leo said, "It's high time for the conservative movement to be among the ranks of George Soros, Hansjörg Wyss, Arabella Advisors and other left-wing philanthropists, going toe-to-toe in the fight to defend our constitution and its ideals." Newsweek reached out to the Federalist Society for comment on the Times' reporting.
Shortly after the Times' reporting, a number of Twitter users spoke out expressing anger over the reported donation.
Brendan Fischer of the investigative watchdog It's Documented wrote, "Leonard Leo—'the No. 3 most powerful person in the world,' according to Clarence Thomas—now controls an astonishing $1.6 BILLION that he can use to reshape our political system. With this fortune, Leo can maintain and even grow his singular influence in near perpetuity."
Twitter user Lynn S. Teague wrote, "Leonard Leo founded the Federalist Society and has already bought the SCOTUS majority. He has made no secret of his fondness for theocracy and oligarchy. So, this is not good news."
Twitter user Jayne Dutra had a similar response, writing, "Leonard Leo is a dangerous man and one of the founders of the Heritage Foundation. A good reason for there not to be any gazillionaires in our society."
S.V. Date of the Huffington Post wrote, "If people don't know who Leonard Leo, he is the one human most responsible for the overturning of Roe."
While speaking with Newsweek on Monday, Democratic strategist Michael Starr Hopkins spoke about the reported donation to Leo's organization and said that both Democrats and Republicans have "their huge source of funding."
"No one has dumped this amount of money in a race or into an election cycle but there's certainly been large amounts," Hopkins said. "I think what people should be more upset about is the fact that the way that they did this was intentionally to usurp tax laws."
According to the Times, the donation to Leo's organization was made just before Tripp Lite was sold to an Irish company, allowing the organization to avoid paying taxes on the money.
Hopkins also explained that he thinks the reported donation will make Leo a "big player in terms of candidates now courting him."
"There are gonna be a lot of people now courting him and it's gonna be interesting," Hopkins told Newsweek.