With Less Than 50 Days Until Election, These Two Democratic Senators Are in Danger of Losing Their Seats
As the general election draws near, so does the possibility of a Democratic majority in the Senate. Republicans are tasked with defending almost twice as many seats as the Democrats, and political analysts suggest just two Democratic incumbents risk losing their spots to a GOP challenger. Comparative data indicates that eight seats currently held by Republicans could turn blue following Election Day.
Forecasts released by Real Clear Politics, Inside Elections and the Cook Political Report agree that Alabama Senator Doug Jones' seat runs the most significant risk of a Democratic-to-Republican switch. Polls show the race between Jones, a former U.S. attorney for Alabama's Northern District, and Tommy Tuberville, a former Auburn football coach and political newcomer, will likely result in a GOP win, with the latter consistently leading in statewide voter surveys. Alabama is one of the nation's most reliably red states, and Jones' Senate victory during a late-2017 special election came after a close contest.
Analysis shows Michigan Senator Gary Peters, a Democrat whose seat is also up for election in November, could lose his race against Republican candidate John James. The Cook Political Report notes Peters' Senate seat leans Democratic, and polling results collected by Real Clear Politics support that outlook. Most political surveys conducted since the beginning of September place Peters ahead of James by an average of 3.5 points. However, Real Clear Politics still ranks the contest a "toss-up." In August, The Washington Post similarly described the race as one of the GOP's best chances for defeating a Democratic incumbent, after Alabama.
In a statement to Newsweek, a spokesperson from Peters' re-election campaign cited his "Michigan-focused" platforms, including support for small businesses, accessible health care advocacy, and a Great Lakes restoration initiative, in reasoning that the senator remains "in a strong position" to secure another term.
Democrats are defending 12 Senate seats overall in the upcoming election, compared with the Republicans' 23. The GOP currently holds a majority, with 53 seats compared with the Democrats' 47.
If Democrats can successfully defend all 12 seats, they will need to secure three or four now occupied by Republicans in order to achieve a majority takeover. Whether the party has to win those three or four Republican seats to gain a majority also depends on the outcome of the presidential race, since a Joe Biden victory would make vice presidential candidate Kamala Harris the Senate's president, who can cast tie-breaking votes.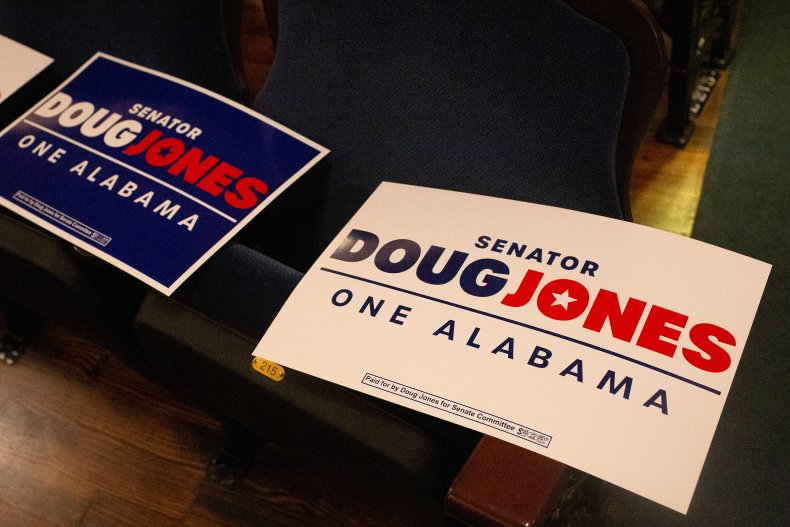 The remaining Democratic senators whose seats are up for election this fall are Delaware's Chris Coons, Illinois' Dick Durbin, Massachusetts' Ed Markey, Minnesota's Tina Smith, New Hampshire's Jeanne Shaheen, New Jersey's Cory Booker, Oregon's Jeff Merkley, Rhode Island's Jack Reed and Virginia's Mark Warner.
Most election forecasts anticipate the incumbent candidates will defend their respective seats successfully. New Mexico Senator Tom Udall is the only Democratic incumbent who is not running for re-election.
Newsweek reached out to Senator Jones' re-election campaign for comments but did not receive a reply in time for publication.
Update: This article was updated at 3:40 p.m. ET on Tuesday, September 15, to include comments from Senator Peters' campaign spokesperson.