On a Monday afternoon nearly 20 years ago, when I was a young political reporter, our HR director asked me to stop by his office—and when I left five minutes later, I no longer had a job. That's not so surprising now; since 2008, U.S. newsrooms have been cut in half. But at the time, with the newspaper industry flush, I was stunned.
Within moments, I went from having a "steady day job" (albeit a poorly paid one) to nothing at all: The paper sent me on my way with four days' severance pay. Compounding the problem, I was laid off on Monday, September 10, 2001. My job search the next day did not go as planned.
Eventually, of course, I found other work. But the stress of becoming unemployed on the brink of a national crisis was profound—and that's exactly what many Americans are experiencing today.
The U.S. has just had the worst three-month economic collapse in its history, with 20 straight weeks of more than a million Americans filing for unemployment. Things became even direr when political gridlock recently led to the expiration of the $600 weekly benefit that had kept many out-of-work Americans afloat, and the confusion around President Donald Trump's executive order to partially extend it.
Given the unpredictable course of the pandemic, a quick recovery is impossible to count on. Instead, what I've learned, through my personal experience and writing a book on the future of work, is this: These days, everyone needs a side gig. True security is never allowing ourselves to become dependent on one employer.
Busy employees may wonder: Where would I get the time? How would I even know where to start?
In the course of writing my book Entrepreneurial You, I discovered a few principles any of us can use to develop a side income stream—in small and manageable ways, over time.
First, even if you don't know what your area of expertise is, others do. Almost everyone has friends come to them for certain favors: taking photos, helping them coordinate wardrobes, improving their résumé or LinkedIn profiles. They're seeking you out because they recognize you have unusual skills, and now it's time for you to take note.
Second, test the concept. No one wants to pay you for something you've never done before. But—if your offering is desirable—many people might raise their hands to become a free "beta tester." It's low risk for them: Even if the dinner you cater isn't up to Julia Child standards, it's still a (presumably decent) free dinner. And it's a way for you to validate the idea, since it's bad news indeed if no one wants your product or service, even if it's free.
Finally, it's time to get paid. You probably won't land top rates at first. But drawing on referrals from your original beta testers, you should now be able to earn a bit of money from your side gig. And over time, as you hone your skills and confidence—and accumulate happy customers—your ability to charge a premium will grow.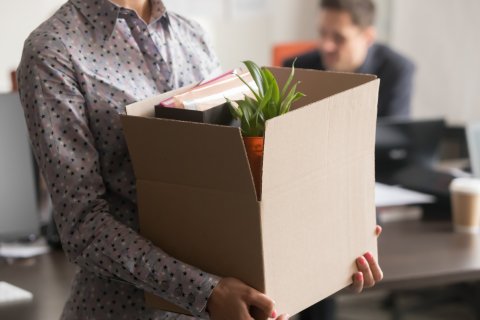 Today, I've developed multiple income streams—teaching business school, giving keynote talks, writing books, executive coaching, online courses and more. And when disruption hits, as it did with the pandemic, that diversification creates resiliency: Keynote talks at conferences dried up, but online course sales grew exponentially.
Change is certainly coming, but we don't know how or when. The best career security possible—for all of us, including those with "steady jobs"—is building a side gig today that can help protect our financial future tomorrow.
Dorie Clark teaches for Duke University's Fuqua School of Business and is the author of Reinventing You and Entrepreneurial You (Harvard Business Review Press). You can download her free Entrepreneurial You self-assessment.
The views expressed in this article are the author's own.