On Sunday, hundreds of protesters gathered on the U.S. side of the southern border to show solidarity with the caravan of Central American migrants seeking asylum in the U.S., as U.S. immigration agents deployed tear gas against hundreds of migrants who rushed the border.
The protesters carried signs with messages of support for asylum seekers, including messages reading: "Let them all in" and "end the racist attacks on migrants."
Others carried signs admonishing the Trump administration for deploying military troops to the border, calling on the government to "demilitarize the racist border" and get "troops out from the border."
Read more: Donald Trump says we will close the border permanently if need be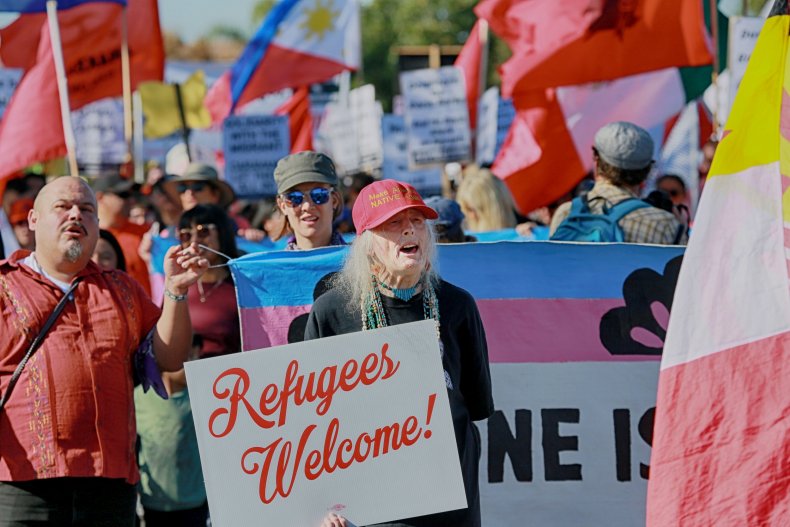 A Facebook page set up for the San Diego "March of Solidarity with the Refugee Caravan" suggests that more than 500 demonstrators attended the event, which was organized by several groups, including the Migrant and Refugee Solidarity Coalition, People Over Profits San Diego and Unión del Barrio.
"Trump is creating a war-like situation at the border and ramping up hate and fear against our brothers, sisters and siblings in exodus from poverty and violence in Central America," organizers state on the Facebook page.
"It is critical that we demonstrate the mass sentiment in support for migrants and refugees, and demand the recognition of their legal right to seek asylum," they say.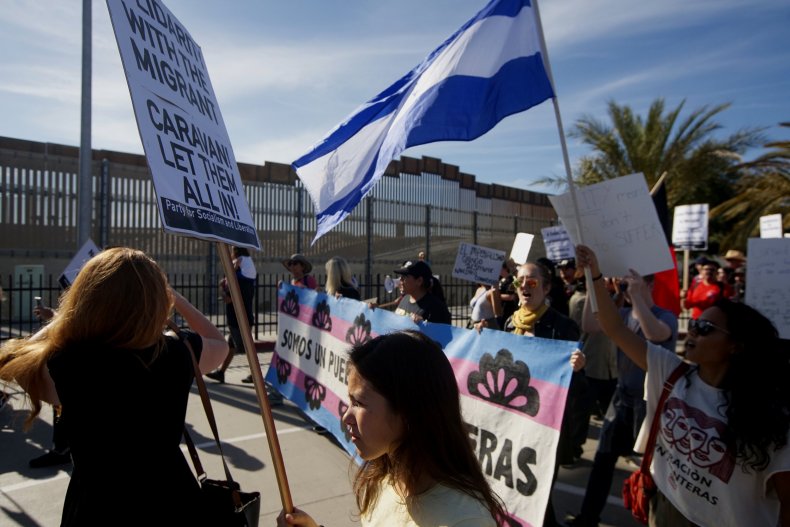 Demonstrators' show of solidarity came as U.S. Border Patrol agents fired tear gas at Central American migrants after as many as 500 people rushed police blockades on the Mexican side of the southern border in an apparent bid to cross into the U.S.
Video footage and photos of the incident shows migrants, including small children, running away from the border as tear gas fills the air behind them.
U.S. Customs and Border Protection has defended its decision to use tear gas, claiming that some migrants with the group had thrown projectiles across the border, hitting several agents.
"Border Patrol agents deployed tear gas to dispel the group because of the risk to agents' safety," the agency said on Twitter.
Still, U.S. immigration officials quickly faced backlash over the move, with New York Congresswoman-elect Alexandria Ocasio-Cortez tweeting that "asking to be considered a refugee and applying for status isn't a crime," with a photo showing a migrant family, including young children, running away from tear gas.
Read More: Donald Trump Says He Will Close The Border Permanently If Need Be
"It wasn't [a crime] for Jewish families fleeing Germany. It wasn't for targeted families fleeing Rwanda. It wasn't for communities fleeing war-torn Syria. And it isn't for those fleeing violence in Central America," Ocasio-Cortez said.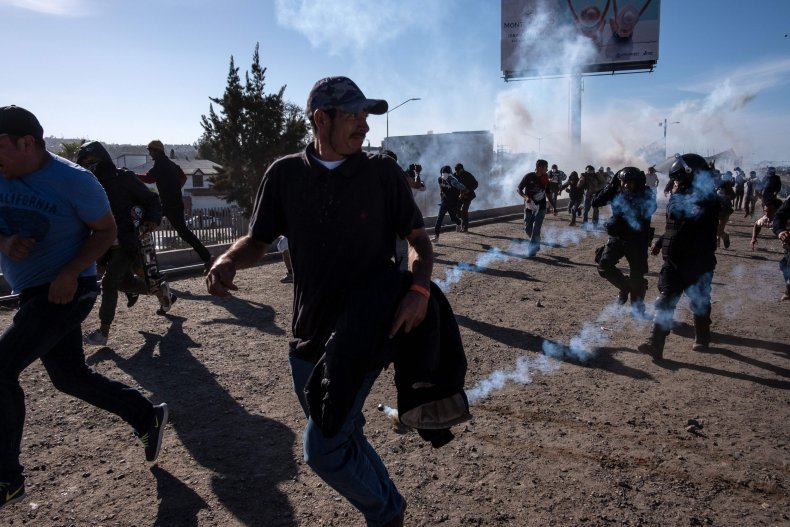 Meanwhile, Republican Senator Lindsey Graham of South Carolina, took to Twitter to accuse critics of having to "really hate President Donald Trump to not understand the problems created by the caravans."
"He is right to push back in order to deter future waves of illegal immigration," Graham wrote.
Mexico's interior ministry has said it plans to deport everyone caught trying to "violently" and "illegally" cross into the U.S. on Sunday out of the country, while the office of Tijuana Mayor Juan Manuel Gastélum said that at least 39 members of the caravan had been arrested over causing riots, disrupting public order and assaulting citizens, "among other causes."