Letitia James Calls for 'Serious' Reform After No Police Indicted in Daniel Prude's Death
New York Attorney General Letitia James called for "serious" criminal justice reform on Tuesday while announcing that a grand jury had decided not to indict any of the Rochester police officers involved in Daniel Prude's death last year.
James acknowledged the impact of the news on Prude's family and the surrounding Rochester community but said the grand jury's decision must be respected.
"Daniel Prude was in the throes of a mental health crisis, and what he needed was compassion, care, and help from trained professionals. Tragically, he received none of those things," James said in a statement.
"We concluded that there was sufficient evidence surrounding Mr. Prude's death to warrant presenting the case to a grand jury, and we presented the most comprehensive case possible. While I know that the Prude family, the Rochester community, and communities across the country will rightfully be devastated and disappointed, we have to respect this decision."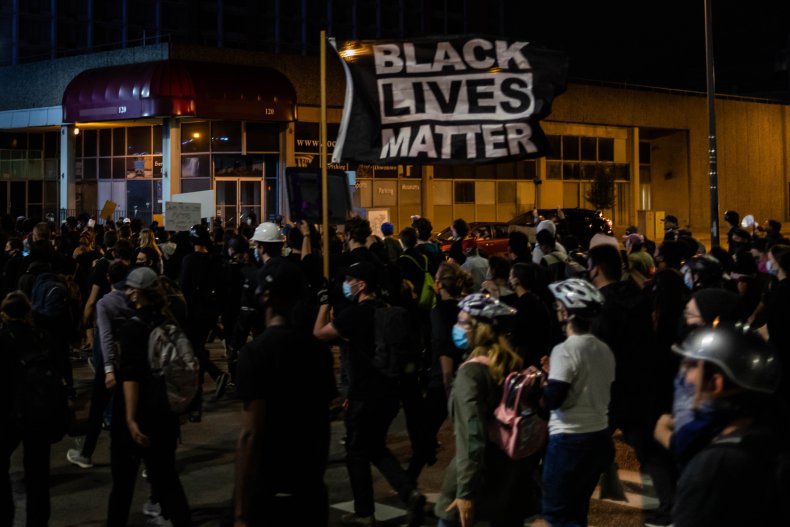 "The current laws on deadly force have created a system that utterly and abjectly failed Mr. Prude and so many others before him. Serious reform is needed, not only at the Rochester Police Department, but to our criminal justice system as a whole," James' statement continued.
The state attorney general went on to say that she is "committed to effecting the change that is so desperately needed" and listed a series of recommendations from her office for the Rochester Police Department.
The first recommendation James listed was requiring the department's officers to be able to identify when an individual is showing symptoms of excited delirium syndrome, which James said Prude was experiencing at the time of his interaction with Rochester police last March. When an individual is experiencing the relevant symptoms, officers should treat the situation as a serious medical emergency, James' office said.
James' recommendations encouraged the department to require all officers to go through de-escalation training, create a policy for the release of body camera footage and consider swapping spit socks—one of which "clearly added to his stress and agitation" when it was used on Prude—with another tool when responding to "highly agitated subjects." James also encouraged further consideration for how officers respond to calls involving individuals struggling with a mental health crisis through "Daniel's Law," which members of the New York state legislature proposed in early February.
Video of Prude's arrest by Rochester police officers was publicly released last September. The footage, which showed the 41-year-old Black man handcuffed while nude as a spit hood covered his head, triggered a wave of protests in New York.
Prude died on March 30, a week after his interaction with police occurred. His death was later ruled a homicide by the Monroe County Medical Examiner's Office with "complications of asphyxia in the setting of physical restraint" mentioned in the medical examiner's report.
Seven officers were suspended in connection with Prude's death the week that video of the incident was made public.
"Daniel Prude was in the throes of a mental health crisis, and what he needed was compassion, care, and help from trained professionals," James wrote in a Twitter thread that reiterated some of her recommendations following the grand jury's decision. "Serious reform is needed in the Rochester Police Department and our criminal justice system as a whole."
Newsweek reached out to the Rochester Police Department for comment and will update this article with any response.
This story has been updated with additional information and background.