Letter Asks UN Human Rights Council to Investigate U.S. Police Brutality Against Black Americans
Nearly a year after George Floyd's death inspired protests in the U.S. and around the world, families of Black Americans who died after encounters with law enforcement are calling upon the United Nations (U.N.) Human Rights Council (HRC) to launch an independent commission of inquiry into police violence against the country's Black citizens.
This isn't the first time the U.N.'s HRC has been presented with such a request—in fact, it received a similar one last June in the immediate aftermath of Floyd's death. But the HRC ultimately launched a global inquiry into systemic racist policing practices instead of focusing on practices within the U.S.
Collette Flanagan, whose 25-year-old son, Clinton Allen, was fatally shot by Dallas police in 2013, told Newsweek she is hopeful that the HRC will heed a renewed request to launch a U.S.-focused inquiry.
"It is so important for the U.N. to establish a commission of inquiry," Flanagan said. "If the U.N., with their resources and their reach, would establish a commission of inquiry, it would change the landscape on how people understand the atrocities that are happening in the United States, in reference to police killing."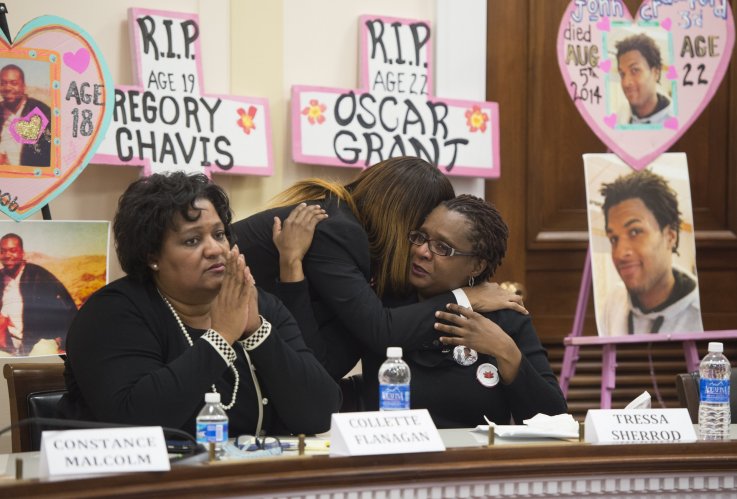 Collette Flanagan (L), mother of 25-year-old Clinton Allen who was shot and killed by a Dallas policeman, is pictured alongside Tressa Sherrod (R), mother of 22-year-old John Crawford III who was shot and killed by police in an Ohio Walmart, as Sherrod hugs Constance Malcolm, mother of 18-year-old Ramarley Graham who was shot and killed in New York City. The three mothers were photographed during a press conference with other mothers who have lost children due to police action as they call for police accountability and reform on Capitol Hill in Washington, D.C. on December 10, 2014.
SAUL LOEB/AFP via Getty Images
A letter formally requesting the inquiry and recommendations for how the U.S. can address systemic racism and racial discrimination was sent to U.N. High Commissioner for Human Rights Michelle Bachelet on Monday. A copy of the letter was also sent to the Ministers of Foreign Affairs of African States.
The letters have support from 165 families representing the victims of police violence incidents and more than 250 civil society organizations. Those groups include the American Civil Liberties Union and Mothers Against Police Brutality, the organization Flanagan founded in the wake of her son's death.
Jamil Dakwar, the director of the ACLU's Human Rights Program, told Newsweek the ACLU was part of the formal request presented to the HRC last summer, but said that request was ultimately "watered down."
"There was pushback and very aggressive lobbying by the Trump administration against it last year, and also other U.S. allies from different parts of the world," Dakwar said.
The HRC acknowledged those initial requests upon announcing its resolution to launch an inquiry wider in focus last summer.
"Although some delegates had called for an international probe to investigate killings of black people in America, and violence against demonstrators, others maintained that the issue impacted on all nations, and required a broader approach," the release said.
"In line with the final version of the resolution text, the High Commissioner should 'prepare a report on systemic racism, violations of international human rights law against Africans and people of African descent by law enforcement agencies, especially those incidents that resulted in the death of George Floyd and other Africans and of people of African descent'."
With former President Donald Trump now out of office, Dakwar said he is hopeful President Joe Biden's administration will be more receptive to a potential HRC inquiry, which he added would give the U.S. "an opportunity to show seriousness in the Biden administration to lead by the power of example and to subject the nation's record to international scrutiny."
If the HRC decides to proceed with an inquiry, it will be conducted by an independent commission comprised of individuals with expertise in this area of focus, Dakwar said.
Several recent events in the U.S. suggest the attitude toward allegations of police violence may be shifting. In addition to the guilty verdict reached last month in the trial of Derek Chauvin, the former Minneapolis police officer who was accused in Floyd's death, the U.S. Department of Justice launched an investigation into policing practices in Minneapolis and another in Louisville, where a 26-year-old Black woman named Breonna Taylor was fatally shot by police inside her Kentucky apartment last year.
Despite recent events, Dakwar said little has changed since Rodney King's beating by Los Angeles police officers was captured on film 30 years ago.
"We haven't really made serious progress since that time," Dakwar told Newsweek. "This is a wake-up call for elected officials to take seriously the changes that need to be done."
Dakwar said the proposed HRC inquiry would operate in addition to domestic efforts aimed at addressing systemic racism in U.S. law enforcement.
"These international accountability efforts are complementary, and not a substitute, to domestic efforts," he told Newsweek.
Flanagan said she too is hopeful the Biden administration would be more open to an HRC inquiry, and agreed there should be both international and domestic efforts to address the root of the problem.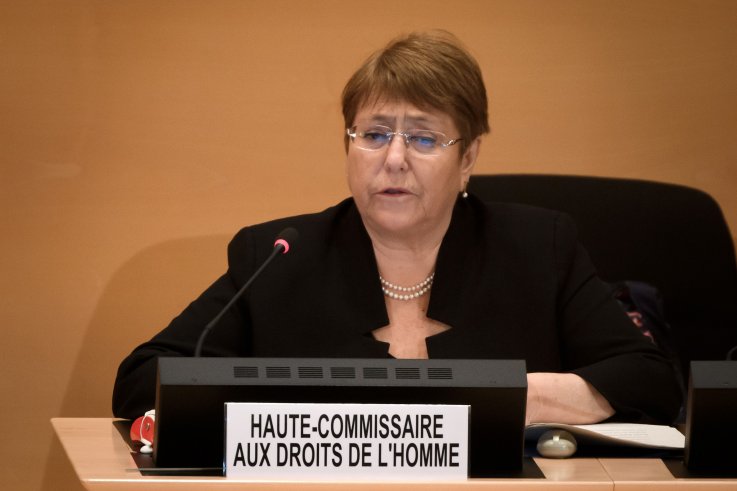 United Nations High Commissioner for Human Rights Michelle Bachelet delivers a speech at the opening of an urgent debate on systemic racism in the United States and beyond at the Human Rights Council on June 17, 2020 in Geneva.
FABRICE COFFRINI/AFP via Getty Images
"The fact of the matter is that a policeman can kill you in the United States and get away with it," Flanagan said. "That's what no one wants to talk about, because it's so egregious—and it's not supposed to happen in the land of the free."
Flanagan compared the speed of the federal government's response earlier this year when patients reported adverse reactions to COVID-19 vaccinations with the lack of comprehensive response to the sheer number of individuals who are shot by police officers.
According to estimates by the Giffords Law Center to Prevent Gun Violence, about 1,000 civilians are fatally shot by police every year.
She said she is "always amused" when she encounters the argument that officers involved in fatal shootings are the "few bad apples" in the bunch.
"We are into orchards, trees with diseased roots that are bearing rotten fruit," Flanagan said.
In her son's case, the officer who shot him had "a troubled history," Flanagan said.
"Had they had just a small little thing—like an early warning system—that identified problem officers, Clinton would be here today," she said. "His twin boys would not be fatherless."
Reflecting on the experiences of each family that supports the letter and on U.S. history through the years shows "very serious systemic issues with racism, and particularly with the use of force against Black people," Dakwar said.
"It warrants the highest level of accountability that the international human rights system provides," he said, "and that is a commission of inquiry that will take the time, the resources, the ability to be able to investigate and come up with concrete recommendations and solutions."