Lev Parnas' Attorney Addresses Devin Nunes on Twitter After He Can't Confirm They Spoke: 'Lev Remembers'
The personal attorney of Rudy Giuliani's indicted associate Lev Parnas has questioned Devin Nunes' claim that he was not able to confirm whether he'd had a phone conversation with Parnas.
Parnas' lawyer Joseph Bondy said that Parnas "remembers" what the pair allegedly spoke about in a tweet directed at Nunes yesterday, responding to the California representative's claim that he was "not able to confirm" whether the pair had any phone conversation.
The attorney's latest swipe at the ranking member of the House Intelligence Committee followed the panel's release of call logs supposedly involving Nunes, Parnas and Giuliani, published Tuesday in its impeachment report.
Nunes has been accused of taking part in phone calls with the president's personal lawyer, as well as Parnas and fellow Giuliani associate Igor Furman, who are both alleged to have helped Giuliani request that Ukraine investigate President Donald Trump's political rival Joe Biden and his son, Hunter.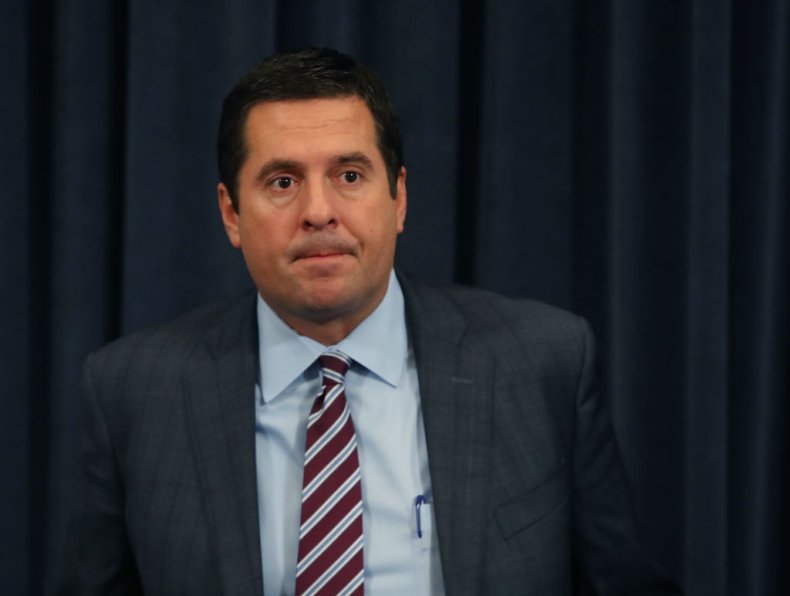 Speaking to Fox News on Thursday about the release of his phone records, Nunes said: "I still have to even go through my phone records to see if he's [Adam Schiff] even telling the truth."
Asked what he discussed with Parnas, the GOP representative said: "Well I don't even know because I've never met Lev Parnas... and so it's a great question because many people want to know, including myself."
"You never had any phone conversation with him?" host Martha MacCallum asked.
Nunes responded: "We have not been able to confirm that yet."
Asked if he didn't think he would remember if he had a phone call with Parnas, he said: "You have to remember, we are the House Intelligence Committee, Oversight Committee. So we get calls from people every day. All walks of life. I get them from all over the world. From allies and people that aren't our allies."
The California representative later said it wasn't known whether the calls were from his cellphone or his office phone, saying his team was dealing with "thousands of pages of metadata."
Parnas' personal lawyer was not convinced by Nunes' Fox News appearance yesterday. Responding to his interview with the network, Bondy tweeted: "Hey @DevinNunes—Lev remembers what you spoke about. You don't remember? #LetLevSpeak".
Newsweek has contacted the office of Rep. Devin Nunes for a response.
Bondy's tweet Thursday came just a few days after he also told the ranking minority member of the House Intelligence Committee that he "should have recused yourself at the outset" of the impeachment hearings.
Congressman Nunes admitted he spoke to Giuliani over the phone while speaking to Fox News' Sean Hannity this week, but said it was to laugh at how the Mueller report into Russian interference in the 2016 election had "completely bombed and flamed out."
He also said that he did not "really recall" the name of Parnas but admitted it was "possible" that he spoke to the indicted associate of Giuliani.
"I'll go back and check on my records," Nunes said. "But it seems very unlikely that I would be taking calls from random people."
Correction (12-6-19, 06:00 ET): The headline of this article has been updated to reflect that Lev Parnas' attorney claims his client remembers what he allegedly spoke about with Devin Nunes.