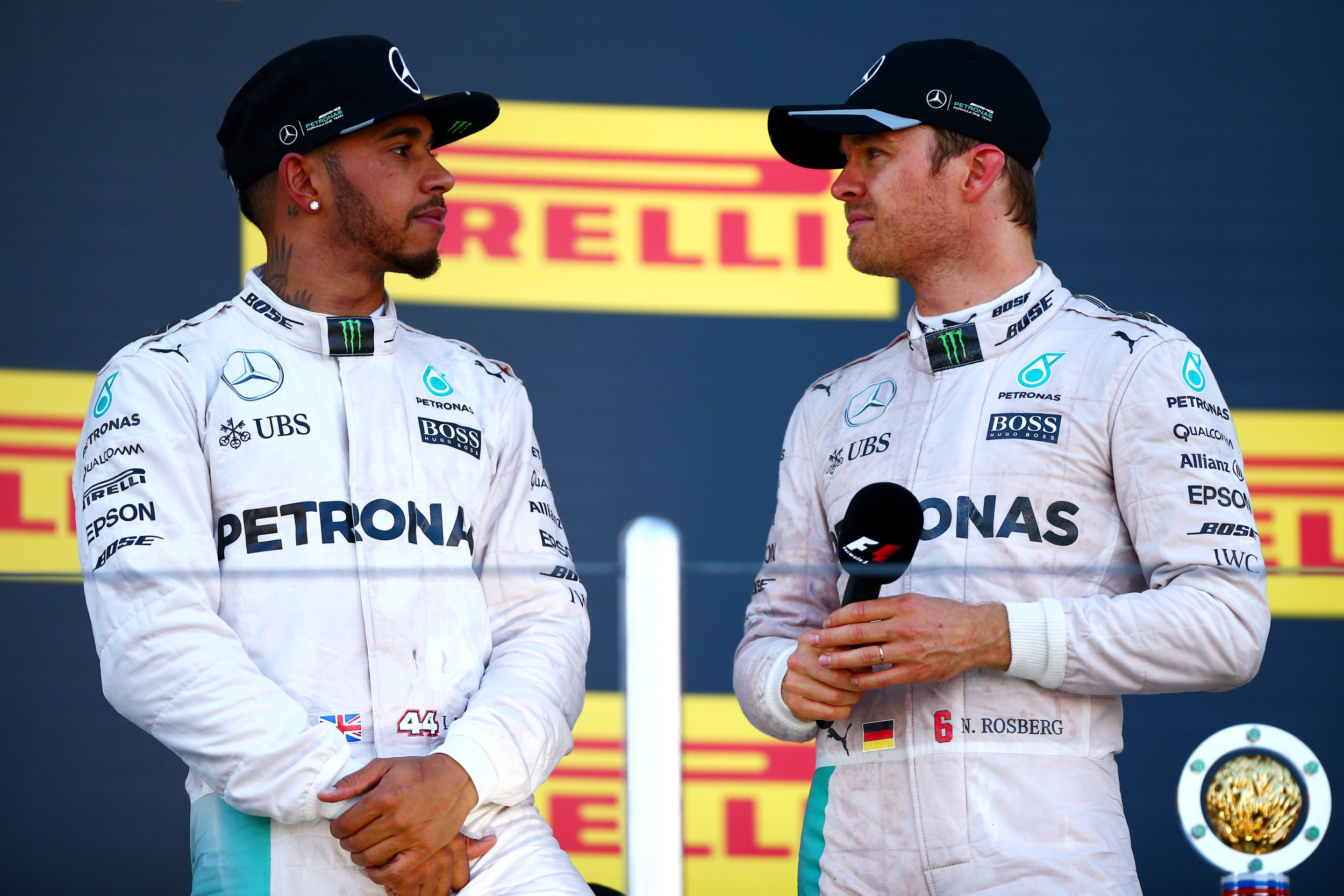 Lewis Hamilton and Nico Rosberg's fractious relationship finally looks to have reached breaking point after their Mercedes collided once again at the Spanish Grand Prix on Sunday.
The duo, who have provided a dramatic subplot to Formula One, both retired from the race after crashing during the first lap in Barcelona, with neither accepting blame.
Having rumbled on for a few years now, here, Newsweek looks at the history of that feud.
Malaysia—March 24, 2013
Tension was high from the very beginning. In just Hamilton's second race in Mercedes colors, the Briton got his first podium, finishing third behind Red Bull's Sebastian Vettel and Mark Webber.
With Rosberg in fourth, it was a successful result for Mercedes. But the German, feeling he was faster than Hamilton, had urged his team-mate to let him pass.
Ross Brawn, team principal, ordered Rosberg to drop back to ensure both cars finished. "Remember this one," Rosberg said to Brawn.
Spain—May 11, 2014
At the same venue as Sunday's crash, Hamilton and Rosberg provided a thrilling race that was described as "warfare" by Niki Lauda, Mercedes team's non-executive chairman.
Hamilton won the race and the championship, and the resulting comments from Lauda made defeat all the more bitter for Rosberg.
"Nico tried every trick today to get him. And he did a good job, but he couldn't pass him. Lewis is outstanding at this moment," said Lauda. "Nico is aware at what level Lewis is driving at because they both drive the same car."
Monaco—May 25, 2014
Just two weeks on and it was Hamilton who felt the aggrieved party in the south of France. Rosberg takes pole on the Saturday with the quickest of the first runs in final qualifying.
But the German went off at the Mirabeau corner on the Monaco course that saw caution flags brought out, meaning Hamilton could not beat Rosberg's time.
An investigation into the cutting of the corner saw Rosberg cleared of any wrongdoing. But Hamilton was clearly angered after being penalized.
Belgium—August 24, 2014
Not in quite such sensational style as Sunday, the two Mercedes drivers' cars come into contact in Belgium. But this time it was only Hamilton who was forced to retire from the race.
When Rosberg's front wing clipped Hamilton's car, the German was able to fight back to second-place after having a wing replaced, while a puncture left Hamilton out.
Rosberg was booed by the crowd in Belgium as he took to the podium.
United States—October 25, 2015
Hamilton's revenge came through dominating his team-mate. In Austin, Texas, the German saw Hamilton pass him to take his 10th victory of the season and be crowned champion for a third time.
Rosberg already looked resigned to defeat in the race for the title, admitting prior to action that he needed "three strong races" to be in with a chance of victory.
It wasn't to be. Hamilton made his move on lap 24 and Rosberg remained in his dust out in the Texan desert.
Footage from after the race caught an angered Rosberg reacting furiously when Hamilton tossed the second-place cap in his direction.