LGBT Vets Discharged For Their Sexual Orientation Will Now Get Full Benefits
U.S. veterans who were given less-than-honorable discharges for being LGBTQ will reportedly soon be eligible for full benefits under a Veterans Affairs (VA) policy change.
The VA will announce the change on Monday, according to a report published Friday by Military Times. The Veterans affected may have been discharged under the "Don't Ask, Don't Tell" (DADT) policy, with the announcement timed to be released on the 10-year anniversary of the controversial rule's demise. The new policy also applies to those who were forced out of the military before or after the rule, some due to intimidation related to their sexual orientation or gender identity.
VA Secretary Denis McDonough will reportedly tell VA officials that they can issue full benefits to veterans who left the military due to their LGBTQ status, regardless of their discharge status. Although 100,000 LGBTQ veterans may have been forced out service over the last 70 years, it is not clear how many were given anything other than honorable discharges. Those with criminal records or dishonorable discharges will still be denied benefits under the new policy.
Possible new benefits for the veterans include VA health care, education programs, home loans, employment assistance, counseling and disability payments. Those affected can still choose to upgrade to their discharge status by appealing, although it can be a time-consuming process that most discharged veterans, LGBTQ or otherwise, do not undertake.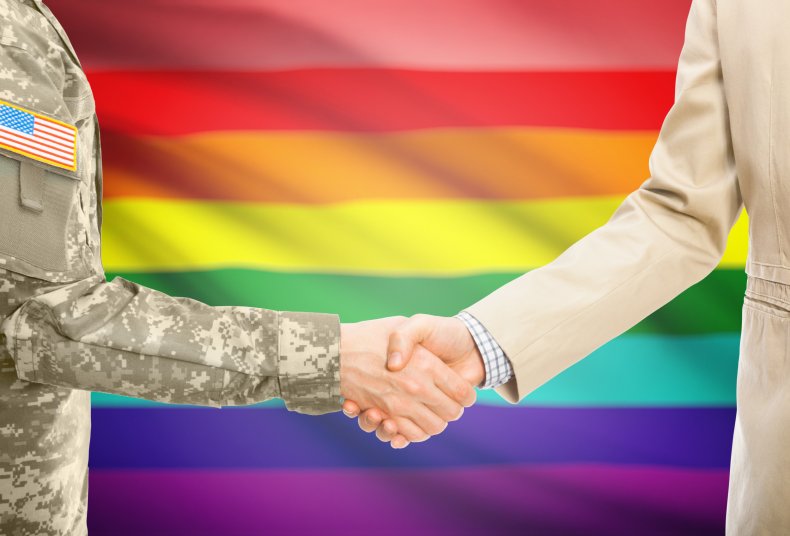 LGBTQ people had been entirely banned from the military until it adopted DADT under former President Bill Clinton in 1993. The rule ended under former President Barack Obama on September 20, 2011. President Joe Biden, who served as vice president under Obama, is expected to commemorate the anniversary of the rule ending at the White House on Monday.
Although DADT ended after Congress passed a law repealing it, the VA is reportedly confident that the new rule change can go into effect without congressional approval or other intervention because it already has "broad authority" in deciding which veterans are eligible to receive services.
Regardless, efforts are underway to make similar changes in Congress. Earlier this month, Rep. Chris Pappas (D-N.H.) and four Democratic colleagues reintroduced the Securing the Rights our Veterans Earned (SERVE) Act, which would guarantee VA benefits veterans who received Other Than Honorable or Entry-Level Separation discharges due to their sexual orientation or gender identity status.
"A double standard continues to persist for LGBTQ+ servicemembers and veterans who suffered from government-sponsored discriminatory policies simply because of who they are," Pappas said in a September 3 news release. "It's long past time that these veterans are afforded the benefits they've rightfully earned defending our country."
Newsweek reached out to the VA for comment.