LGBTQ Groups Launch Ad Campaign Warning GOP Will Target Gay Rights Next
A new national digital ad campaign from LGBTQ organizations is warning that gay rights are next to be targeted after the unexpected loss of federal abortion protections rocked the political landscape ahead of the November midterm elections.
The $250,000 campaign includes the National LGBTQ Task Force as well as state-based LGBTQ groups Equality Texas and Equality Florida. The national ads will be complemented by Texas and Florida-based ads highlighting the anti-gay rhetoric of Republican leaders such as Texas Attorney General Ken Paxton and Florida Governor Ron DeSantis.
The ads will appear on Facebook, Instagram and national media outlets.
DeSantis has drawn the ire and concern of LGBTQ groups because of his signing of so-called "Don't Say Gay" legislation the groups called "vicious," which prohibits teaching on sexual orientation and gender identity, and includes efforts to censor curriculums and books in schools.
Nadine Smith, Equality Florida's executive director, told Newsweek that freedom is under assault in Florida, and DeSantis "is commandeering every state agency to propel his own political ambitions."
"Florida is on the front lines of the fight for the future of this country," Smith added. "Governor DeSantis' extremism has fueled book banning, curriculum censorship, rainbow Safe Space stickers being peeled from classroom windows, and refusals to recognize LGBTQ History Month."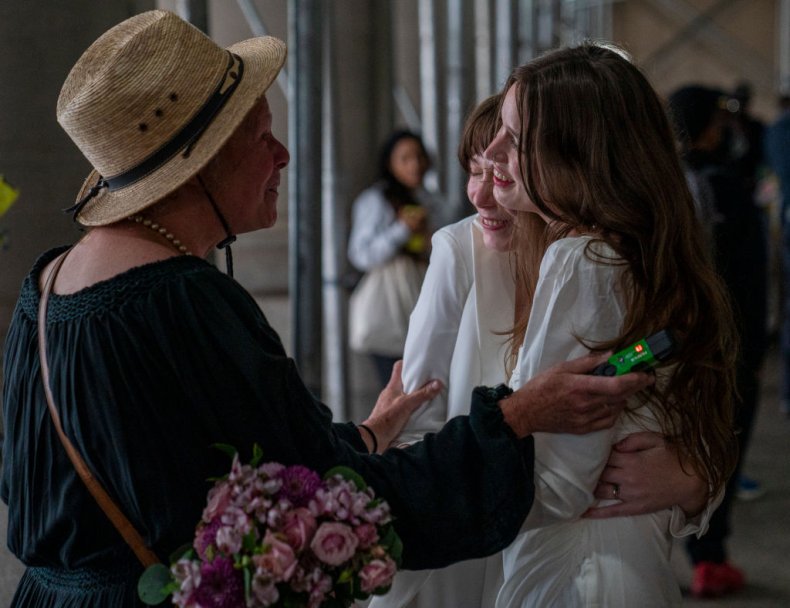 Executive Director Ricardo Martinez of Equality Texas criticized Paxton for his anti-LGBTQ rhetoric, and promised to defend at the Supreme Court any law criminalizing sodomy that might be enacted by the state legislature.
Martinez said Paxton "spends his time harassing trans kids and their families," referencing Paxton's request to the state Supreme Court to allow child abuse investigations into parents of transgender children.
"His bogus legal arguments launched CPS investigations into parents who support and affirm their trans kids," he told Newsweek. "True Texans have heart and compassion, things Paxton seems to have lost."
The groups argue that anti-gay rhetoric and calls to roll back LGBTQ rights have grown bolder among elected officials and candidates they call "extremists."
They say LGBTQ rights are on the ballot in the midterm elections just weeks away, because if Republicans take back the house, the groups see a straight line from abortion to gay rights, including same-sex marriage, becoming a target.
When Justice Clarence Thomas agreed with the majority opinion in the Dobbs case, which struck down federal abortion rights, he said the court should reexamine established precedent, like the 2015 Obergefell case which guaranteed same-sex marriage, the 2003 Lawrence decision overturning the Texas law which criminalized gay sex, and the 1965 Griswold decision which allowed married couples to use contraceptives.
"In future cases, we should reconsider all of this court's substantive due process precedents, including Griswold, Lawrence and Obergefell," Thomas wrote.
Vice President Kamala Harris has since warned that "this is not over" and that the Supreme Court could go after gay marriage next.
"I think he just said the quiet part out loud," Harris said this summer, referring to Thomas concurring opinion, "and I think that is why we all must really understand the significance of what just happened. This is profound."
It's why the LGBTQ groups adapted their strategy from an ad campaign by Wide Angle Research which spans abortion, LGBTQ equality and democracy issues.
Wide Angle Research, whose website blares "Stop Republican Rule, Vote this November" in block lettering, connects the loss of abortion rights to a loss of LGBTQ rights coming next.
Executive director Ineke Mushovic of Wide Angle Research said a primary target of the message strategy is independent and moderate voters who are still voting Republican because they think it's the party of traditional values like freedom and democracy, things she argues the Republican Party no longer represents.
"This erosion of our freedoms went way farther than people thought was possible," she told Newsweek. "It created cracks in people's worldview, and made them understand that maybe what folks are saying about losing LGBT rights and democracy, maybe it's possible too."
Brad Bauman, former executive director of the Congressional Progressive Caucus, said there is no question in his mind that the same people who went after abortion rights will go after the rights of the LGBTQ community next.
"At every single level of government, in every election, conservatives have definitively told us who they are, and we need to listen," Bauman told Newsweek. "We're talking about a group of extremists who are hell-bent on controlling every level of power towards the ends of decimating rights for anyone that they see as different than them."
Mushovic said that abortion and LGBTQ rights ultimately overlap, because they're both about fundamental freedoms.
From abortion for a teenage daughter, to what's going on in schools, "we're seeing huge overlap with how these policies play out, and how they affect people's lives," she said.
Mushovic said the issue boils down to the answers to two simple questions.
"Can we be who we want to be?" she asked. "Can we love who want to love?"