America celebrates LGBTQ+ Pride month in June, an opportunity to acknowledge a diverse community of its citizens.
But that diversity is not celebrated everywhere in the U.S., let alone in nearby countries.
Human Rights watch reports that the Northern Triangle countries of El Salvador, Guatemala and Honduras in Central America have the highest reported murder rates of LGBTQ+ people in the world.
Hundreds of migrants from the Triangle continue to make the perilous trip north as they flee sexual-orientation and gender-based violence. The region also ranks the highest in rates per capita of LGBTQ+ asylum seekers arriving in the United States.
While Trans individuals currently face a wave of targeted legislation in America, the threat of violence and death at the hands of both local police and armed gangs makes life unbearable for LGBTQ+ individuals living in the Triangle, Meghan López, regional vice president of Latin America for the International Rescue Committee, told Newsweek.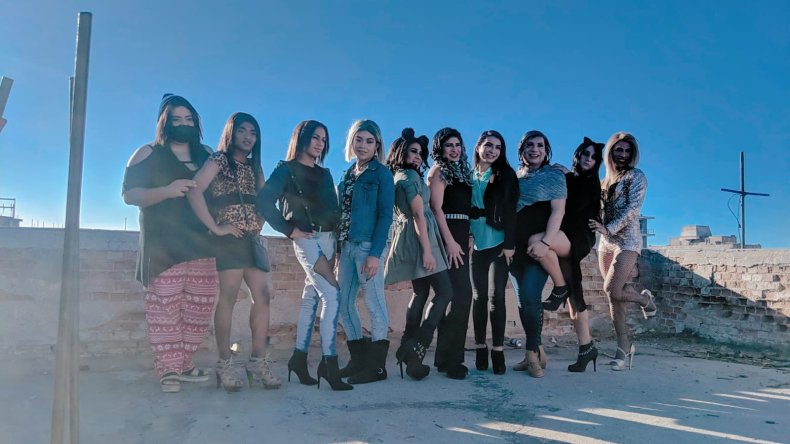 López said the prominence of Catholicism and Evangelicalism in the region lend an air of social conservatism in the Northern Triangle, a phenomenon that means coming out about one's identity may lead to ostracism and hate from one's family and community.
Those without support systems become easy prey for local gangs, gangs that López prefers to call "non-state armed actors" due to the power and control they exercise over their areas of influence.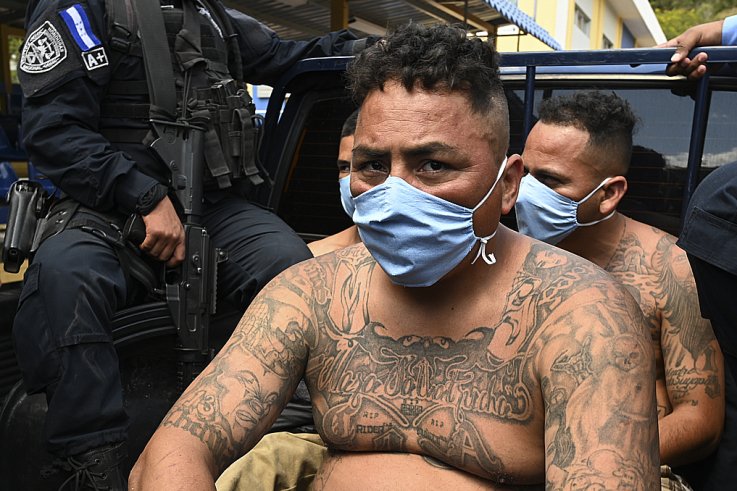 Members of the criminal gang Mara Salvatrucha (MS-13) are transported by officers of the National Police in Tegucigalpa, on February 19, 2021, after the dismantling of an operations center of the organization found in the mountains of the department of Olancho, north of Honduras.
Photo by ORLANDO SIERRA/AFP via Getty Images
LGBTQ+ people sometimes become unwilling servants of the gang, forced to carry out tasks to evade violence.
However, not every individual receives this opportunity, and some face violence regardless.
López said this violence ranges from violent rape to being stripped, partially burned, and left in the middle of the street with tires attached to their legs.
"It's a very desperate very lonely situation," López told Newsweek. "If you're isolated, then you're at greater risk for being targeted by the gangs and at greater risk for being manipulated."
For many individuals, it becomes easier to reject and hide their identity. That is, until they reach their breaking point.
That is what happened to Susana Coreas.
For years, Coreas, a 40-year-old trans woman, lived her life in El Salvador outwardly as a man, only presenting herself as a woman during the nighttime hours. She worked as the manager of a construction company, and knew her coworkers would not accept her if she came out, especially given her leadership role.
However, not only did she fear losing her livelihood, but non-state armed actors controlled the area she called home, and were known to kill members of the LGBTQ+ community, she told Newsweek.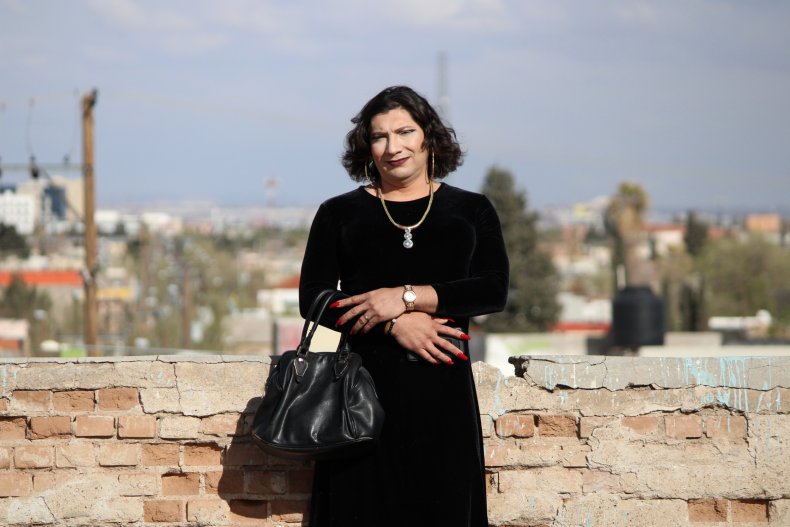 When Coreas' 16-year-old son left the country to be with his mother in the U.S., whose Minnesota-based sister helped the duo get over, Coreas decided there was nothing left for her in El Salvador. She heard a group of friends were planning to make the journey through Mexico, so she packed a few things and started her journey north.
It was during this trip that Coreas started presenting herself as a woman for the first time during the daylight hours. The journey through Mexico was met with hardships and discrimination. When Coreas connected with a group of LGBTQ+ individuals and originally presented herself as a gay, cis man, she was popular amongst the group. Yet, when she came out as trans, she was treated as a joke.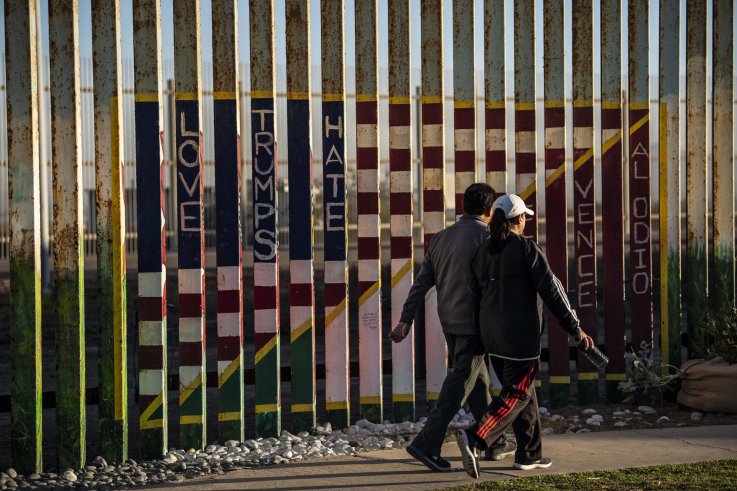 A couple walks by the U.S.-Mexico border fence in Playas de Tijuana, Mexico, on November 16.
PEDRO PARDO/AFP/Getty
Eventually in early 2020, Susana and her companions arrived in Ciudad Juárez, Mexico, across the Rio Grande River from El Paso, Texas. She tried to enter the United States but was rejected.
Soon, she met a group of other trans women and connected with a local woman who ran a shelter. The woman promised Coreas and the other women in the shelter that she could help them secure passage into the U.S.
For months, Coreas and her new friends stayed at the shelter waiting for help. The women did not have jobs, yet the shelter's manager soon demanded money for rent, food, water, and gas. Coreas made payments for a while, but could eventually no longer make ends meet.
The women traveling with Coreas soon found themselves in the same situation, and voiced their concerns to the woman running the shelter.
"Go out and prostitute yourself if you can't find the money," she told them.
They decided it was time to leave.
They soon found a new shelter that seemed safe for a while. It enforced strict rules, like taking their phones at night, but was bearable. However, employees at the shelter refused to acknowledge Coreas by her proper identity, consistently referring to her by the name on her passport "Louis."
They said they did not like seeing a "man" wearing a dress. The situation soon became unbearable. Fed up, Coreas wanted greater control over her life, and eventually found work as a bartender.
Soon after starting work at the bar, Coreas met someone who owned a vacant hotel. They told her that she and her travel companions could stay at the hotel for free. She said the hotel was dirty, dust filled the corridors, and dead birds riddled the floors. There weren't beds or much furniture, but the hotel meant independence.
Coreas and her friends soon moved in.
It wasn't long after living in the hotel that word spread about what came to be called Casa de Colores, a shelter for LGBTQ+ migrants. Coreas became a mentor for the young people arriving there, and the group soon developed a sense of family. However, as the shelter became well-known in the town, the owners of the hotel decided that the occupants could no longer stay there rent-free.
Coreas was ordered to pay $500 in rent, or Casa de Colores would be no more. She made it work. The group submitted the payments, and the status of the shelter grew, gaining press coverage and donations.
At its peak, Coreas told Newsweek, the shelter housed 43 individuals. They arrived dealing with depression, anxiety, and insomnia due to their past traumas. However, together they found community.
Toward the end of April, the U.S. border started to loosen. Around this time, Casa de Colores caught the attention of a U.S. immigration consultancy firm. The group told the women of Casa de Colores they could help five to 10 people enter the United States each week.
The group was true to its word and started helping the women with their cases. As the de facto leader of the new community, Coreas insisted on being the last to enter. On May 7 she was admitted to the United States. After processing and long journey north, she made it to Minnesota and was reunited with her son.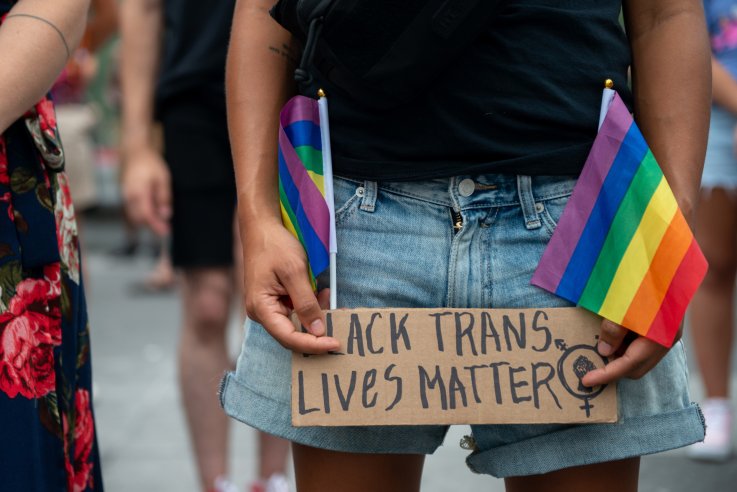 A person holds a 'Black Trans Lives Matter' sign at the rally held on the birthday of trans activist Marsha P. Johnson in Washington Square Park on August 24, 2020 in New York City.
Alexi Rosenfeld/Getty Images
Coreas arrived in the North Star State presenting as she had for all those years in El Salvador. She did not want her son's mother to face this new knowledge upon her first arrival. However, she felt she had to tell her son.
When Coreas told her son that she identified as a woman, he said, "Oh, so weren't you the one on the news?"
He had known who his father Susana Coreas truly was, and he accepted her.
After visiting with her son, Coreas must return to El Paso to continue her immigration claim. She plans to return to living her life presenting the way she feels fits true to her gender identity. Once settled, she will begin working for a local shelter and plans to continue her work as a trans activist.
"In El Salvador I never allowed myself to even let people expect I was a gay man, much less a trans woman," Coreas told Newsweek. "Now, I have found myself in a position of leadership, with political influence even, now as Susana."