Dozens of lawmakers on Capitol Hill will receive handheld mirrors from the liberal activist group Need to Impeach ahead of the House's historic vote Wednesday to impeach President Donald Trump.
The intention, the organization told Newsweek, is to give members of Congress an opportunity for self-reflection.
"We ask that you look at yourselves in the mirror and ask, how much is too corrupt?" Need to Impeach Executive Director Nathaly Arriola told Newsweek. "Democrats and Republicans should really evaluate this moment as a decisive one where they still have a choice to make: Do they stand up to the constitution or vote along party lines for the sake of politics."
Need to Impeach was founded by billionaire Tom Steyer, who's long called for Trump's removal from office. He is also a 2020 Democratic presidential candidate.
Mirrors will be given to the offices of all 100 senators, in addition to certain Republicans on the House Intelligence and Judiciary Committees, which are the panels that spearheaded the chamber's impeachment inquiry and drafted the subsequent articles of impeachment, respectively.
On Intelligence, GOP Reps. Elise Stefanik of New York, Will Hurd and John Ratcliffe of Texas, and ranking member Devin Nunes of California will receive mirrors.
On Judiciary, they include GOP Reps. Jim Jordan of Ohio, Matt Gaetz of Florida and ranking member Doug Collins of Georgia.
With the exception of Hurd, the targeted House Republicans were some of the president's fiercest defenders throughout the impeachment inquiry.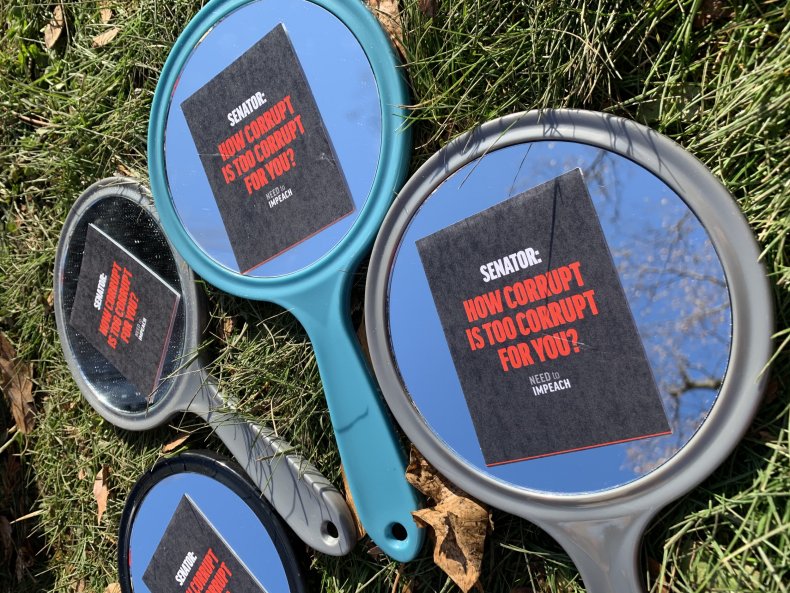 The two articles for abuse of power and obstruction of Congress are expected to pass mostly along party-line votes, with a few Democratic defectors. Reps. Collin Peterson (D-MN) and Jeff Van Drew (D-NJ) will vote against both articles while Rep. Jared Golden (D-ME) will only support the abuse of power article. All three Democrats are from districts that Trump won in 2016. Van Drew is expected to become a Republican in response to his opposition to impeachment, despite his congressional voting record that suggests he is anything but a GOP supporter.
Zero Republicans are predicted to cross the aisle to support Trump's impeachment.
After the articles are approved by the House Wednesday evening, the GOP-controlled Senate will follow suit with a trial in the new year. In the weeks leading up to the trial, Need to Impeach will spend about $1 million on pro-impeachment TV ad buys. The group also played a hand in organizing some of the pro-impeachment protests that took place in cities across the country Tuesday evening.
Although some senators from both political parties have indicated their view on whether the president should be convicted is predetermined, Arriola said she hopes the upper chamber members will truly act as impartial jurors.
"How can they even wake up and look at themselves in the mirror every morning as they explicitly choose politics and party during a very real moment in our nation's history," she said. "We expect them to look beyond party and politics."