Billboard Demanding 'Liberals' Leave Texas Removed After Death Threats, Bigotry Accusations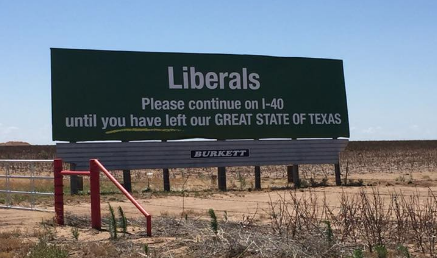 A Texas man who purchased a massive Interstate 40 billboard telling "liberals" to leave the state allowed the sign company to take it down after the billboard owner and a man who posted a photo of it to social media started receiving death threats.
A now-viral photo of the billboard about 6 miles outside of Vega, Texas, on I-40 eastbound was posted to Facebook by Kyle Mccallie of Fritch, Texas, on Tuesday. Burkett Outdoor Advertising, which owns the billboard, told KTVT-TV that the unidentified buyer "graciously" agreed to have it taken down because of its "divisive" nature and the pointed online threats it sparked. The billboard read, "Liberals please continue on I-40 until you have left our GREAT STATE OF TEXAS." The Fritch, Texas, man who initially posted a photo of the sign has seen that Facebook post shared more than 20,000 times with thousands of varied reactions.
Randy Burkett, owner of the sign company that leased the now-removed message to liberals, said an individual—and not a company—purchased the billboard. Burkett told Patch he told the man—who he would not name—"this thing is really divisive and it's not really sending the right message. It's just causing problems." Burkett said the man agreed it was meant to "stir things up" and would allow it to be taken down Wednesday.
"I was shocked that it traveled that fast," Burkett told the Star-Telegram. "I believe in free speech, but this country is divided enough as it is. I've spoken with the client, and he's agreed that it should come down. We'll be reimbursing him..."It was like a grassfire. We've had Breitbart, CNN, everybody is calling about it."
Burkett noted that the "liberals" message was installed Tuesday around 10 a.m. local time, and Kyle Mccallie posted his photo of the sign at 12:20 p.m. the same day.
Mccallie told several news outlets he is not responsible for buying the sign, but he loves some of the reactions he's received in the past 48 hours. "I am riding the TRUMP TRAIN all the way across the great country of the USA," Mccallie told McClatchy. "The reactions have been crazy. I had no intentions of it getting like this, blowing up in a few hours. All kinds of hate mail and all I did was take a picture."
Mccallie's Facebook "Intro" bio reads that he enjoys "pissing liberals off one rejected welfare check at a time!"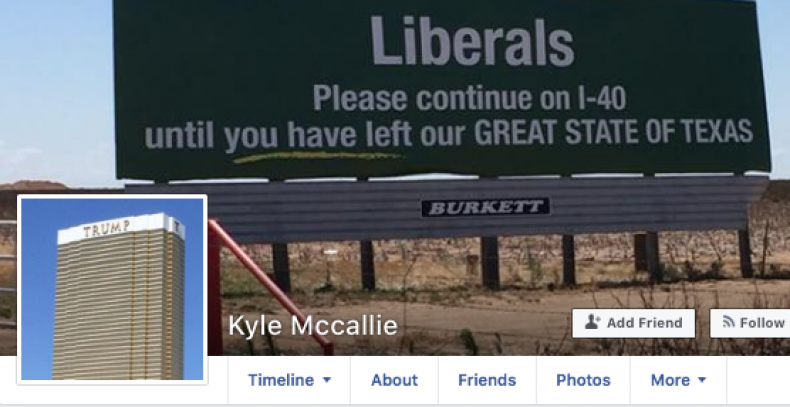 Burkett and Mccallie said they have both received copious amounts of vitriolic messages, with Mccallie's Facebook page being littered with profanity-laden accusations of racism, sexism and bigotry. Burkett said his website crashed several times due to a traffic overload, and a GoFundMe nearly doubled its fundraising goal of $1,800 to remove the message.
But Mccallie told Patch he's not worried about it because Texans "own plenty of firearms and self defense material to handle our own."
Burkett said that a Big Texas Steak Ranch sign will soon replace the billboard, which now just shows the telephone number for his company.
Last month, a Maryland billboard was removed that read: "Hey liberals, better get your guns if you try to impeach President Trump. From all of your deplorables in Calvert County."