Liberated Lyman Citizens Greet Ukraine Soldiers With Tears, Hugs: Video
As Ukrainian forces continue to make their way through Lyman, Ukraine, the reactions of the people of the recently liberated area are emerging.
On Monday, Anton Gerashchenko, an adviser to the Ukrainian Ministry of Internal Affairs, shared a video on Twitter that allegedly showed a Ukrainian soldier interacting with a resident of Lyman in the wake of Russian forces retreating from the area on Saturday. As of roughly three hours after it was shared, the clip had been viewed over 80,000 times and has received over 6,000 likes.
"This is how residents of de-occupied Lyman greet Ukrainian Warriors," Gerashchenko wrote in his tweet. "'It's all going to be ok, don't worry', - our Defender is saying."
The clip appears to have been shot from a first-person perspective by a member of the Ukrainian military. As he and a large vehicle make their way along a road, the soldier notices a woman emerging from a nearby home along with others. Seemingly overjoyed, the woman approaches the soldier and gives him a hug. As she pulls away, she can be seen putting her hands to her eyes to wipe away tears.
Newsweek was unable to confirm the veracity of the clip, though its tone is in line with other reports emerging from the newly liberated city.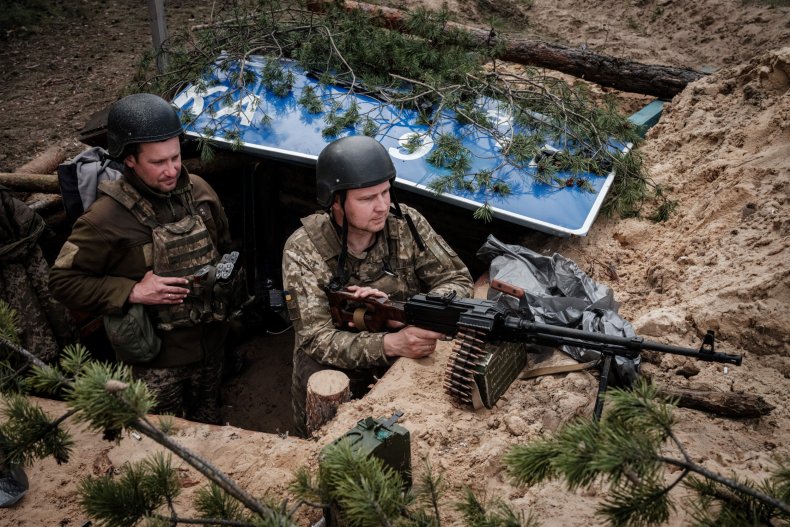 On Saturday, Alex Kokcharov, a risk analyst focused on Ukraine, shared a video of Ukrainian troops removing Russian flags from city government buildings in the immediate aftermath of the city being liberated from Russia. The clip has since been viewed over 208,000 times.
"In #Lyman, #Donetsk region, east #Ukraine, the Ukrainian forces removed the #Russian flags from the building of the city administration," Kokcharov wrote. "They also raised the Ukrainian banner over the building."
A Wall Street Journal report from Sunday painted a slightly more uncertain picture of life in Lyman, with residents reported to be unsure about who is who and who is in charge after most of the Russian occupiers were driven away.
"We still can't figure out who is what. Are those soldiers down the street Russian or Ukrainian?" resident Dmytro Hontar said. "People are just looting everything."
Residents have been looting Russian supplies, with the Journal reporting that some were seen carrying off bags of flour with "Russian Humanitarian Aid" written on them. Another resident disputed claims of aid, saying the Lyman residents received nothing from the occupying forces and were left to survive off what they had from before the invasion.
Newsweek reached out to the Ukrainian Ministry of Defense for comment.