Video: Ukrainians Throw Russian Flags Off Building After Lyman Victory
Ukrainian troops were seen throwing Russian flags from a Lyman administrative building in a viral video Saturday following Russia's retreat from the key city.
Moscow faced defeat in Lyman, a strategically located city in the Donetsk region, on Saturday after more than seven months of fighting. Russian President Vladimir Putin launched his "special military operation" on Ukraine February 24. The Kremlin hoped for a quick victory against its Eastern European neighbor, but Ukraine responded with a stronger-than-expected defense effort.
In recent months, Ukraine launched counteroffensives in Kharkiv and Kherson seeking to reclaim territory occupied by Russia, reclaiming thousands of square miles during September. Faced with mounting losses, Putin ordered a partial military mobilization to add 300,000 troops and illegitimately annexed regions of Ukraine, including Donetsk, which includes Lyman.
Despite Moscow's efforts to ramp up its military operation, they were unable to hold control of Lyman, which was used as a Russian transportation hub amid the invasion. On Saturday, Russian officials confirmed they had retreated from the city to "more advantageous lines," the country's defense ministry said. Meanwhile, Kyiv said its troops were surrounding 5,000 of Putin's troops.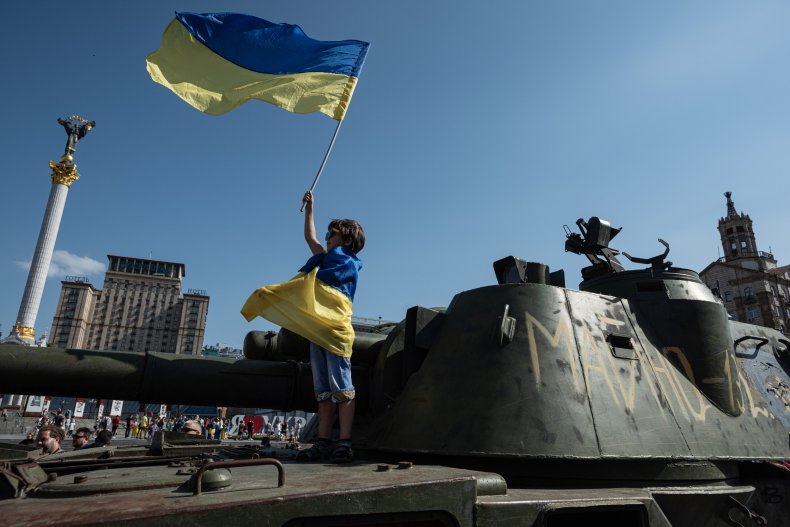 Video posted to Twitter on Saturday showed Ukrainians throwing Russian flags, as well as flags for the Donetsk Peoples' Republic, from the top of an administrative building in Lyman.
After dropping the Russian flag, they continue to raise the Ukrainian flag, a symbolic gesture of their victory in reclaiming the city.
The video was viewed about 80,000 times early Saturday evening.
Ukrainian President Volodymyr Zelensky touted the Ukrainian flag "already" being in Lyman in a Facebook post addressing the country on Saturday in which he denounced the referendums held in Russian-occupied territories to join Russia. The United States has called these referendums a "sham." Zelensky also pledged that his troops would continue to liberate other towns that have been under Russian occupation.
"During this week, there were more Ukrainian flags in the Donbas," he said. "It will be even more in a week."
Fighting is "still going on" in Lyman, but there is "no trace of any pseudo-referendum there," the Ukrainian president said. Other videos online showed Ukrainian soldiers hanging their flag elsewhere in Lyman.
Meanwhile, Ramzan Kadyrov, the head of Russia's Chechnya region, called on Putin to conduct a nuclear strike following the defeat. In a Telegram post, he wrote: "More drastic measures should be taken, up to the declaration of martial law in the border areas and the use of low-yield nuclear weapons. It is not necessary to take every decision with an eye on the Western American community - it has already said so and done a lot against us."
Newsweek reached out to the Ukrainian and Russian ministries of defense for comment.