Chechnya's Kadyrov Urges Putin to Conduct Nuclear Strike After Lyman Defeat
Ramzan Kadyrov, the head of Russia's Chechen Republic, on Saturday called on Russian President Vladimir Putin to use nuclear weapons in Ukraine after Russia faced defeat in the city of Lyman.
Putin launched his "special military operation" on Ukraine on February 24, hoping for a quick victory against his Eastern European neighbor. However, Ukraine responded with a stronger-than-anticipated defense effort, preventing Russia from achieving major goals after more than seven months of fighting. Experts have raised concerns that Putin, facing mounting losses, could turn to nuclear weapons.
Ukraine delivered their latest victory in Lyman, a city in the Donetsk region, forcing Russian troops to retreat after surrounding up to 5,000 troops in the strategic location. The Russian Defense Ministry confirmed troops "retreated to more advantageous lines."
Kadyrov, a Putin ally who has long supported the invasion, said the Russian leader should conduct a strike using "low-yield nuclear weapons" on Ukraine following the loss.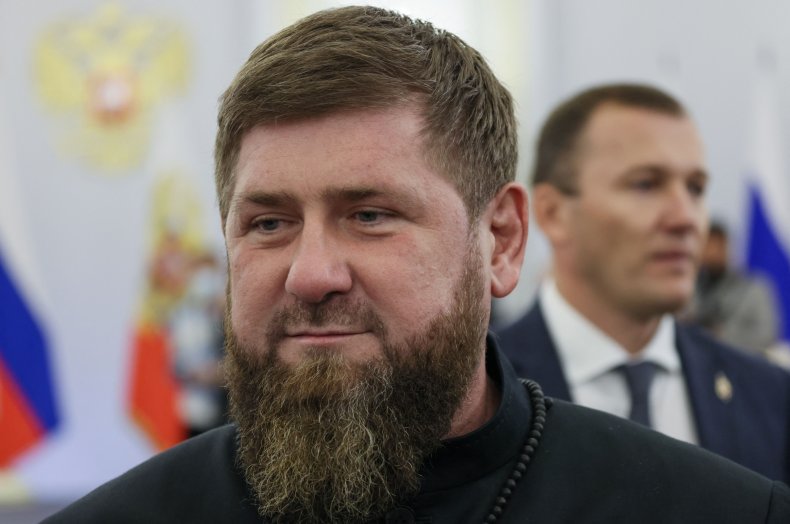 "I don't know what the RF Ministry of Defense reports to the Supreme Commander-in-Chief, but in my personal opinion, more drastic measures should be taken, up to the declaration of martial law in the border areas and the use of low-yield nuclear weapons. It is not necessary to take every decision with an eye on the Western American community - it has already said so and done a lot against us," he wrote in a Telegram post.
Russia's defeat in Lyman comes just one day after Putin announced that Russia annexed four regions of Ukraine, including Donetsk following referendums described by U.S. officials as a "sham." The Russian leader pledged to defend the territory "with all our strength and all our means," according to Reuters.
The Ukrainian Ministry of Defense tweeted a video of their soldiers planting a Ukrainian flag in Lyman on Saturday—adding that Ukraine "has and will always have the decisive vote in today's and any future 'referendums.'"
Ukraine made notable gains in September, forcing Russian troops to retreat from other key cities including Izium and Balakleya following success of counteroffensives in the Kharkiv region.
Kadyrov, in his Telegram post, criticized Russian military officials including Colonel-General Alexander Lapin, who he said failed to provide units with the necessary communications and supply of ammunitions.
"Army nepotism will not lead to good," he wrote. "In the army it is necessary to appoint as commanders people of a strong character, courageous, principled, who worry about their fighters, who tear their teeth for their soldier, who know that a subordinate cannot be left without help and support. There is no place for nepotism in the army, especially in difficult times."
Russia had used Lyman as a transportation hub amid the invasion and is located near the border with Luhansk, another region Putin claimed to annex this week, according to the Associated Press.
Newsweek reached out to the Russian Defense Ministry for comment.
Update 10/01/2022 12:13 p.m. ET: This article has been updated with additional information.