Ukraine Voting Brings 'Dangerous Phase,' More Nuke Threats: Retired Admiral
Russian President Vladimir Putin's referendums in several occupied regions of Ukraine will pave the way for a "pretty dangerous phase" of the ongoing war, according to a retired U.S. admiral.
In an interview on MSNBC's Morning Joe on Thursday, James Stavridis said that Putin can ramp up nuclear threats since he can use the referendums as a base to claim that those occupied areas are no longer Ukraine.
"Putin will then really rattle that nuclear sabre and say, 'If you attack Donetsk or Luhansk or Kherson, that's part of Russia,'" Stavridis said.
Putin gave an address last week that not only announced a partial mobilization in Russia expected to call up to 300,000 soldiers to fight in Ukraine, but also backed plans to hold referendums in four occupied parts of Ukrainian territory: Kherson, Zaporizhzhia, Donetsk and Luhansk. Kremlin spokesman Dmitry Peskov announced Thursday that Putin would start to formally annex those areas following votes that Ukraine and Western officials have repeatedly denounced as a "sham."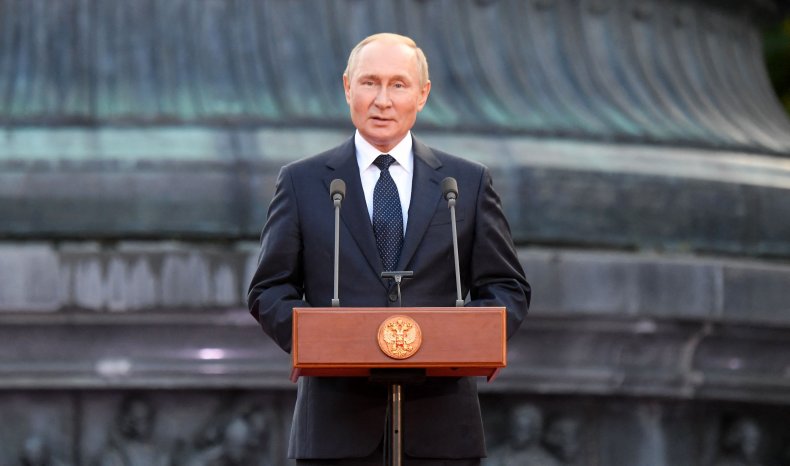 In an interview with the Associated Press published Wednesday, Ukrainian presidential adviser Mykhailo Podolyak stressed that any Russian attempts to annex parts of the country would not change Ukraine's military goals of freeing all territory from Russian control.
Podolyak said that his country's actions "depend not so much on what the Russian Federation thinks or wants, but on the military capabilities that Ukraine has."
Podolyak also said that Ukraine is taking Russian nuclear threats seriously, adding that the potential use of such weapons could open the door additional nuclear weapon use in other countries in the future.
"Because there are many unstable political regimes that will take advantage of this situation and start speculating on nuclear weapons and try to use it in one form or another, because they will think that it is possible to do," the AP quoted him as saying.
As Russia deals with several recent high-profile losses due to ongoing Ukrainian counteroffensives and continues to fight a war that some initially thought would see a speedy defeat for Ukraine, Putin is likely looking to present some semblance of victory with the referendums and annexation, according to Stavridis.
"What Putin wants is to pull some kind of prop out of the middle of this tragic stage play he's put on that he could then turn to the people in Russia and say, "Look, it's all worth it: the 80,000 dead and killed, the 300,000 who are being mobilized who are going to be used as cannon fodder."
The Pentagon estimated last month that Russia's military had suffered between 70,000 and 80,000 casualties since the start of the war on February 24.
Last week, Russian Defense Minister Sergei Shoigu said that only 5,937 Russian soldiers had been killed since the war began, Reuters reported.
Newsweek reached out to the Kremlin for comment.