Seven Key Takeaways From Ukraine's Counteroffensive
Russian troops are reeling from a successful Ukrainian counterattack which pushed them out of almost the whole of Kharkiv province in the north, as well as making gains around Kherson to the south, over the past week.
Kyiv's forces punched through Russian lines to the east of Kharkiv pushing nearly all Russian troops back across the Oskil River, in what was arguably Ukraine's biggest victory since the Kremlin's attempt to seize Kyiv was repulsed in March.
On Monday evening President Volodymyr Zelensky said his troops had recaptured about 2,320 square miles since their counteroffensive began at the start of this month, with one Ukrainian official claiming the Russians had "abandoned half their equipment" during the rout.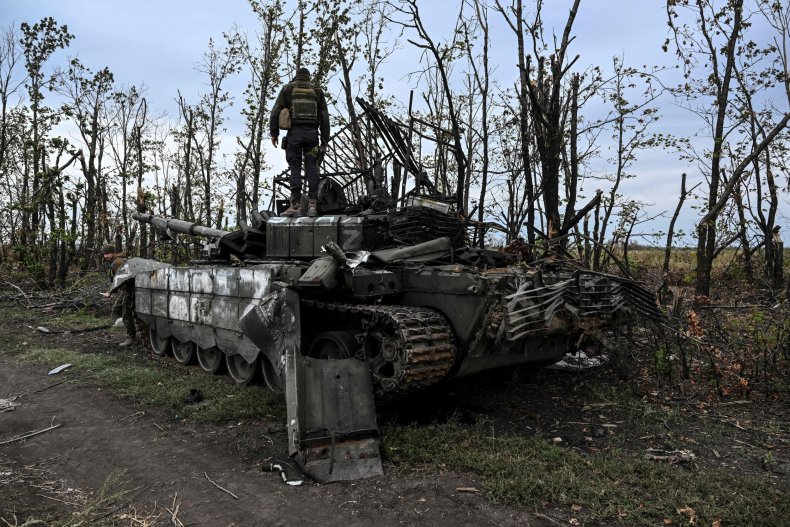 An analysis by the Institute for the Study of War (ISW), a Washington D.C. think tank, published on Monday concluded there are seven main "takeaways" resulting from the Ukrainian offensive and the continued war more broadly.
Ukraine Troops Continue to Make Progress in Kharkiv Province
Kyiv's troops are continuing to mop up Russian forces in Kharkiv province, west of the Oskil River, and have advanced all the way to villages by the Russian border.
In the east they retook Dvorchina, about 62 miles from the city of Kharkiv itself, along with Ternova further to the north.
Ukrainian forces are also reported to have pushed the Russians out of Bohorodychne, a small settlement across the administrative border in northwestern Donetsk region, as their northern offensive extends beyond Kharkiv province.
Russia May Have Suspended Deployment of Newly Formed Units to Ukraine
The Russian military has stopped sending new military units into Ukraine in response to heavy losses, according to the Ukrainian General Staff.
The ISW described these reports as "unconfirmed", but added: "Low morale due to Ukrainian counteroffensive success may prove devastating to the Kremlin's already-poor ability to generate meaningful combat capability."
Russian President Vladimir Putin has been struggling to recruit enough troops for his war in Ukraine, with hardliners urging him to declare a full-scale mobilization.
Pro-Russian Forces "Fleeing" From Parts of Occupied Luhansk
Russian troops and local collaborators are reported to be "fleeing" from parts of Luhansk region, which had been seized almost entirely and is run by the pro-Kremlin Luhansk People's Republic (LNR) puppet government.
The ISW reports: "Russian forces are failing to reinforce the new frontline following Ukrainian gains in eastern Kharkiv Oblast and are actively fleeing the area or redeploying to other axes. Ukrainian sources claimed that all Russian forces have left Svatove, Luhansk Oblast, and that only militia elements of the LNR—possibly locals—remain in Svatove.
"Social media footage shows lines of cars stretching for kilometers near Schastia and Stanysia Luhanska, which are both along the border of long-held LNR territory and close to the Russian border."
Recapture of Izium Protects Izium-Sloviansk Highway From Artillery Fire
The Ukrainian recapture of the city of Izium has made it harder for Russian artillery to attack the Izium-Sloviansk highway, which Kyiv is using as a major supply route.
The ISW said: "The Ukrainian recapture of Izyum has likely degraded Russian forces' ability to conduct artillery strikes along the Izyum-Slovyansk highway. The Ukrainian General Staff noted that Russian forces did not conduct artillery strikes in the Slovyansk direction on September 12, likely referring to settlements northwest of Slovyansk on the E40 highway."
Ukraine Hitting Russian Targets in Southern Kherson Province
Ukraine has continued hitting Russian forces in the Kherson region further to the south, particularly those north of the Dnieper River around Kherson city itself, which the Ukrainians are hoping to recapture.
According to Ukraine's Kakhovka Operational Group, part of Ukraine's military, the country's forces have advanced between 2.5 and 7.5 miles since they began offensive operations around Kherson, seizing 310 square miles of territory.
Russian supply lines across the Dnieper, including the Antonovsky Bridge and two pontoon bridges, were reportedly struck on Monday.
Ukraine hyped up its southern Kherson offensive in August, in an apparent bid to draw Russian troops in from elsewhere in the country, weakening defenses in the north and east.
Reserve Power Line Restored to the Zaporizhzhia Nuclear Power Plant
The International Atomic Energy Agency reports a reserve power line has been restored to Zaporizhzhia nuclear power plant, Europe's biggest.
Since the war began the site has repeatedly been hit by shelling, with Ukraine and Russia blaming each other. At times it has been disconnected from the main electricity grid and forced to rely on emergency power generators.
There are fears a complete loss of power could cause the Zaporizhzhia reactor to melt down, leading to nuclear catastrophe.
Ukrainian Victories Spreading Panic in Russian-Occupied Areas
Ukraine's battlefield successes are triggering panic amongst Russian troops in occupied parts of Ukraine, causing some border areas to be abandoned, according to the ISW.
The think tank said: "Ukraine's sweeping counteroffensive is damaging Russian administrative capabilities and driving Russian departures from occupied parts of Ukraine far behind the line of contact.
"The Ukrainian Resistance Center reported on September 12 that Russian forces throughout occupied Kherson Oblast have restricted general freedom of movement, strengthened military checkpoints, and increased looting, particularly of motorcycles—all apparent signs of Russian desperation. Russian forces may be looting mopeds and motorcycles to flee in the event of a military collapse."
The Russian Ministry of Defense has been contacted for comment.
Source: Institute for the Study of War and AEI's Critical Threats Project.