Ukraine Soldiers Reach Russian Border After Driving Enemy Back, Video Shows
A video of a Ukrainian soldier bragging about how close Ukrainian forces are to the Russian border has gone viral on social media.
The video, that was posted on Visegrád 24, has so far been viewed more than 260,000 times.
"One of the first Ukrainian soldiers to reach the border with Russia in the northern part of the Kharkiv region records a video of the historic moment," the Twitter page is captioned.
"The Russians are nowhere to be seen. How far into the country have they retreated?" the caption says.
"There's the sign marking the border with the Russians and there [behind me] a Ukrainian flag," the soldier says in the video according to a translation by Newsweek, which has not been able to confirm the authenticity of the footage.
The video comes following reports of a significant retreat by Russian forces. In a post on Telegram on Sunday, the commander of Ukraine's military, General Valeriy Zaluzhnyi, said that his troops had regained 3,000 square kilometers (1860 square miles) of territory from the Russians since the beginning of September, and that in the Kharkiv region, they had pushed to within 50 kilometers—or roughly 30 miles—of the nation's border with Russia.
Ukraine has launched a surprise counteroffensive in the areas around Kharkiv, the country's second largest city. In recent days, Ukrainian forces have seized control of key cities such as Izyum and Kupyansk, forcing Russian soldiers to retreat, as experts see Ukraine building momentum.
Russian President Vladimir Putin now faces criticism from pro-Kremlin bloggers for the poor performance of his military.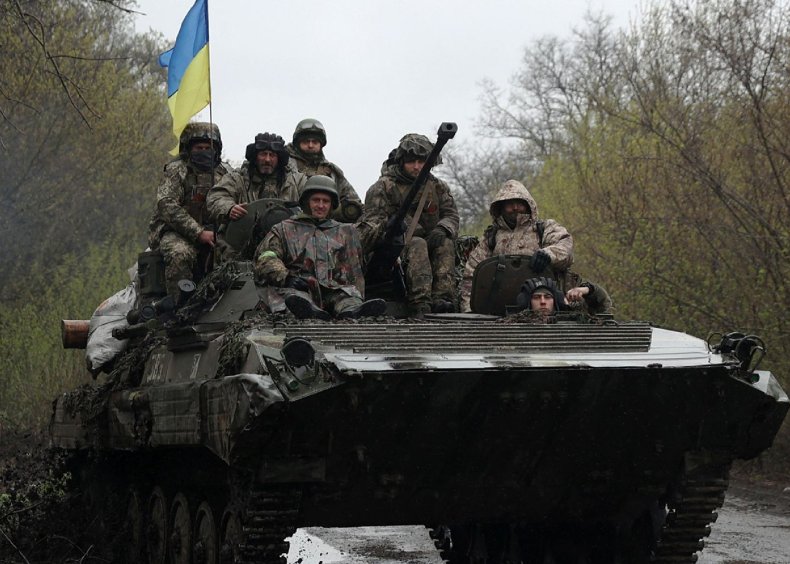 Some of them have long played a role in spreading the Kremlin's pro-war propaganda, but are now criticizing Putin for Russian losses, saying that he should be putting more resources into the war.
Putin launched his invasion of Ukraine on February 24, banking on his vast military to propel Russia to a quick victory. However, Ukraine met his troops with a stronger-than-expected defense effort, bolstered by aid from allies including the United States.
In recent days, Ukraine has ramped up counteroffensives in Russian-occupied territory, allowing Kyiv to make massive gains more than six months into the conflict.
One blogger, Peter Lundstrem, blasted Putin for celebrating City Day, a holiday that honors the founding of Moscow, amid the losses in Ukraine.
"You are celebrating a billionth holiday. What's the matter with you? Well, not during such a horrible failure," he wrote in a Telegram post.
Another pro-Russia blogger, Yuri Podolyaka, admitted on Telegram that losses were "large" and "cannot be ignored," describing Saturday as "the most difficult day of this war."
Newsweek has contacted the Russian Ministry of Foreign Affairs and Ukraine's Ministry of Defense for comment.