Four partially occupied Ukrainian regions began voting on Friday in Moscow-staged referendums on joining Russia, but are they legitimate?
While Ukraine and its Western allies have condemned the referendums in the Russian-controlled eastern and southern regions as illegitimate, Valentina Matviyenko, speaker of the Russian Federation Council—the country's upper chamber of parliament—, claimed on Friday that they comply with international norms and the U.N. Charter.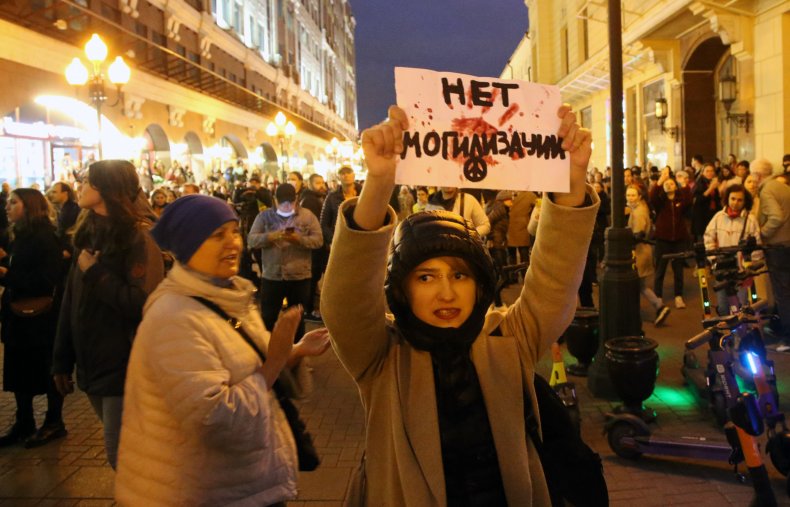 Voting in the Ukrainian regions of Luhansk, Donetsk, Kherson and Zaporizhzhia, which account for some 15 percent of the country's territory, is set to take place from September 23 to 27. Russia hopes to annex the regions, seven months into the war.
"I am sure that the referendums will take place in a way that no one will have grounds to question their legitimacy. The expression of will takes place in accordance with international norms and the U.N. Charter," Matviyenko told reporters.
"The residents of the DPR, LPR, and other liberated territories have this right, a legal right. And in today's situation it is actually the right to life," she said, referring to the self-proclaimed Donetsk and Luhansk People's Republics.
A day earlier, U.S. President Joe Biden accused Russia of preparing a "sham" referendum on the annexation of lands it already occupied in eastern Ukraine, and of violating the U.N. Charter.
"This war is about extinguishing Ukraine's right to exist as a state, plain and simple, and [Ukrainian's] right to exist as a people," he said. "We stand in solidarity against Russia's aggression, period...you cannot seize another country's territory by force. The only country doing that is Russia."
Biden said the U.N. Charter, "the very basis of stable international order," is "under attack by those who wish to tear it down or distort it for their own advantage."
EU foreign policy chief Josep Borrell also vowed Wednesday to hold Russia and all those involved in organizing the referendums in Ukraine accountable, saying that they violate international law and international humanitarian law.
"Additional restrictive measures against Russia will be brought forward as soon as possible in coordination with our partners," he said in a statement.
In the regions of Luhansk and Donetsk, residents are asked on ballots whether they support "the entry of the republic into Russia as a constituent entity of the Russian Federation."
In the Kherson and Zaporizhzhia regions, the ballots ask: "Are you in favor of secession from Ukraine, the formation of an independent state by the region and its entry into the Russian Federation as a subject of the Russian Federation?"
The referendums echo one held in Ukraine's Crimea region in 2014 that led to the Black Sea peninsula's annexation by Russia. That move was condemned by the West as illegitimate.
They have been discussed by Moscow-installed authorities for months, and the rushed decision to hold them follows Ukraine's success in recapturing swathes of its territory during a major counteroffensive in early September.
Katya Andrusz, spokesperson for the OSCE Office for Democratic Institutions and Human Rights, which monitors elections, told Newsweek that there is no legal basis for the referendums, and that Russia has no authority to hold such a process.
"Any elections or referenda on the territory of Ukraine can only be announced and conducted by that country's authorities in compliance with national legislation and international standards in order to have any legal force," she said.
Newsweek has contacted Russia's Foreign Ministry for comment.