Counteroffensive Has Only 6 Percent of Kharkiv Left to Liberate: Ukraine
Ukrainian troops have only 6 percent of Kharkiv left to liberate amid their counteroffensive, military officials said Tuesday.
Oleg Synegubov, the head of Ukraine's Kharkiv Regional Military Administration, said that despite the gains, Russia continues to conduct shelling in the region, according to a report from Ukrainska Pravda.
When Russian President Vladimir Putin launched the "special military operation" in Ukraine on February 24, Kremlin officials hoped for a quick victory, but Ukraine responded with a stronger-than-expected defense that has prevented Putin's military from achieving major goals in Ukraine after seven months of fighting.
Ukraine—bolstered by military aid from Western allies, including the U.S.—launched counteroffensives in recent weeks in key areas around Kherson and Kharkiv. The Kharkiv counteroffensive particularly appeared to catch Russia by surprise, allowing Ukrainian troops to quickly reclaim a large amount of formerly occupied territory.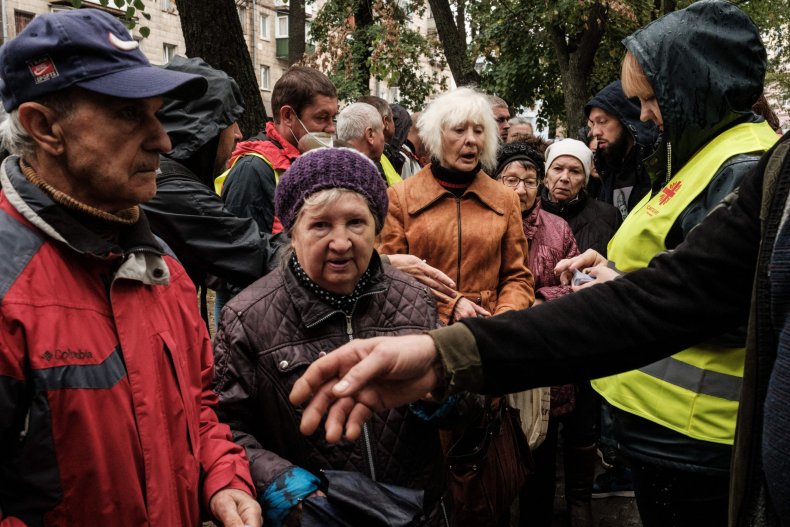 Synegubov said during a national telethon that Ukrainian troops recently liberated the village of Kupyansk-Vuzlovy and outlined some of the challenges they have faced while liberating areas near Kharkiv, the second-largest city in Ukraine near its eastern border with Russia.
He said liberating Kharkiv has been "quite difficult" because Russia "does not retreat, constantly tries to regroup, withdraws its reserves," Ukrainska Pravda reported.
Russia was forced out of key cities such as Izium due to the counteroffensive.
Kyrylo Tymoshenko, the deputy head of Ukraine's Office of the President, said in a Telegram post that at least 454 settlements in the Kharkiv had been "de-occupied" and more than 400 tons of humanitarian aid was delivered to residents in the region.
Suburban trains connecting key cities in the region have been put into service as Ukraine begins to rebuild, Tymoshenko said. The Institute for the Study of War said that Ukraine appeared to be making gains, reclaiming Maliivka, Shandryholove, Karpivka and Nove.
Ukraine gains come amid Russian mobilization
While Ukraine continues to make substantial gains in Kharkiv, Russia continues to prepare for the future of war following Putin's announcement of a partial mobilization of troops.
It is expected that his announcement will bring about 300,000 reservists into the war as his losses in Ukraine pile up. The Russian military has faced several challenges regarding recruiting and maintaining motivated troops throughout the Ukraine conflict. Experts have raised doubts that the mobilization will solve the problems.
Russia is also holding referendums, decried by the West as shams, in the Donetsk and Luhansk regions that will determine if the regions join Russia. When Putin announced the "special military operation," he stated its goal was to "liberate" the regions, known as the Donbas, from Ukrainian control. Their potential annexation could set the stage for further escalation of the conflict.
Newsweek reached out to the Russian Ministry of Defense for comment.