Russia Taken by Surprise as Ukraine Counterattack Advances 30 Miles: U.K.
British defense officials say that Ukraine's counteroffensive has taken Russia by surprise as they backed Kyiv's account of significant advances into Russian-occupied territory.
The U.K. Ministry of Defense (MOD) said on Saturday that the operation launched by Ukrainian troops on September 6 in the eastern Kharkiv region had seen them advance "up to 50 km [31 miles] into previously Russian-held territory on a narrow front."
That echoes the assessment by the General Staff of the Armed Forces of Ukraine, which said on Friday that it had advanced "50 kilometers within just three days."
Ukraine's President Volodymyr Zelensky said on Friday in his nightly address that his forces had "liberated and took control of more than 30 settlements" in the Kharkiv region, adding "everywhere we are returning the Ukrainian flag and protection for all our people."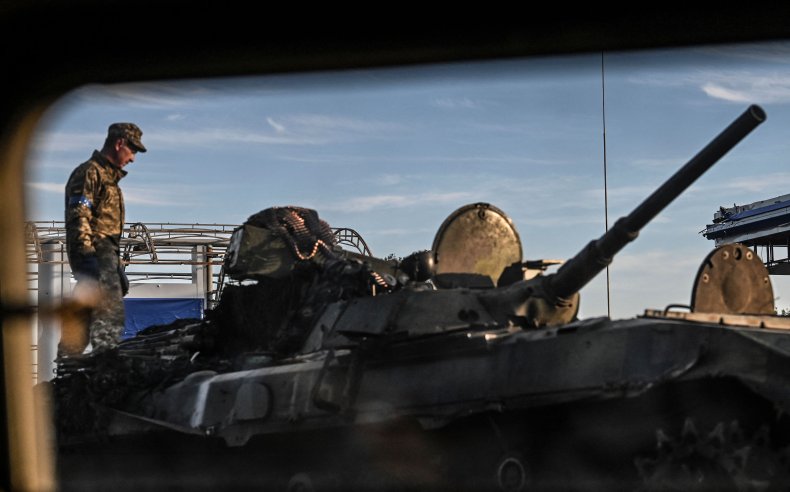 In describing the counteroffensive, British defense officials said that "Russian forces were likely taken by surprise," adding that "the sector was only lightly held and Ukrainian units have captured or surrounded several towns."
The MOD said a Russian force around the city of Izium "is likely increasingly isolated" and that Ukrainian units are "threatening the town of Kupiansk," whose capture would deliver "a significant blow" to Russia because it lies on supply routes to the Donbas front line.
"With Ukrainian operations also continuing in Kherson, the Russian defensive front is under pressure on both its northern and southern flanks," it added.
Newsweek has contacted Russia's Defense Ministry for comment on the daily British update which emphasizes Kyiv's gains and Moscow's losses.
On Friday, Russia effectively acknowledged that part of its frontline had crumbled southeast of Kharkiv. Vitaly Ganchev, head of the Russian-backed regional administration in the Kharkiv region, told state television that "several settlements have already come under the control of Ukrainian armed formations," Reuters reported.
Ganchev said his administration was trying to "evacuate" civilians from cities, including Izium, where heavy fighting is taking place amid reports that Ukrainian artillery had been pounding the area and Kyiv's troops had re-entered the city.
Zelensky adviser Oleksiy Arestovych said in a video posted on YouTube that Russian troops were left isolated in the city which is Russia's main stronghold and logistics base in the region.
Meanwhile, in its daily assessment, U.S. think tank, the Institute for the Study of War [ISW], said on Friday that Ukrainian successes on the line between Kharkiv city and Izium "are creating fissures within the Russian information space."
They were also "eroding confidence in Russian command to a degree not seen since a failed Russian river crossing in mid-May," it added.