Retired U.S. General Outlines 3 'Consequences' of Ukraine Counteroffensive
Ukraine's counteroffensive in Kharkiv has forced Russian troops to withdraw from the region, and the impact of the victory is expected to reverberate across the globe, according to a retired U.S. general.
U.S. Lieutenant General Ben Hodges, who served as the commander of U.S. Army Europe from 2014-2017, said that there are three consequences that "come to mind right away" when he thinks about the most recent developments in Ukraine.
"Number one, obviously, big parts of Ukraine have been liberated, and there's a momentum they can keep going," Hodges told the Kyiv Independent on Monday.
"The second consequence is that now people around the world, not just in Ukraine, but in Europe, and the U.S., start thinking—wow, Ukraine can win," he said.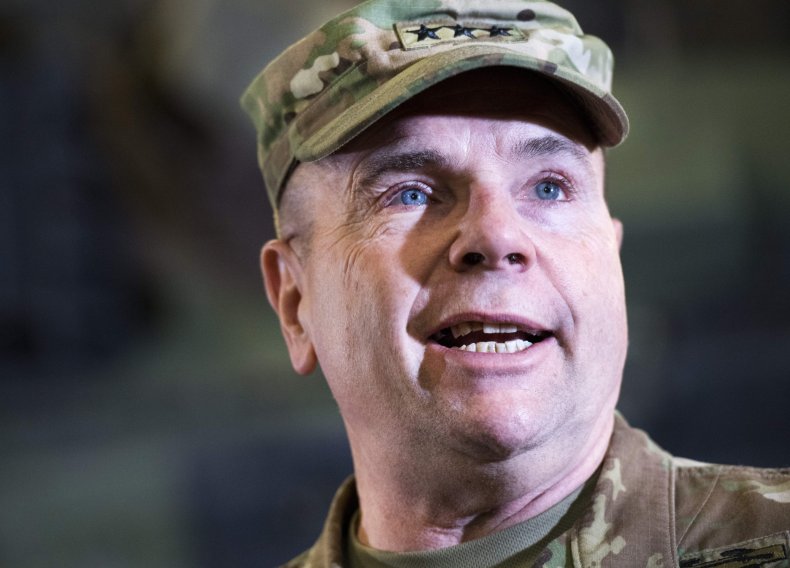 Hodges said while he had never doubted the Ukrainian forces' ability to combat the Russian invasion, the idea that Moscow would see an "inevitable" win will no longer persist.
"I think other nations will start saying, hey, we want to help," added Hodges, who has trained Ukrainian soldiers.
The news out of Kharkiv marked a significant achievement for Ukraine, liberating a reported 3,000 square miles that had been occupied by Russia since the Kremlin launched its offensive there in April.
Over the course of withdrawal from Kharkiv, Russia has lost more than 50 percent of its military personnel and more than 200 pieces of equipment, according to the General Staff of the Armed Forces of Ukraine.
Gian Gentile, the deputy director of the Rand Corporation's Army Research Division, and Raphael Cohen, the director of the Strategy and Doctrine Program at the Rand Corporation's Project Air Force, agreed with Hodges that the Ukrainian victory sends an international message.
"Above all, the battle of Kharkiv has shown Ukraine, Russia, and the world that an outright Ukrainian victory is possible," Gentile and Cohen wrote in a Saturday analysis for Foreign Policy.
"While Ukraine had already proved that it could successfully defend its terrain [as it did during the Battle of Kyiv], conduct precision artillery strikes, and mount limited special operations missions, there was a lingering question of whether it could launch and sustain the large-scale offenses necessary to regain Ukrainian territory," they wrote. "After the battle of Kharkiv, these doubts can be put to rest."
On Monday, Hodges said the third consequence of the Ukrainian counteroffensive is how the world will change its views on Crimea, which is officially part of Ukraine but a center of pro-Russia sentiment.
"All of a sudden, it looks achievable [to liberate Crimea]," the retired general said.
"Soon, [the Ukrainians] will be able to hit Russian targets in Crimea," he added. "And then when they do that every day, it's just a matter of time. I think people in Crimea are already starting to leave. They're going across that bridge, getting out of there. And I think it's a good thing that they leave that escape route for them to get out, for now."
He added that in the meantime, he thinks Ukraine should wait to target the bridge because it still serves as an escape route for civilians and can be used as leverage for the military.