Ukraine Finds One of Russia's Best Tanks Abandoned in 'Perfect Condition'
Ukrainian forces found one of Russia's most advanced tanks in "perfect condition" abandoned in the eastern Kharkiv region, where a counteroffensive by Ukrainian President Volodymyr Zelensky's army has reportedly forced Russian soldiers to flee.
Ukraine's Defense Ministry announced the discovery on Twitter on Sunday and shared pictures of the T-90M tank that was emblazoned on one side with a white "Z," a symbol that represents pro-invasion sentiments. The T-90M is the latest version of the Russian T-90 main battle tank.
"We ask its owner(s) to contact the #UAarmy. Please identify yourself by a sign: a white flag," the ministry wrote.
Ukraine's discovery of the T-90M in good condition could spell additional trouble for Moscow since it would add to the thousands of tanks that Ukraine estimates Russia has lost overall in the more than six months of war. The General Staff of the Armed Forces of Ukraine said in an update on Monday on Facebook that 2,212 Russian tanks had been eliminated since the war began on February 24.
But Ukraine finding the tank in good condition, rather than destroyed, now gives the war-torn country the opportunity to use it against its invaders, though the Ukrainian Defense Ministry did not say if it intended to do so.
In early May, days after Ukraine first reported the presence of Russian T-90Ms in the country, a journalist shared photos on social media of what experts said was the first confirmed loss of one of the tanks. Less than a week later, Ukraine's Defense Ministry released a video showing what it said was the destruction of yet another T-90M in Kharkiv using a Swedish Carl Gustaf handheld anti-tank grenade launcher.
While Ukraine has been gaining ground in Kharkiv, it has also reportedly come across scores of equipment that Russian President Vladimir Putin's army has left behind while fleeing the area.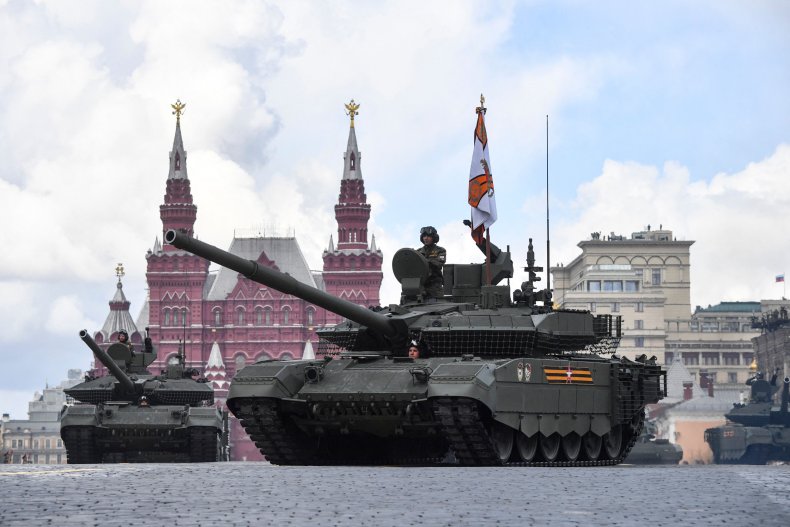 The Security Service of Ukraine (SBU) shared photos on social media last week showing what it said was "arsenals of ammunition" left behind by Russians in the region.
"We know what to do with them and we will definitely use them for their intended purpose—against the enemy," the SBU said of the supplies.
Anton Gerashchenko, an adviser at the Ukrainian Ministry of Internal Affairs, also joked on Twitter last week that Ukraine's military received its first "lend lease supplies" from Russia in Izium, a city in Kharkiv that was recently freed from Russian control.
"Russian soldiers fled so fast they left half of their equipment," he added.
Newsweek reached out to Russia's Defense Ministry for comment.