Ukraine Blows Up Russia's Best Tank With Help From Sweden
Ukraine has reportedly blown up a second Russian T-90M tank, one of the most advanced types that Russia has in service, just days after destroying what was said to be the first one.
Ukraine's Defense Ministry posted a video on Twitter Tuesday showing an aerial view of a tank far in the distance just before it was struck and engulfed in flames that sent a black mushroom cloud of smoke into the air. The ministry said that territorial defense fighters used a Swedish Carl Gustaf handheld anti-tank grenade launcher to destroy the tank near Staryi Saltiv in Ukraine's Kharkiv oblast (or province) and thanked Sweden for the assistance.
The reported destruction of one of Russia's best tanks came less than a week after Ukraine said that it destroyed the first one days after the T-90M's presence in Ukraine was first reported by Kyiv on April 25. The alleged loss of the second tank may be a significant blow to Russia's military in light of recent indications that Ukrainian forces have been gaining ground in some areas and Russia has been losing it. Russia has not addressed or verified those reports.
Newsweek contacted Russia's Defense Ministry seeking confirmation that the T-90M tank had been destroyed.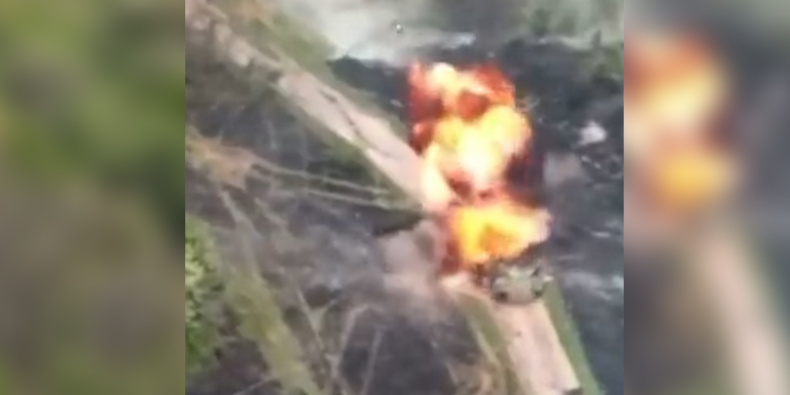 Last month, Russia initiated a second phase of the war that it said would focus on the Donbas region in eastern Ukraine, which contains two pro-Russia separatist territories, after withdrawing forces from other regions.
A Ukrainian counteroffensive in the east around the city of Kharkiv has seen success in recent days, according to the Institute for the Study of War, a U.S. think tank, and the destruction of the two T-90M tanks is an additional triumph for Ukraine.
On May 4, Andriy Tsaplienko, a Ukrainian war reporter, posted a photo on Facebook showing himself standing before what he said was a destroyed T-90M tank in the Kharkiv region.
"Here's a fresh up (sic) Russian tank T-90 to improve your mood. It's hot, it's smokin' hot," he wrote in the photo's caption, according to Facebook's translation.
"This village in the Kharkiv region was recently freed by the Ukrainian military. But this morning the invaders tried to get into it again. As you can see, they did it badly," Tsaplienko added.
Ukraine's Defense Ministry confirmed in a statement at the time that it had destroyed the tank and added that an infantry fighting vehicle and an MT-LB armored personnel carrier had also been neutralized. Russian forces have roughly 20 of the tanks, Newsweek previously reported, so the loss of two may have a high impact on the military's supply.
Newsweek reached out to the defense ministries of Russia and Ukraine for comment.