Ukrainian President Volodymyr Zelensky announced on Monday that Russia's expected offensive in the eastern Donbas region had begun, opening a new phase of the 55-day-old invasion that could be decisive in shaping its end.
The Donbas offensive is bad news for the beleaguered peace negotiations, which have been ongoing since shortly after the invasion began on February 24. Talks recently stalled amid accusations of Russian war crimes in occupied areas, and in expectation of the Donbas offensive which may hand either side additional leverage.
So far, the talks have secured some humanitarian and evacuation corridors from besieged areas like the devastated city of Mariupol on Ukraine's Azov Sea coast. The new offensive in the east appears to have shuttered even these corridors, which Ukrainian officials say have now been closed for three days.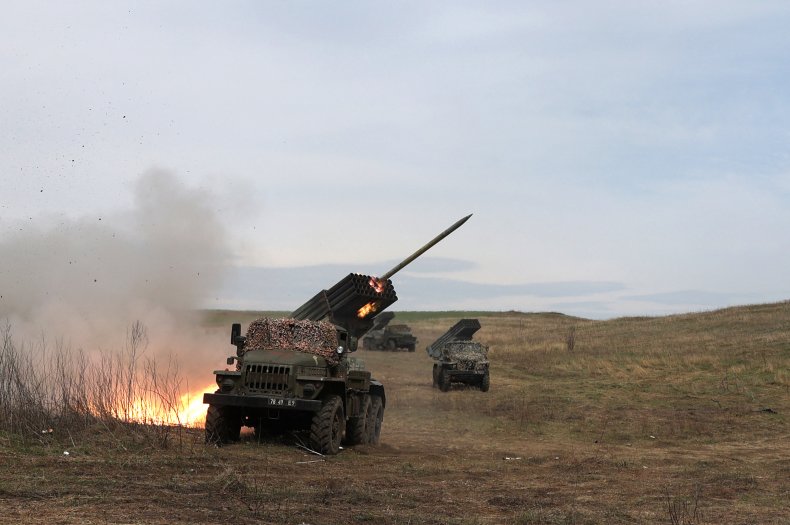 Distrust has loomed behind the peace talks since their inception. The battle for Donbas—which Ukraine's Foreign Minister Dmytro Kuleba said will be reminiscent of the Second World War—will only further undermine any negotiations.
"Ukraine tries to continue the peace talks, but they don't bring many results now," Iuliia Mendel, Zelensky's former press secretary who retains close links with current officials, told Newsweek.
"This is the third day when even humanitarian corridors don't work anymore.
"Up to now there has been nothing seriously promising about the negotiations. Russia is serious only when Moscow sees strength. Its intention to launch the second offensive really brings into question the further necessity of negotiations."
Russia's initial plan for what it called the "denazification" of Ukraine appears to have been for a lightning offensive to seize key cities and decapitate the Zelensky government in Kyiv.
Its troops' surprise defeat around the capital has forced Moscow to focus instead on the east, where President Vladimir Putin will hope to seize the entire Donetsk and Luhansk regions, split between government and Russia-aligned militia control since 2014.
Any further Russian gains will complicate future peace talks. The status of Crimea and the occupied Donbas—both seized by Russian forces and their allies in 2014—is perhaps the most challenging aspect of the negotiations.
Surrendering Ukrainian territory is politically toxic for any Ukrainian leader, even wartime icon Zelensky. But Putin will need some gains to sell his costly invasion as a victory.
Ukraine's NATO membership ambitions appear one of the likely sacrifices on Kyiv's side. The intention to join the transatlantic alliance is enshrined in Ukraine's constitution, and removing it will not be an easy task.
The question of NATO membership is among those reportedly already agreed upon between Russian and Ukrainian negotiators. Moscow is believed to have accepted Kyiv's ambition to join the European Union.
Security guarantees from the alliance's leading members—the U.S., U.K., France, Germany, and Turkey—might sweeten the deal for Ukrainians. France and Germany have expressed willingness to provide guarantees, but the U.S. and U.K. have not.
Kira Rudik, a member of Ukraine's parliament and leader of the liberal Voice party, told Newsweek that security guarantees are the only way to safeguard any peace talks progress.
"I still think that the talks are not feasible without the security guarantees," she said. "Until we get those guarantees, they have no point."
But Russia's new offensive in the east could bring more of the alleged abuses that have threatened to torpedo the peace talks entirely. Evidence of war crimes in the Kyiv suburbs of Bucha, Irpin, Hostomel, and others have horrified the world and enraged the Ukrainians.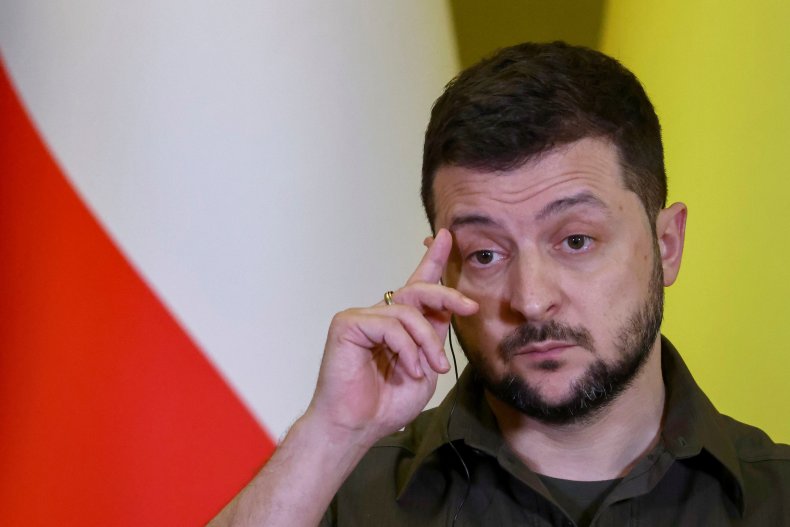 The scale of atrocities in other settlements like Mariupol—still besieged with fierce street fighting ongoing—may never be fully known. The fate of those still there might change the course of talks. Zelensky said this week that he might end negotiations entirely if Russia kills the remaining defenders entrenched in Mariupol. Russia has dismissed accusations of war crimes.
Kremlin spokesperson Dmitry Peskov on Monday accused the Ukrainians of undermining peace talks. "It is often changing its position and the trend of the negotiating process leaves much to be desired," Peskov said of the Ukrainian negotiating team.
But in Ukraine, it is Russia's continued aggression that is making a peace deal ever more unlikely.
"We cannot get the Russians to get a humanitarian convoy out of Mariupol, that could be a good first step for the peace talks to have a chance," Rudik said. "But they continue bombarding it into the ground."
Oleksandr Merezhko, a member of Ukraine's parliament and the chair of the body's foreign affairs committee, told Newsweek he does not believe there will be any significant progress until the battle for Donbas has played out.
"The content of the agreement will be determined by the situation on the battleground," Merezhko said. "As for Russia I think that its goal is by means of this offensive to grab as much territory as they can, and only after this they can start to negotiate seriously.
"Putin is still giving preference to the use of armed force rather than to political and diplomatic means. He is not ripe yet for reaching an agreement.
"First of all, we need a ceasefire and humanitarian corridors. Ukraine is open for negotiations and is interested in the result which will guarantee our security and save lives of our people."
Newsweek has contacted the Russian Foreign Ministry to request comment.