France Edges Ukraine Closer to NATO-Lite Security Guarantee
French President Emmanuel Macron moved Ukraine one step closer to its goal of a new, legally-binding security guarantees from NATO's most powerful nations by declaring Paris would support such a proposal as part of a deal to end the war.
Macron—who is facing a tightening re-election contest this weekend—told Le Parisien in an interview published on Friday that the peace that will follow the ongoing war requires guarantors, among them France.
"At some point, a ceasefire will be declared, and we will need to build peace," Macron said. "This cannot be done without a guarantor, and France has the vocation to be one of those guarantors."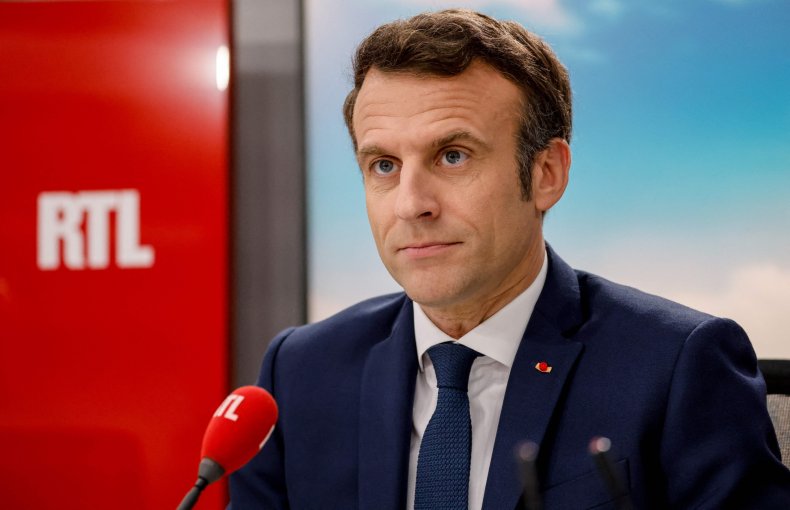 Ukrainian officials have touted the U.S., U.K., France, Germany, and Turkey as among the possible guarantors. Last month, President Volodymyr Zelensky's chief of staff Andriy Yermak said Israel could also be among the guarantor nations.
France and Germany have so far shown willingness to provide a new security guarantee, which Kyiv has said is vital to protecting post-war Ukrainian sovereignty. The ongoing invasion of Ukraine is Russia's second since 2014, and Ukrainians fear there will be a third without proper international military deterrence.
The U.S., U.K., and Turkey are yet to commit to a Ukrainian security guarantee. The British Deputy Prime Minister Dominic Raab said last month that London would not do so for fear of being dragged into a direct confrontation with Russia.
The desired security guarantee would somewhat mirror NATO's Article 5—the legally binding commitment of nations to come to the defense of another alliance member in the case of external aggression. The article has only been triggered once, by the U.S. following the 9/11 attacks.
NATO nations have been hesitant to extend their military protection to Ukraine. Alliance states have clashed and hesitated on proposals to send military jets, anti-aircraft systems, tanks, and other weapons to Ukraine, fearing the war will escalate and drag NATO members into direct conflict with Russian forces.
In recent weeks, Ukrainian forces have been retaking Russian-occupied territory, uncovering evidence of suspected Russian war crimes, and preparing to face a new Russian offensive in the east. All of these elements are pressuring NATO leaders to provide more support.
It is unclear how long the war may last. The coming battle in the east could settle into an attritional rhythm though both sides will hope for a relatively rapid victory to give them more leverage in the ongoing peace talks.
Ukraine's future security situation will be decided at these peace talks, if indeed Russia is committed to the process as more than just a smokescreen to reorganize and reinforce its troops, which some observers fear to be the case.
Igor Zhovkva, the deputy head of Zelensky's office, said on Friday that Ukraine's long-running conflict with Russia cannot end without concrete security guarantees strong enough to deter Moscow.
"We will definitely win, and we will definitely overcome the aggressor this time," Zhovkva said. "But if the aggression happens again, we should be prepared for this. This is why my president is asking for security guarantees, as part of a possible agreement with Russia."
The guarantee would need to be legally binding and ratified by national parliaments, Zhovkva said. It would allow Ukraine to work with guarantors and create a chain of command and step-by-step of immediate options in the case of future aggression.
Rather than "begging" for weapons when the fighting is already underway, Zhovkva said, Ukraine could agree ahead of time what weapons its guarantors would provide and how they would be used.
CNN cited multiple unnamed U.S. sources last week who said it is unlikely that the U.S. and its allies will give Ukraine the legally-binding guarantees it wants.
Ukraine's conversations with would-be guarantors are ongoing. The discussions could prove moot if Kyiv is unable to hold off the next Russian offensive, though confidence within Ukraine is high and growing after Russian troops were entirely expelled from the north of the country.
Ukrainian officials are hoping that international revulsion at Russian conduct will win them the protection they need. "You cannot let a country in the center of Europe be undefended," Zhovkva said on Friday. "Or you can, but you will feel the implications."