Volodymyr Zelensky to Speak With China's Xi Jinping 'Very Soon': Adviser
Andriy Yermak, the head of President Volodymyr Zelensky's office, told a virtual briefing on Tuesday he hoped the Ukrainian leader would speak with President Xi Jinping "very soon," as Beijing mulls support for Russia's ongoing invasion of the country.
Yermak told the event—hosted by the British Chatham House think tank—that Kyiv wants China to do more to help end the fighting, which has so far raged for 27 days and is believed to have killed tens of thousands of people.
"China is the largest trade partner of Ukraine, and China is a most influential player in the global arena," Yermak said.
"There are a lot of rumors about Russia wanting China to support it militarily, economically, diplomatically, in different ways. But so far, we've seen China's neutral position.
"We believe that China is one of the most potent global leaders," Yermak said. "It should play a more noticeable role in bringing this war to an end, and in building up a new global security system.
"As President Zelensky has repeatedly said, we expect dialogue between President Zelensky and President Xi to take place very soon."
Yermak did not provide further details of when such a conversation might take place.
Beijing has thus far been muted on Russia's invasion, frustrating Kyiv and its Western partners. Moscow has requested aid from China to support its latest round of aggression against Ukraine.
U.S. officials claimed last week that Beijing was preparing to agree to the request, though China's U.S. ambassador Qin Gang has denied the reports. The White House has warned China it may face sanctions if it does support Moscow's invasion.
Xi has been touted as a possible mediator to help end the fighting in Ukraine.
Yermak said Kyiv wants Beijing to be among the guarantors of a proposed new security arrangement that would protect Ukraine from further Russian aggression, in lieu of NATO membership, which Zelensky has all but abandoned.
"We also expect China to be one of the guarantors within the framework of the security system," Yermak said. "Because we treat China with the utmost respect, and we expect it to play a proactive role there."
This new security framework is a central Ukrainian demand in the ongoing bilateral peace talks between Moscow and Kyiv, which so far have produced humanitarian corridors but no ceasefire.
"We have paid an extremely high price for our past mistakes," Yermak said, referring to the 1994 Budapest Memorandum which failed to protect Ukraine from Russian aggression.
A replacement, he said, must be more reliable. "The entire future of the world hinges on this agreement," Yermak warned.
"A lot of our partners have already agreed to play this role of guarantors of this new security system or framework. Of course, this system is yet in the making and we still have to negotiate the basis of it. But today we understand who are our true friends."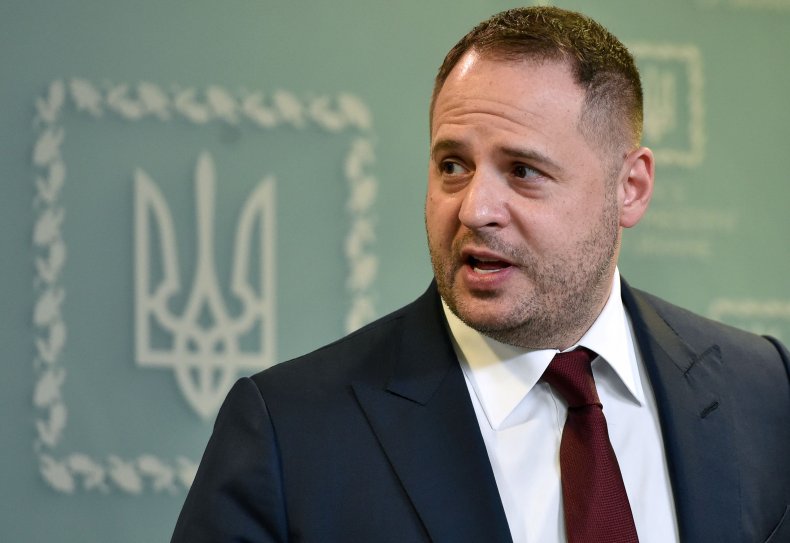 Kyiv's priority, Zelensky's top aide said, remains a quick end to the fighting. "We want the war to come to an end as soon as possible with an agreement on Ukrainian terms, in the interests of the Ukrainian nation," Yermak said.
Ukraine must gain, not lose, from the peace, he added.
But any peace deal cannot include territorial concessions by Kyiv, Yermak warned, echoing the president and his top officials. Moscow will want Ukraine to recognize its control over Crimea—annexed in 2014—and the independence of the self-declared republics in the occupied Donbas.
"I believe we've got the best president that we could have in these hard times," Yermak said of Zelensky, who has become a global resistance icon.
"And it is his very clear position that there can be no compromises regarding our sovereignty, our territorial integrity, our independence.
"We are prepared to negotiate the peace agreement, we are prepared to meet personally, and we are prepared to talk about Crimea, about Donbas.
"But first of all, we should focus on bringing this war to an end and the withdrawal of the Russian troops and equipment from Ukrainian territory."
Any deal, Yermak said, must be agreed between Zelensky and President Vladimir Putin in person. "Our delegation is working around the clock to arrange this meeting," Zelensky's chief of staff said.
In the meantime, Yermak continued Ukrainian calls for NATO to enforce a no-fly zone, and to reinforce defending troops with anti-aircraft systems and fighter jets. The western alliance has refused to commit to a no-fly zone for fear of provoking direct conflict with Russia, though member states have sent thousands of anti-tank and anti-aircraft weapons.
"Our armed forces and civilians are holding on with superhuman courage," Yermak said. "But we cannot win this war without offensive weapons, without medium-range missiles that can be a means of deterrence."
Kyiv requires a "full-scale lend-lease" to beat back the Russians, he added. Yermak said NATO's "fear of escalation is understandable, but this fear will not save you." Ukraine, he warned, is not the end of Putin's ambitions.
"The war in Ukraine is not just another local conflict," Yermak said. "It is a world war that is, for the time being, limited to one country, our country."
He added: "Ukraine is the shield of Europe, but it stands alone in protecting Europe."
Yermak also demanded tougher sanctions on Russia. Previous rounds of sanctions have already shaken Russia, but Kyiv is pressing its Western partners to entirely isolate Moscow from the global economy.
"Do not sponsor Russia's war machine," he urged. "Close down all of your ports for them, do not supply them with your goods and merchandise, refuse to buy Russian power supplies," Yermak said. "Not a single euro to the occupiers."