Russia Losing Ground in Ukraine As Putin Touts Commitment to War
Russian President Vladimir Putin touted Russia's commitment to the war in Ukraine on Monday amid Victory Day celebrations in his country, a reaffirmation that came after Russian forces lost ground during fighting with their neighbor to the west in recent days.
Leading up to Russia's high-scale event for Victory Day, which it celebrates annually to commemorate the defeat of Nazi Germany in 1945, U.K. defense officials said that Moscow was hoping to have significant military gains under its belt. But the display of military might in Moscow's Red Square, featuring artillery vehicles, a Russian Yars intercontinental ballistic missile launcher, and thousands of military units, came in the wake of some recent losses for Russia in the war.
The Armed Forces of Ukraine said Friday that it had retaken five areas in Ukraine's Kharkiv region: Oleksandrivka, Fedorivka, Ukrainka, Shestakovo, and Peremoha. The group also said that it had reclaimed part of the Cherkaski Tyshky village.
A press officer with Ukraine's 92nd separate mechanized brigade said that near Kharkiv, the second-largest city in Ukraine, eight towns and villages had been freed from Russian forces as of May 6, the Kyiv Independent reported Monday.
The officer also said that Ukrainian forces have continued their efforts in the area since, and attempts from Russian forces to reclaim the areas have so far failed.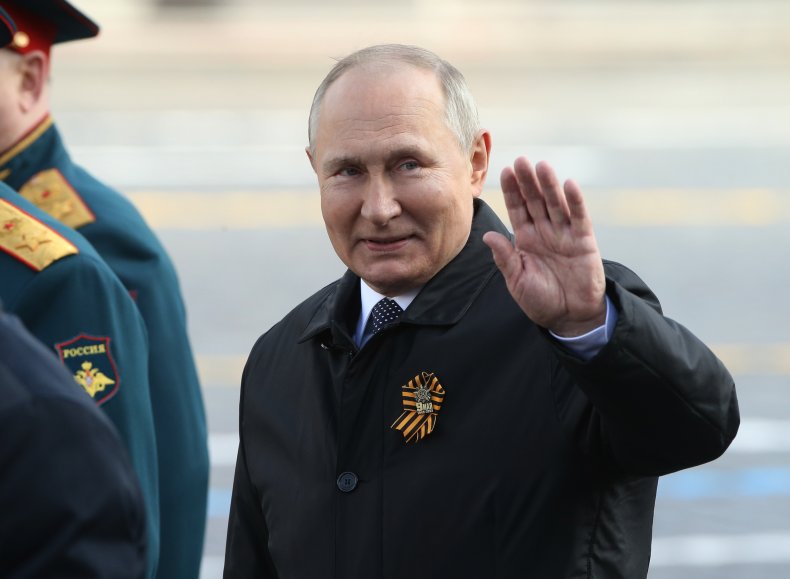 Newsweek was not able to independently confirm that Ukraine reclaimed those areas around Kharkiv, nor locate any instances in which Moscow publicly addressed the recent alleged losses to confirm or deny them.
The Institute for the Study of War (ISW), a U.S. think tank that publishes daily updates on Russia's offensive campaign, has also reported that the Ukrainian counteroffensive has made progress in recent days in reclaiming ground near Kharkiv.
"The Ukrainian counteroffensive northeast of Kharkiv is making significant progress and will likely advance to the Russian border in the coming days or weeks. Russian forces may be conducting a limited withdrawal in the face of successful Ukrainian attacks and reportedly destroyed three bridges to slow the Ukrainian advance," the ISW wrote on Saturday.
Still, Putin defended his decision to invade Ukraine as the "only right solution" during a speech he gave to commemorate the Victory Day celebrations, alleging that the West was arming Ukraine so that it could attack Crimea, Newsweek reported.
"It was a threat we couldn't accept, it was a threat directly to our border. Everything showed that we are dealing with Nazis and we have to do something about it," Putin said, referencing the Kremlin's previously-stated goal to "de-nazify" Ukraine.
"There was a threat that was growing day by day. We had to do something, we had to do something and we did it—it was the only right solution we could take," Putin added. "It was a decision taken by a sovereign and strong country."
He said that Russia's fight for "the Motherland" in the Donbas region, which houses several pro-Russia separatist groups, was "so that no one forgets the lessons of World War II." He added that "there is no place in the world for executioners, punishers, and Nazis."
Meanwhile, Ukrainian President Volodymyr Zelensky released a video message on Victory Day promising that his nation would prevail over Russia.
"We will never forget what our ancestors did in World War II, which killed more than eight million Ukrainians. Very soon there will be two Victory Days in Ukraine. And someone won't have any," he said.
Newsweek reached out to the defense ministries of Russia and Ukraine for comment.
Update 05/09/22 4:45 p.m. ET: This article was updated with additional information.