Russians Leave Behind Huge Arsenals of Ammunition While Retreating—Photo
Russian troops are leaving behind huge arsenals of ammunition while retreating amid a Ukrainian counteroffensive, according to photos shared by the Security Service of Ukraine (SBU).
The images, published by the SBU's press service on Telegram and Twitter, show an abandoned vehicle and what appears to be boxes of ammunition and equipment in an unsupervised storage space in Izyum, in Ukraine's southern Kharkiv region.
Russian troops retreated from the Izyum and Balakliya areas over the weekend in order to "regroup," according to Russia's Defense Ministry. Izyum is a major base for Russian forces in the Kharkiv region.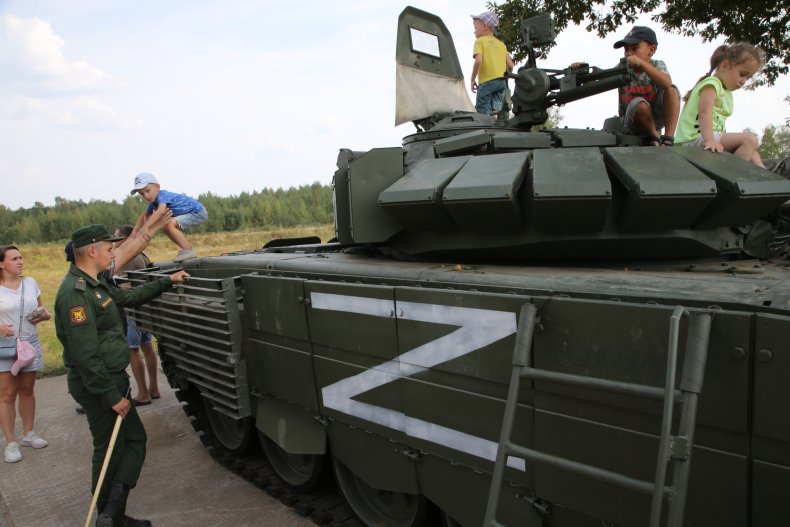 "Russian invaders, under pressure from Ukrainian soldiers, are fleeing in such a way that they are leaving behind entire arsenals of ammunition," the SBU said. "We know what to do with them and we will definitely use them for their intended purpose—against the enemy."
Anton Gerashchenko, an adviser at the Ukrainian Ministry of Internal Affairs, also said Sunday that Russian soldiers are fleeing so rapidly amid Kyiv's counteroffensive that they are leaving behind "half of their equipment."
Gerashchenko shared a video on Twitter that he said shows an abandoned Russian tank in Izyum.
"Today our military accepted first lend lease supplies from Russia in Izyum (that's a joke, of course. I will mark my jokes for some time now)," he wrote. "Russian soldiers fled so fast they left half of their equipment."
Footage taken in Kharkiv by a U.S. volunteer, and shared with Newsweek on Sunday, also shows Russian tanks abandoned in the region.
The commander of Ukraine's military, General Valeriy Zaluzhnyi, said Sunday his troops have regained 3,000 square kilometers (1,158 square miles) of territory from the Russians since the beginning of September when a surprise Kharkiv counteroffensive began.
The British Ministry of Defence said in an assessment Monday that the Russian military's trust in its leadership is likely to be deteriorating amid Ukraine's intensifying counteroffensive.
"In the face of Ukrainian advances, Russia has likely ordered the withdrawal of its troops from the entirety of occupied Kharkiv Oblast west of the Oskil River," the ministry tweeted.
"The rapid Ukrainian successes have significant implications for Russia's overall operational design. The majority of the force in Ukraine is highly likely being forced to prioritize emergency defensive actions," the ministry added. "The already limited trust deployed troops have in Russia's senior military leadership is likely to deteriorate further."
Meanwhile, Alexander Khodakovsky, a Kremlin-backed commander and former political leader in the self-proclaimed Donetsk People's Republic (DPR) in eastern Ukraine, offered a rare bleak assessment of Russia's performance in the ongoing war, saying that he is "depressed" by how the war is going.
Newsweek reached out to Russia's foreign ministry for comment.