Russia Has Lost Over 2,000 Tanks Since War Began—Ukraine
Russia has lost more than 2,000 tanks and almost 49,000 military personnel since Vladimir Putin's war began, the Ukrainian military said Friday.
The General Staff of the Armed Forces of Ukraine published on its Facebook page Ukrainian estimates of the total losses Russia has faced since the invasion began on February 24.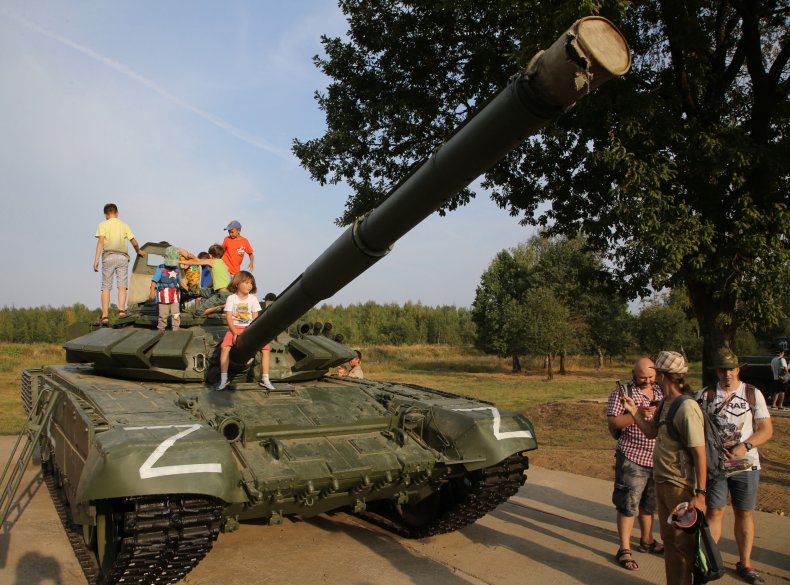 According to the post, a total of 2,009 tanks have been destroyed as of Friday morning local time, with 12 destroyed in the past day.
The general staff said 48,700 of Russia's military personnel have been killed, with 350 soldiers killed between Thursday and Friday morning.
A total of 4,366 armored combat vehicles have been destroyed, as well as 1,126 artillery units and 853 unmanned aerial vehicles.
Ukraine also said that 234 aircraft, 205 helicopters, 15 ships/boats, 3,247 vehicles and fuel tankers, 198 cruise missiles, 289 air-defense systems, 105 pieces of special equipment, and 153 anti-aircraft warfare systems have been destroyed by its armed forces.
Newsweek has been unable to verify independently the figures. Russia rarely discloses its military losses.
Moscow last released figures on March 25, when a general told state media that 1,351 soldiers had been killed and 3,825 had been wounded. The U.K. government said in April that Russia had lost about 15,000 troops.
The U.K. Ministry of Defence said in May that Russia was losing a significant number of tanks in the conflict and that Moscow had moved 50-year-old T-62 tanks from "deep storage" to be deployed for use by its Southern Grouping of Forces (SGF).
The ministry said that such vehicles are likely to be "particularly vulnerable" to anti-tank weapons, and that the decision to deploy them on the battlefield highlights "Russia's shortage of modern, combat-ready equipment."
Last month the Ukrainian General Staff Facebook page estimated that Russia had lost 19 tanks and armored vehicles in a single day.
Russia has also said Ukraine is using reserve "ceremonial" tanks because of the losses its armed forces have incurred.
The Russian government-owned newspaper Rossiyskaya Gazeta said that Ukraine has moved to deploy T-64BM2 tanks that were produced in a small batch to participate in a parade in August 2021.
The latest developments come as Ukraine is waging a counteroffensive to retake the southern Kherson region, which was seized by Russia in March.
Ukraine's Operational Command South said Wednesday that its forces destroyed 12 Russian T-72 tanks and a wide range of Russian military equipment and weapons.
Yuriy Sobolevskyi, the deputy head of Kherson's regional council, has said that Ukraine's forces have had "successes" there, although Russia's defense ministry has maintained that the effort has so far been "unsuccessful."
Newsweek has contacted the Russian Ministry of Foreign Affairs and Ukrainian authorities for comment.