Ukraine Claims 200 Russian Soldiers Killed in Kherson Counter-Offensive
Ukraine said Wednesday that its military has killed more than 200 Russian soldiers so far amid a counter-offensive to recapture the southern Kherson region.
"The situation in our operational area remains difficult, but is controlled by the defense forces," reported Ukraine's Operational Command South. The command has been issuing regular updates on Kyiv's counteroffensive in the region, which was seized by Vladimir Putin's forces in the early stages of the war.
The command said Ukraine's armed forces killed 201 Russian military personnel and destroyed six Russian ammunition depots, 12 T-72 tanks, and a wide range of Russian military equipment and weapons.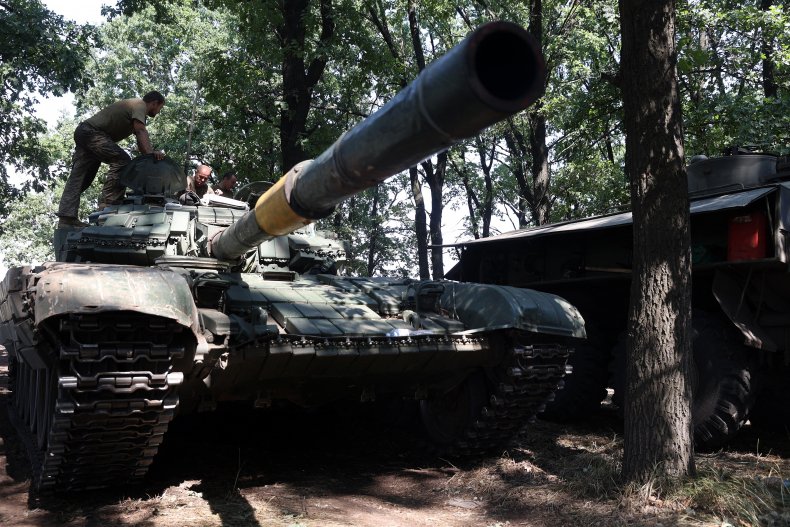 The command also claimed to have destroyed a pontoon bridge built by Russian troops in the occupied Darivka village in the Kherson region. Ukraine's military first reported that Russian forces were attempting to build a pontoon bridge across the Inhulets River in Darivka village on July 27, after Ukrainian strikes on the Darivka Bridge that had been used by Moscow as a supply route.
"Hits are effective, damage is significant. The pontoon crossing established by the occupiers in the Darivka area was destroyed," it said.
The Operational Command South also said Ukrainian aircraft conducted 24 airstrikes on regions where Russian military personnel and equipment were concentrated, on Russian command posts, combat positions, logistical centers, and transport routes.
Newsweek has been unable to independently verify the claims, and has contacted Russia's foreign and defense ministries for comment.
Russia rarely discloses its own military losses. Moscow last released figures on March 25, when a general told state media that 1,351 soldiers had been killed and 3,825 were wounded. The U.K. government said in April that Russia had lost about 15,000 troops.
It comes amid Kyiv's counteroffensive to retake the Kherson region, which ramped up on Monday night after Serhiy Khlan, deputy of the Kherson Regional Council, said in a statement on Facebook that Ukraine successfully breached the "first line of defense of the Russians on the Kherson front."
Russia's defense ministry has maintained this week that an attempt by Ukraine to resume an offensive in the Kherson region has so far been "unsuccessful."
Yuriy Sobolevskyi, the deputy head of Kherson's regional council, has said Ukraine's forces have had "successes" in Kherson.
On Monday night, Ukrainian President Volodymyr Zelensky told Russian soldiers defending Kherson to "run away" if they want to live.
"The occupiers should know we shall oust them to the border, the line of which has not changed," Zelensky said in a video address. "If they want to survive, it's time for the Russian military to run away. Go home."