Russia's old Soviet-era tanks deployed three months into its war against Ukraine are likely vulnerable to attack, British intelligence said Friday.
In its daily intelligence update, the U.K. Ministry of Defence said Russia in recent days has probably moved 50-year-old T-62 tanks from "deep storage" to be deployed for use by its Southern Grouping of Forces (SGF), as Russian forces seek to occupy territory in southern Ukraine.
The vehicles are likely to be "particularly vulnerable" to anti-tank weapons, the ministry said, noting that the decision to deploy them on the battlefield highlights "Russia's shortage of modern, combat-ready equipment."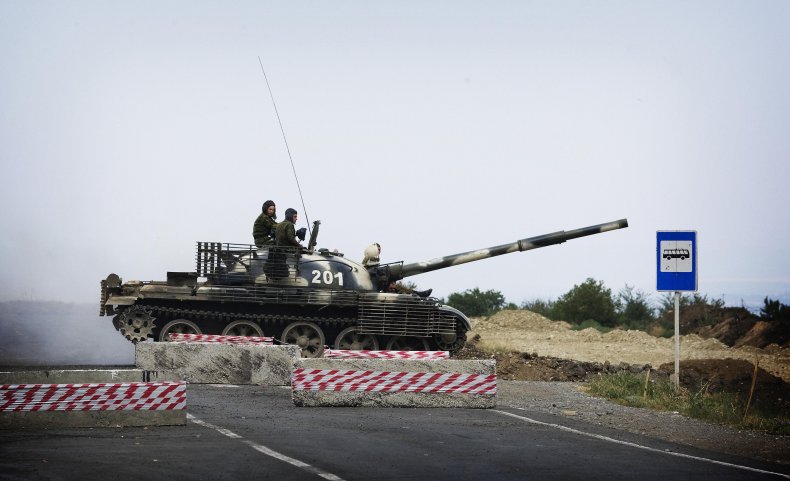 The British defense ministry said stiff resistance from Ukraine troops continues to deny Russia full control of the country's eastern Donbas region. The territory has been the focus of Russia's war against the country in recent weeks, after forces withdrew from Kyiv, the capital.
Russian President Vladimir Putin is now looking for military victory by attempting to seize the two big eastern regions, Luhansk and Donetsk, swathes of which have been under the control of Kremlin-backed separatists since 2014.
"Russian ground forces continue their attempt to surround Severodonetsk and Lyschansk, recently capturing several villages north-west of Popasna," the defense ministry said.
If Russian forces seize the two twin cities of Severodonetsk and Lysychansk, then all of Luhansk would be under Russian control.
"Russia is pressuring the Severodonetsk pocket although Ukraine retains control of multiple defended sectors, denying Russia full control of the Donbas," the intelligence update said.
More than three months into Russia's invasion of Ukraine, a senior U.S. defense official told reporters Thursday that Putin has lost nearly 1,000 tanks, more than 350 artillery pieces, almost three dozen fighter bomber fixed-wing aircraft, and more than 50 helicopters.
Russia's old T-62 tanks were photographed at Melitopol railway station in southeastern Ukraine in recent days, suggesting that Putin's forces have suffered considerable losses.
Some 20,000 of the tanks were in production in the Soviet Union from 1961 to 1973, before the model was replaced in production and frontline units by the newer T-72 main battle tank.
The vehicle is armed with semi-automatic 115 mm smoothbore gun, and was the last medium tank produced in the Soviet Union.
The British defense ministry previously said in an intelligence update on May 10 that Russia's losses during the ongoing conflict forced Putin to change his goals in what he continues to call a "special military operation."
Russia underestimated Ukrainian resistance, the ministry said, and this "miscalculation" has led to Moscow's "unsustainable losses" and "demonstrable operational failings," preventing the Russian leader from announcing significant military success in Ukraine at the May 9 Victory Day parade.
Newsweek has contacted the Russian Ministry of Foreign Affairs for comment.