Russian Troops Fleeing From Ukraine Counteroffensive in Panic: U.K.
Russian soldiers abandoned valuable military equipment in haste as they fled the Ukrainian counteroffensive, according to British defense officials.
In its daily assessment on Thursday, the U.K.'s Ministry of Defense said that Kyiv's forces were consolidating their control of newly recaptured areas of the north-eastern Kharkiv province, from where Moscow's forces have largely withdrawn west of the Oskil River.
It said that the way Russian troops retreated "has varied," with some units withdrawing "in relatively good order and under control, while others fled in panic."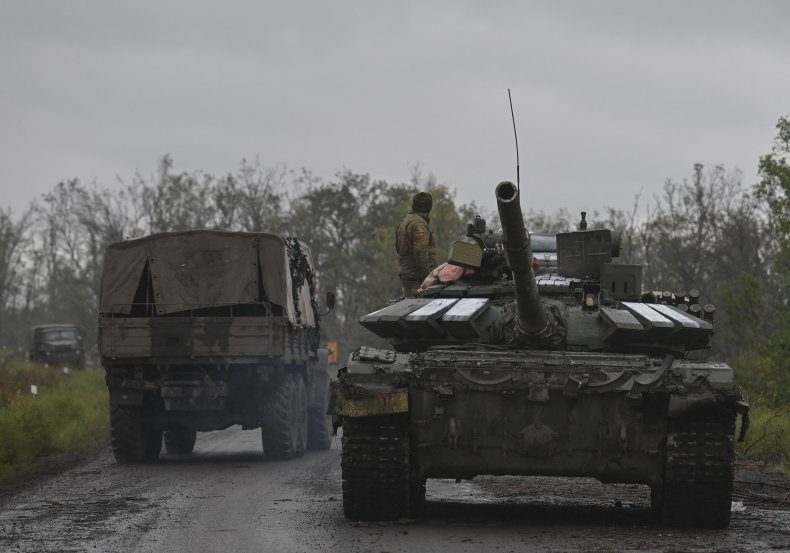 The Russians abandoned "high-value equipment" which included at least one Zoopark counter-battery radar and at least one IV14 artillery command and control vehicle.
This equipment was "essential to enable Russia's artillery-centric style of warfare."
Newsweek has contacted the Russian defense ministry for a response to the daily British assessment, which emphasizes Moscow's losses and Kyiv's gains.
Ukraine's lightning gains in the north-east have seen it recapture 3,100 square miles of territory from Russian occupation, prompting speculation over what the next move would be for Russian President Vladimir Putin.
On Wednesday, eight Russian missiles struck Kryvyi Rih, a city in the Dnipropetrovsk province, south of Kyiv and west of Zaporizhzhia.
U.S. think tank the Institute for the Study of War [ISW] said that the target was the Karachun Dam, along the Inhulets River, on the western outskirts of the city.
Footage of the aftermath of the strike shows an eight-foot increase in the water level of the Inhulets River, threatening the city.
The ISW said on Wednesday that Russian forces were trying to interfere with Ukrainian operations across the river, which is an important geographical feature for the counteroffensive along the border between Kherson and Mykolaiv provinces.
In his nightly TV address on Wednesday, Ukrainian President Volodymr Zelensky said he had just returned from the area around Kharkiv where "almost the entire province is de-occupied" following an "unprecedented movement of our soldiers."
Also on Wednesday, Zelensky was involved in a traffic accident in Kyiv, following a collision with a private vehicle, although his spokesperson said that he suffered "no serious injuries."
Russia still controls around a fifth of Ukraine's territory although towns in the eastern Donbas region that fell early in the war remain targets for Kyiv's military. Russia has said it would continue with its invasion "until all the goals that were originally set are achieved."
Meanwhile, allegations of war crimes have started to emerge following Russia's retreat. Locals in the town of Balakliya, also in Kharkiv province, told the BBC that Russian troops had tortured civilians at the town's police station during their occupation.