After initially appearing on Russian military equipment in Ukraine, the white "Z" has become one of the major symbols of the Ukrainian invasion.
Spreading from the battlefield to rallies to social media like wildfire, the white Z now represents pro-invasion sentiments and has been incorporated into Kremlin-approved propaganda. But where did it come from and does it have any deeper meaning?
The symbol gained international attention as it was spotted during the invasion of Ukraine, emblazoned on the side of Russian military vehicles. Similar markings were spotted years ago on Russian tanks taking part in the Syrian civil war, according to The Evening Standard. As such, many have deduced that the symbol is meant to help soldiers on the ground differentiate their side's vehicles from those of the enemy, reducing friendly fire. It has also appeared spray-painted on doors in Ukrainian regions successfully captured by Russia.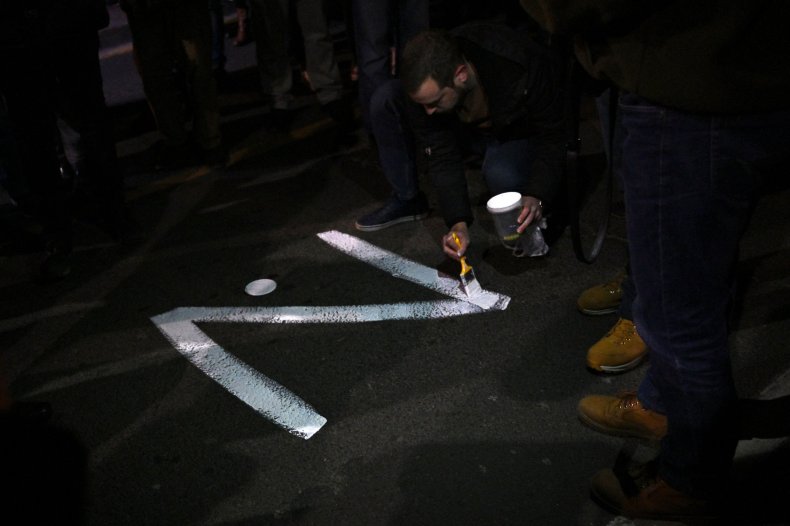 Professor Michael Clarke, former director for the think tank, Rusi, spoke with Sky News about the symbol's potential use as a strategic indicator.
"Often these symbols will be location-based—they will be communicating where a unit is heading," Clarke said. "If they were only to mark the vehicles as being Russian, you could just use one symbol. The fact that they are different tells you more—they are probably signs which tell you which units are heading to the north-east or north-west of a district, for example."
As Clarke mentioned, multiple symbols have been employed on vehicles during the invasion of Ukrainian. According to Ukrainian military intelligence, these are the symbols and who they indicate forces are operated by: Z for Russia's Eastern Military District, Z enclosed in a box for Crimea, O for Belarus, V for Marines, X for Chechnya, and A for Special Forces.
What led the Russian military to choose a Z, in particular, is unclear. Nothing like the letter Z appears in Cyrillic, the written alphabet of the Russian language. Despite what some have speculated online, it is not used in reference to Ukrainian President Volodymyr Zelensky.
Kamil Galeev, an independent researcher and Galina Starovoitova fellow, offered some hypotheses about what the symbol could mean in terms of spoken language.
"Z is a letter that Russian Military are putting on their vehicles departing to Ukraine," Galeev wrote on Twitter. "Some interpret Z as Za pobedy (for victory). Others - as Zapad (West)."
In the same Twitter thread, Galeev said that the symbol has infiltrated Russian society, both pushed by the government as propaganda and embraced by some voluntarily.
"It found a lot of supporters," he continued. "Many Russians are putting 'Z' on their cars - that's totally voluntary and to my best knowledge nobody's forcing them."
Galeev also gave examples of businesses using the pro-invasion symbol, sharing a photo of a funeral service van with multiple symbols affixed to it. Another photo he shared showed a Russian soldier using badges taken from fallen Ukrainian soldiers to form the Z.
Ivan Kuliak, a 20-year-old Russian gymnast, is among the figures to draw heavy criticism and pushback for his use of the symbol. During his recent performance in the Artistic Gymnastics World Cup in Doha, Qatar, Kuliak wore a white Z made out of tape on his uniform, even being photographed on the medal stand next to a Ukrainian performer.
In response to this "shocking behavior," International Gymnastics Federation announced that it would be opening disciplinary proceedings against Kuliak, which could potentially see his bronze medal revoked.
For live updates on the war in Ukraine, visit our live blog.