A Russian gymnast could be stripped of his medal after wearing a controversial symbol during a competition.
Ivan Kuliak could lose his bronze medal in parallel bars from the International Gymnastics Federation's Artistic World Cup after it was shown he wore a "Z" symbol during competition. This symbol has been seen on Russian tanks and vehicles invading Ukraine and is often affiliated with pro-war sentiment.
The International Gymnastics Federation previously announced that they will "open disciplinary proceedings" as a result of Kuliak's "shocking behavior" at the competition.
While specific details on what disciplinary measures the 20-year-old gymnast will face are unknown, one possibility that Kuliak could face is being stripped of his bronze medal. Punishments of this caliber fall under the FIG 2022 statutes, specifically a statute that states that they can enact "disciplinary measures [of varying severity] which can be imposed amongst others on a Federation, on a legal entity or on an individual".
Newsweek previously reported that the Z symbol appeared to be taped onto Kuliak's uniform in the space where the Russian flag would typically be embroidered. Before the competition, FIG had announced that the Russian flag would not be allowed during the cup, whether on an athlete's uniform or being flown in the stands. According to The Guardian, the symbol was taped onto his uniform after he competed on the parallel bars.
Perhaps most shocking was the fact that, after receiving bronze, Kuliak then posed next to Ukrainian athlete Illia Kovtun, who won gold in the competition. The appearance of the symbol and Kuliak's apparent approval of the Russian invasion drew scrutiny from other gymnasts, including Oleg Verniaiev from Ukraine.
"Of course, you will excuse me, but let the Russians not shout that sport is out of politics!" wrote Verniaviev on Instagram after the competition. "Congratulations to our guy [Illia], everything is in its place glory to Ukraine."
Kuriak is not the only Russian athlete to show support for their country using the Z symbol. Former gymnast Svetlana Khorkina recently posted the symbol on a social media post, saying that it was symbolic of "a campaign for those who are not ashamed to be Russian," Newsweek previously reported.
While both gymnasts have come under fire for allegedly supporting the Russian invasion into Ukraine, other Russian athletes have been praised for speaking out against it. Tennis player Anastasia Pavlyuchenkova has become a major critic of her home country's actions, saying that being a voice for dissenters is more important than her career.
"I've been playing tennis since I was a kid, I have represented Russia all my life. This is my home and my country. But now I am in complete fear, as are my friends and family," Pavlyuchenkova recently said in a statement. "But I am not afraid to clearly state my position. I am against war and violence."
Another tennis star, Andrey Rublev, took a quieter but still impactful approach to his protest. After winning the semifinal match of the Dubai Championships, Rublev took a marker and wrote "No War Please" on the camera. The footage of the move went viral on social media.
Update at 3/7/22, 5:14 p.m. ET: This story was updated with background information.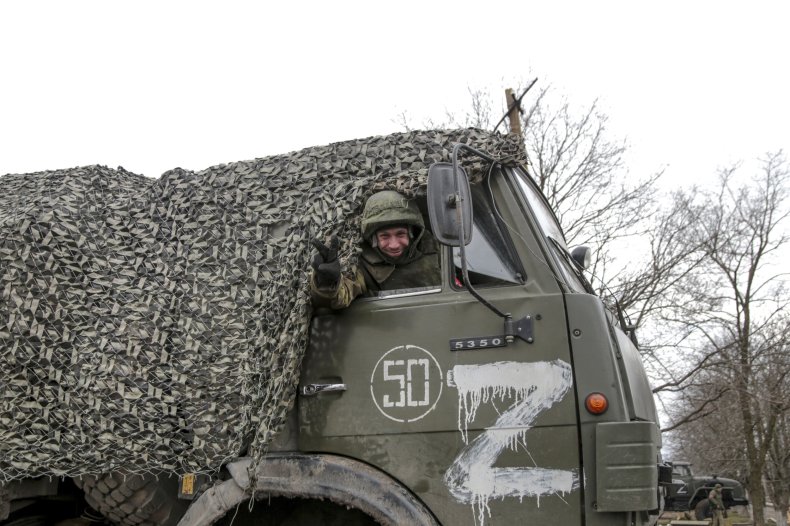 Uncommon Knowledge
Newsweek is committed to challenging conventional wisdom and finding connections in the search for common ground.
Newsweek is committed to challenging conventional wisdom and finding connections in the search for common ground.