Putin Forced to Move Submarines From Crimea After Ukrainian Attacks: U.K.
Russian President Vladimir Putin has been forced to move his Black Sea Fleet from the annexed Crimean Peninsula to southern Russia after Ukrainian attacks, according to a report from the British Ministry of Defense.
In its daily intelligence update on the Ukraine war, the U.K.'s defense ministry said after Ukrainian attacks deep into the peninsula, the command of Russia's Black Sea Fleet "has almost certainly relocated its KILO-class submarines" from their home port of Sevastopol in Crimea to Novorossiysk in the Krasnodar region.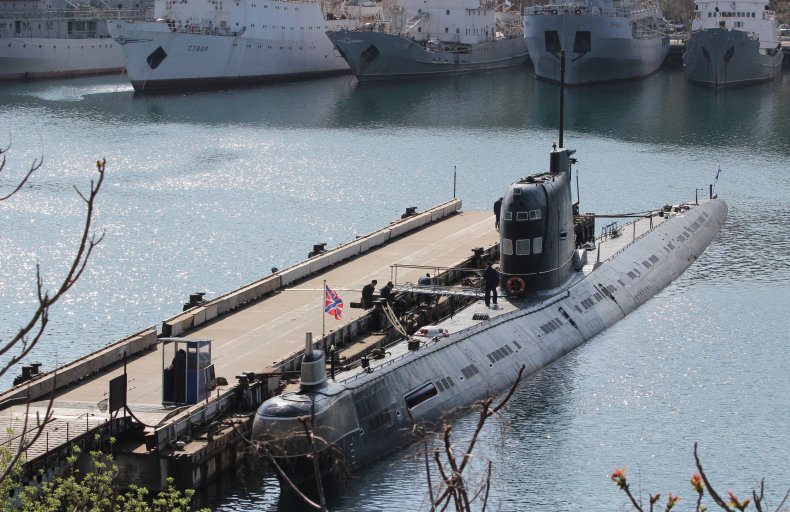 "This is highly likely due to the recent change in the local security threat level in the face of increased Ukrainian long-range strike capability," the update said.
The ministry cited attacks on the Russian fleet's headquarters and its main naval-aviation airfield in the past two months.
Putin has likely undermined one of his key "motivations" for annexing Crimea from Ukraine in 2014—to guarantee a safe base for the Black Sea Fleet, the update said.
The assessment comes after former Commanding General of U.S. Army Europe Ben Hodges said in a video released Monday that Putin's Black Sea Fleet has been a "total waste" as the Russian leader's forces struggle on land and in the water amid the Ukraine war.
Hodges said that prior to the war, which began on February 24, Russia's Black Sea Fleet "controlled basically the entire Black Sea."
"But over the past six months, we've watched a realization that the Russian navy is no better than the Russian army," Hodges said.
The retired U.S. general referenced the sinking of Russia's Black Sea flagship, the Moskva, which was worth an estimated $750 million, and other recent incidents which have seen Russian vessels downed in the Black Sea.
Russia's Black Sea Fleet is "terrified to go anywhere near the Ukrainian coastline" and has been hiding behind Crimea, Hodges said.
"The Great Black Sea Fleet, other than their submarines, I think, is a total waste. It hasn't been in the fight," he added. "And as Ukrainian forces get closer and closer to Crimea, soon they're going to be able to start launching HIMARS [High-Mobility Artillery Rocket Systems] rockets and other rockets into Sevastopol, making it untenable for the Russian Black Sea Fleet."
Last month, Ukrainian President Volodymyr Zelensky vowed that Ukraine would regain control of Crimea as part of a sweeping counteroffensive to recapture territory that has been seized by Russia.
Newsweek has contacted Russia's Foreign Ministry for comment.