Russia Can't Replace Sunken Moskva as Ukraine Gets New Anti-Ship Missiles
Russia will not be able to replace the sunken flagship of its Black Sea fleet, the British Defense Ministry has said, as the U.K announced it would send anti-ship missiles to Ukraine to bolster Kyiv's defensive capabilities.
British defense officials said on Thursday that around 20 Russian Navy vessels, including submarines, were still in the Black Sea operational zone but the Bosporus Strait remained closed to all non-Turkish warships.
This meant that Russia was "unable to replace its lost cruiser Moskva in the Black Sea."
The Moskva was sunk on April 13 by two Neptune missiles in a strike that Ukraine says killed as many as 250 sailors.
The Kremlin maintained that the vessel was damaged after a fire on board caused ammunition to detonate. Russia's Defense Ministry said on April 14 that the ship sank in stormy seas while being towed to port. The ministry said that only one crew member had died and 27 were missing while the remainder had been evacuated to nearby ships and taken to Sevastopol in Crimea.
In its daily update, the U.K Defense Ministry said that "despite the embarrassing losses," which included the Russian landing ship Saratov Ukraine said it targeted in Berdyansk last month, Russia's Black Sea Fleet still had the ability "to strike Ukrainian and coastal targets."
An obscure 1936 treaty makes it difficult for Moscow to replace the Moskva with another ship in its fleet from outside the Black Sea. NATO member Turkey, which controls access to the Black Sea through the Bosporus Strait, is enforcing the 1936 Montreux Convention which blocks Russia from reinforcing its Black Sea fleet from the outside in times of war.
British Armed Forces Minister James Heappey said that the U.K. would send hundreds of anti-ship supersonic Brimstone missiles to Ukraine to bolster its navy in the "next few weeks."
He told Britain's House of Commons this week, "This remains very much in line with our principle of evolving our support to Ukraine as the conflict evolves and their capability requirements change."
The Brimstone has a range of 37 miles and can be launched from ground or air. It can be used with laser-seeking guidance or autonomous targeting and is equipped with a 15-pound warhead.
The U.K. is believed to be offering the surface-based systems. During his visit to Kyiv earlier this month, British Prime Minister Boris Johnson said Brimstones could be mounted on the back of vehicles to hit targets in the Black Sea.
Newsweek has contacted Ukraine's Defense Ministry for comment.
British Foreign Secretary Liz Truss said Russian forces must be pushed out of the whole of Ukraine and said that a victory for Kyiv is a strategic imperative for the West.
In comments at an event in London on Wednesday, she said the West, including the U.K., must "double down" and "keep going further and faster" to "push Russia out of the whole of Ukraine".
Meanwhile, following his meeting with Russian President Vladimir Putin, U.N. Secretary General António Guterres is in Kyiv for talks with Ukrainian President Volodymyr Zelensky.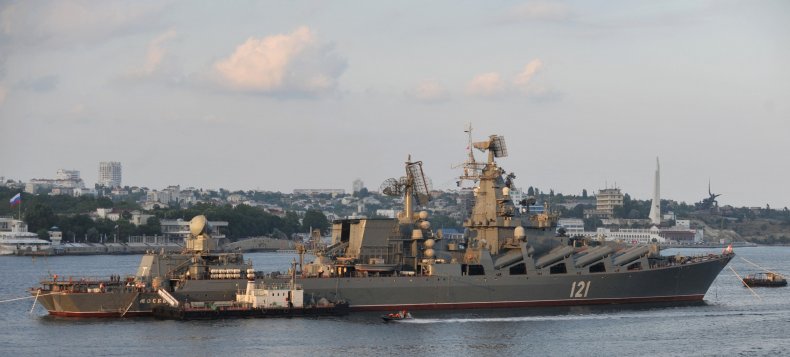 Update 04/28/22, 4.45 a.m. ET: This article has been updated with further information.